Love is a snowmobile racing across the tundra and then suddenly it flips over, pinning you underneath. At night, the ice-weasels come. [Matt Groening] [
more quotes
]
December 9th, a four-miler in Merrimac, MA.
It was my 11th race in three months and my last for the year.

There were options at this relaxed, well-managed event.
You could race two miles, but that was too short.
Or you could race six, but that was too long.

There was no pressure to decide. You could choose your distance at the end of each two-mile loop.

The three options -- too little, too much, just right -- sent my brain spinning, and retreating to childhood.

I spent much of the race pretending I was Goldilocks, and it made for a very strange (and not completely unpleasant!) half-hour. For those who have forgotten their childhood, here's a reminder.


---
The Story of Goldilocks and the Three Bears
Once upon a time, there was a little girl named Goldilocks. She went for a walk in the forest. Pretty soon, she came upon a house. She knocked and, when no one answered, she walked right in.
At the table in the kitchen, there were three bowls of porridge. Goldilocks was hungry. She tasted the porridge from the first bowl.
"This porridge is too hot!" she exclaimed.
So, she tasted the porridge from the second bowl.
"This porridge is too cold," she said.
So, she tasted the last bowl of porridge.
"Ahhh, this porridge is just right," she said happily and she ate it all up.
After she'd eaten the three bears' breakfasts she decided she was feeling a little tired. So, she walked into the living room where she saw three chairs. Goldilocks sat in the first chair to rest her feet.
"This chair is too big!" she exclaimed.
So she sat in the second chair.
"This chair is too big, too!" she whined.
So she tried the last and smallest chair.
"Ahhh, this chair is just right," she sighed. But just as she settled down into the chair to rest, it broke into pieces!
Goldilocks was very tired by this time, so she went upstairs to the bedroom. She lay down in the first bed, but it was too hard.
Then she lay in the second bed, but it was too soft.
Then she lay down in the third bed and it was just right.
Goldilocks fell asleep.
As she was sleeping, the three bears came home.
"Someone's been eating my porridge," growled the Papa bear.
"Someone's been eating my porridge," said the Mama bear.
"Someone's been eating my porridge and they ate it all up!" cried the Baby bear.
"Someone's been sitting in my chair," growled the Papa bear.
"Someone's been sitting in my chair," said the Mama bear.
"Someone's been sitting in my chair and they've broken it all to pieces," cried the Baby bear.
They decided to look around some more and when they got upstairs to the bedroom, Papa bear growled, "Someone's been sleeping in my bed."
"Someone's been sleeping in my bed, too" said the Mama bear.
"Someone's been sleeping in my bed and she's still there!" exclaimed Baby bear.
Just then, Goldilocks woke up and saw the three bears. She screamed, "Help!" And she jumped up and ran out of the room. Goldilocks ran down the stairs, opened the door, and ran away into the forest. And she never returned to the home of the three bears.
---
The image of three angry bears chasing me -- in my Goldilocks disguise -- was just enough incentive to race four good miles.
For races between 5K and 12K, I've hovered at the 8 minute per mile pace all year. A few were under 8, but most were over. By a little bit.
Why does that little bit mean so much? It does. Runners who feel they should run a 15:50 5K are unhappy when they finish in 16:04. And if your goal is a 26:55 5K, you're not happy with a 27:01.
For me, it's pace. I'm aggressively consistent in pace, but not aggressively fast, though I try.
So when the fellow at the one mile mark called out "8 minutes" as I went past, I felt a bit sad. Here it is again. Regardless of how hard I think I"m pushing, the pace is always the same. Afterward, I saw that my first mile split was 7:58.
As I passed mile two, the timer called out "16 minutes" but now I thought "hey, I can break 8 minutes per mile if I just run a tiny bit faster on the 2nd loop." In reality, my 2nd mile was 7:59, so I was 3 seconds under the magical 8-minute barrier at the half-way point.
Runners tend to lose focus in a race after the half-way point, and before the final surge to the finish. In a 4-mile race, the third mile is likely to be the slowest. But I had an incentive, a game to play. And isn't that what we always try to do when we race -- we're adults (mostly) playing a racing game. Oh yes, and I had three bears chasing me. They were real.
My split for mile three was 7:52, but I didn't know it then. I had decided to just race. Mile 4 was 7:57.
So there it was. In my 11th race in three months, and 18th and final race of the year, I had my sub-8s for each mile.
It was a happy car on the ride home. All three of us had won medals. It was close to 4 in the afternoon, and we stopped for some food and a glass of wine.
It had been a long year of running and racing for all of us. There had been ups, downs, and even some general confusion. There had been missteps and mistakes, injuries and hurts. And now the racing part was over. The new year was ahead -- just beyond that glass of wine.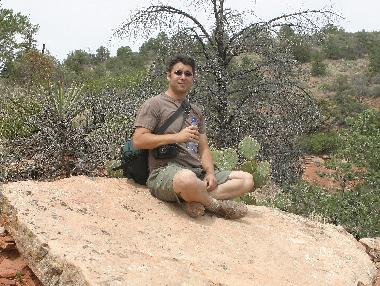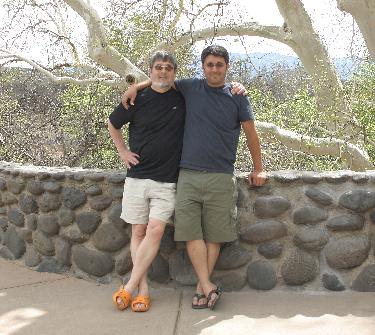 [December 18, 2007] [top]
---
That's three races in seven days.

For those who have been running for a few years, or more, racing more than once in a week is no big deal. Two races on a weekend was common in the '80s. I once ran three races on a weekend. It was a 5 miler on Friday evening, a 10K on Sunday morning, and another 10K on Sunday afternoon. The last 10K was the fastest, which supports Coach Braz's comment to me last week: "that's what the Kenyans do." He didn't mean the Kenyans run back-to-back crappy races like me. He meant that they run a hard workout the day before a race.

This is the week that was.
Saturday, November 17 -- 5.9 mile tempo run, the kind I can do only when running with somebody faster than me.
Sunday, November 18 -- 5 mile road race
Monday, November 19 -- yoga night
Tuesday, November 20 -- 32 minute treadmill workout in evening
Wednesday, November 21 -- off
Thursday, November 22 -- 5 mile road race
Friday, November 23 -- 30 minute tempo run (same thing as November 17, only faster)
Saturday, November 24 -- 5K road/trail/x-country race
Sunday, November 25 -- 10 mile easy run (ok, not that easy since I pushed the last five miles, just because)

The mileage for the week was low, but the intensity was high.

The 2007 racing season is about done. A few more weeks and a chance to run one or two more races, but then it shuts down. If you started 2007 with Coach Braz's winter program, you are still benefitting from the strength, endurance, and speed you gained in that program. If you continued with the spring and fall track/conditioning programs, and you followed the written program he provided, including the between-session workouts, you should have run very well this fall, and you may still be racing well.

In my case, I can't say I'm racing "well," but after doing all the programs, I am still racing, and I can race often and hard. My body and mind know this is possible because of those challenging workouts last January and February. It was those workouts that imprinted on my legs and mind, so that I can call on them to carry me through a race in November.

If you have not yet signed up for the 2007-2008 winter training program, consider doing it now. It will be your foundation not only for your spring running and racing in 2008, but also your racing next fall.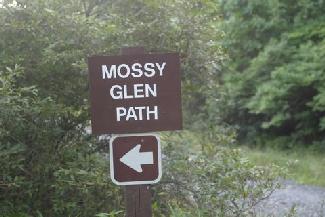 [November 26, 2007] [top]
---
North Andover, Boxford, Georgetown, Rowley, Ipswich, Essex. On a late fall day, follow the route down to Woodman's restaurant overlooking Essex Bay, with the great Atlantic Ocean just beyond. The sky is blue, air is clear. Temperature is low 40s, cool. Wind is steady, always in your face.

The course for the 26th Annual Essex Lions 5 Miler starts at the package store 200 yards back on Main Street and finishes at Woodman's. It's an aggressively hilly route, but beautiful.

The first mile went past the restaurant and immediately up a hill. It veered to the right and climbed some more. With about 160 runners pushing along, I had plenty of company for my 8:08 split.

Although I'm always thrilled to be running at all, that 8:08 bothered me. Yesterday I had run 5.9 miles with a companion at 8:34 pace. Shouldn't I be racing faster today? She had asked "why are you running today if you're racing tomorrow?" Good question. Why was I running, or why was I racing? So I picked it up. Attacked the hills. Passed others as I pretended to be a strong runner by scurrying up hill after hill and then pounding down hill after hill.

Mile two was 7:37. Better.

I suppose the continuing hills were discouraging. I suppose I was getting tired. I remember debating whether yesterday's hard run was a "good" or "bad" idea. I don't remember a marker for mile three. A digital clock suddenly loomed on the side of the road and it read 26 something. I said to two women running nearby, "that must be mile three." One woman was pacing the other. The pacer said, "no, we passed three back there. That was the 5K time, but the clock's in the wrong place." I thought about this for a few moments, and finally said, "that's good news." I did not expect to find a marker for mile four, and didn't.

The finish for this race is spectacular. You finally leave the hills and reach Main Street, with the water on your left. There's some gradual downhill before you make a wide turn to the left and see the restaurant less than a half-mile away, at the end of a cone path on the right side of the road. If you have a kick, it's a glorious time to use it. I had no kick, but it was a glorious couple of minutes anyway.

The finish clock read 40:06. It was my best 5 miler of the year. Last year in this race, there were three finishers in my age division. I would have been first. This year there were eight. I was fourth.

The post-race chowder was a bit salty but still good on a cold afternoon, as the sweat quickly dried and the chill crept into your body. Among the wonderful runners with whom I shared this race were John Dicomandrea and Lou Peters. We spoke of the gift we have in being able to run, to enjoy the cool, clear day, and to compete in a sport that keeps us active, healthy, and young at heart. John is 79. Lou is 83.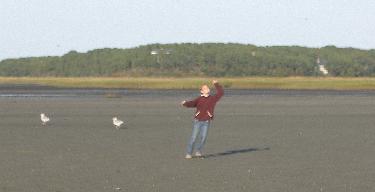 [November 19, 2007] [top]
---
We have many hand-offs in our lives.
Here honey, you pay the bills this month. The hand-off.
Sweetie, would you pick up the kids from soccer practice? The hand-off.
Archie, this project is for you. Give us weekly status reports. The hand-off.

But then. "Matt, I'll hand off to you."

This year's MV Striders Dot Com team for the Cape Cod Marathon Relay was down to three runners for five legs. Tara and Linda Jennings, and me. It was October 14th, two weeks before the race, and we were visiting our son Matt, his wife Tenzin, and their grandfather, Bernie, in New York City. As we prepared to head uptown to visit friends, I said to Matt: "Would you be interested in running a leg on my relay team at the end of the month? Falmouth in late October. Beautiful."

Matt ran a bit in high school, but he played soccer all year, so running was very secondary. He could run. At track meets, he often ran the 800 after his normal event, the 2 miler, and his best 800 (2:07) was an hour after racing 2 miles earlier in the meet. Back then, it was all about scoring points for the Team.

That was 15 years ago, and although he has often run (suffered) through the Feaster Five when visiting on Thanksgiving, he has not really run for 15 years.

But he knows about the Team thing, and he said "sure, I'll run a leg."

Tara ran leg 1, and she ran it well. She may have surprised herself, but not us. We expected her to get to the exchange a couple minutes before the predicted time, and she did.

Linda volunteered to run legs 2 and 3, since she had to run 12 miles anyway, as part of her training for the Philadelphia Half-Marathon coming up. As with her daughter, Linda arrived at the exchange sooner than expected, but since I've been doing relay races for 25 years, and I was running leg 4, I knew enough to be ready early.

Leg 4 at the Cape Cod Marathon Relay is six miles, from 15 to 21, and it's the hilliest part of the marathon route. This is the part of the course that ruins anyone who paced un-wisely in the early (easier) miles. I've run the marathon seven times (finishing six) and I am painfully intimate with these miles and hills. This was the first time I was running them without a 15 mile warm-up, and -- guess what? They were beautiful. Scenic and rolling with the last mile flat and even downhill to a glorious hand-off. I'll do this one again.

Matt was surprised to see me so soon ("you were fast!") but he was ready, and it was a perfect hand-off. Technically it was clumsy, but in all other ways, it was perfect. We always imagine handing so much off to our children as they grow. This was just a baton, but it seemed like more than that, to be both given and taken.

For the first 250 yards, Matt felt great. After that, everything hurt. Fernando saw him early in the leg and then near the end, and said he maintained his form for the whole race. That's good. Matt said he was outsprinted on Main Street near the finish by a woman on another relay team. He said that was painful, and it was a different type of pain than physical. These two went at each other for the last quarter of a mile. Matt caught her, she surged, he caught again, she surged. He finally caught her 30 yards from the finish and was about to go past, and she slipped into another gear and was gone. He threw his arms up to the crowd to say "I give up!"


That's what he remembers about the leg. The aching muscles feel better each day. But he misses the last gear in his legs that he once had, and has lost over 15 years.
But you know, that "passing gear" is still there. It just needs some training. And there are races ahead.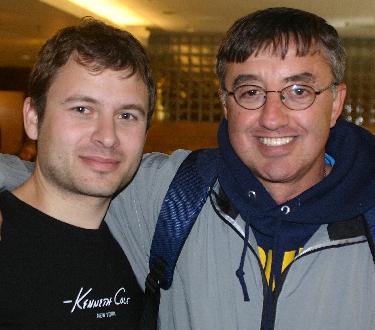 [November 1, 2007] [top]
---
Many runners look for cross-training to relieve the pounding on their feet. We swim, we bike, we use elliptical machines, we ski, we lift weights, and we even walk. Encouraged by my cousin Lily, I discovered another one -- rock sliding.

Over Labor Day Weekend, we hiked in the Minnewaska State Park Preserve, which is in the Shawangunk Mountains, below the Catskills in New York State. Before going into the mountains, we swam for an hour in a community pool, and with the rush of the water slide still making our hair stand up, we headed for the Peter Kill entrance to the mountains.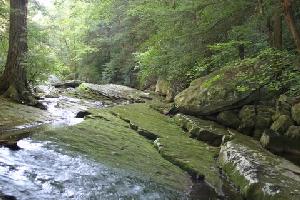 Less than a mile down the trail we clambered down a slope into the stream that would be our path for the rest of our 8-mile hike. Now, the easy way is to hike on the gnarly path through the woods and the mountain. But the 11-year old way is to rock-hop down a mountain stream for hours. Since we wore Keens and Tevas (and bathing suits subtlely hidden since swimming was prohibited in the stream), the occasional "water passage" was refreshing rather than feared.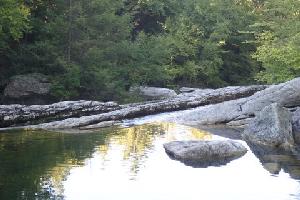 Many of the rocks in the stream were massive. They were huge slabs that seemed dropped from the sky by giants. They lay in various angles and slants within the water, which flowed around and behind and sometimes over them. Many of the slabs had a thin layer of lucious moss, and this is what we looked for. Because as much as we avoided slipping on the mossy rocks in the water, we loved the mossy slabs that slanted into pools. Because these were Sliding Rocks. You sat down at the top of the slab, tilted yourself back a little, and then let go. And off you went, streaking down the rock and into the pool.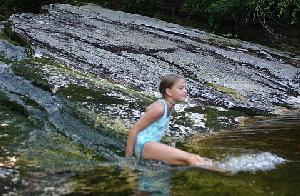 You may wonder why this is cross-training. Several reasons.

Balance. You had to work on your balance, and you especially had to activate your core (your mid-section).
Agility. You had to use your strength and athletic skill to climb onto the rock slab and position yourself for the ride down.
Ice bath. The water was cold.
Endurance. It was 8 miles of hiking over rocks in a stream.
Perspective. If you don't enjoy sliding down a mossy rock in a stream in the mountains on a late summer afternoon, you may have forgotten about having fun. Remember -- we run because it's fun to run. Don't ever pass up a chance to have fun, even when you're "cross-training."


[October 20, 2007] [top]
---
It's in early October that many runners reach their peak. They are trained to the edge and perhaps beyond. Their bodies cannot get any better than this. Their mental focus is inner-directed with minimal attention to others in their lives -- spouses, children, pets, and friends.

Why is this? What's happening?

It's fall marathon and half-marathon season. It's the fall marathon that counts. This is the marathon where you run for your best time, your PR. This is the one where you try to qualify for the Boston Marathon. For many, Boston becomes a social marathon, a "life experience" that is shared with many others. In contrast, the fall marathon is about hard training with a single goal -- your best performance. That's all that counts.

Not everyone runs a fall marathon. I ran a cross-country race on Saturday, September 29th -- for some runners, fall is cross-country season. The next morning I ran a beautiful 10.01 mile loop (GPS watches are often too honest), and later in the day we headed to the tip of the Cape for a week. It's not on the marathon-training food table, but here's the bloomin' onion that provided our snack near the end of the drive.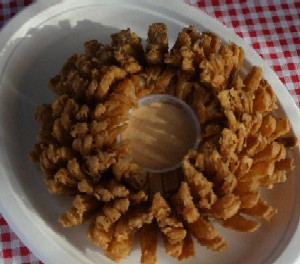 It's been summer weather in early October far out on the Cape. My runs have been easy -- 6.45 miles, 7.67 miles mostly on trails surrounding the North Truro Lighthouse, 6.06 miles, and the Wednesday track workout on Thursday in a "road version" on Great Hollow Road (which is just past what was the 8th leg handoff of the old Plymouth to Provincetown Relay).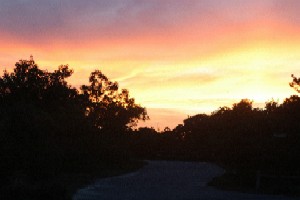 In late morning after these runs the sun glistens off the Bay. A picnic table is nearby, a 2-person swing (romantic, yes), large jungle gym, and hammock. I sit on the deck with this scene before me. Baaba Maal is in the background and a glass of Rioja is close at hand. I'm reading Stephen King's Cell and Jerry Lynch and Warren Scott's Running Within, recommended by a friend and touted in Frank Row's interview.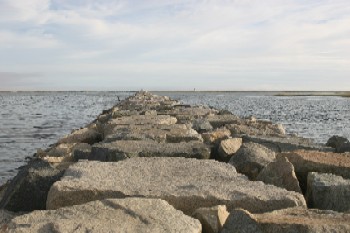 None of this is for those running a fall marathon. But it's there when you're done. Good luck and see you on the other side.
[October 4, 2007] [top]
---
During an interview at a men's college, the Dean of Admissions gave me a manly and somehow disturbing grin and said -- "no skirts here!" And why was I even interviewing at a men's college? Teenagers rarely have a clue. I certainly didn't. But later when the Dean asked if I'd like a tour of the campus, I said "no thanks."

I was reminded of the Dean's comment after finishing a 5K cross-country race in Dover (NH) early in the morning of September 29th. It wasn't "skirts" that were missing -- in fact there were plenty of women in this race. What was missing was the nice running surface most of us are used to.

No road. Just cow pastures and root-infested trails in the woods, and slippery wooden bridges. And little ravines and holes in the ground, and sharp turns and steep hills both up and down.

No, nothing flat, smooth, or easy.

Was it fun? Absolutely.
Was it hard? Absolutely.
Would I do it again? Absolutely.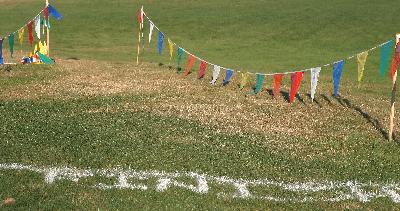 Welcome to x-country season.
[September 29, 2007] [top]
---
After churning through the first five miles of the Apple Harvest 10 miler on September 23rd in just over 40 minutes, I had learned two things.
Objective reality was not in synch with my own reality, which believed that mile 4 was mile 5. Still had another mile to go to reach 5.
My (eventual) 5-mile split was 2 minutes faster than my final result two weeks ago at the Ollie 5 Miler.
Was I suddenly amazing or just stupid?
Let's ignore the next 30 minutes of this race and skip to the highlight sequence -- the last mile.
Measured in seconds -- 569.
Measured on the joy/pain scale -- neutral. Sloth is painless but without delight. Think of cold cereal (without raisins, nuts, honey, or good company).
Measured in lifetime achievement -- #1. In 25-years of racing, this was the first time that the last mile of a race was my slowest. Shock.
[September 24, 2007] [top]
---
The 5K race distance -- 3.1 miles -- is new to road racing. Back in the '70s and '80s, it did not exist. Ask someone who raced back then what their 5k PR is and you'll get a funny look.

Today it's impossible to avoid 5Ks. They're everywhere and they blot out other distances. Whether this is good or bad is a story for another time.

My answer to the 5K PR question is "I don't have one." But the other night, I may have come close. On Tuesdays I often go to the track and run the cooldown loop a few times. This is the night before my regular workout, so an easy run is a good idea, and it's a chance to spend a few moments with other club members who are there for their workout.

As I was starting my first loop, Matt Pimentel came bounding down the hill by the track and said "hey, Dave, going out? Join us!" Uh, no thanks, I'm going easy and you're really not, and that's Molly Taber and Jim Johnson with you. "C'mon c'mon!" So off we went.

Down the school driveway, sharp left and up the long hill, out onto 125 and up to the traffic light, and then back. Matt, Molly, and Jim turned into the Weir Hill trails to continue their 10 miler, and (alone now) I cut my pace in half. And smiled, and thought.

I had just ran faster than I've run all year, including races, and I'll call this my 2007 5K PR. No idea what the time or distance was, but it certainly felt like a 5K PR. And that's what counts. And yes, we talked the entire time we ran.
[September 19, 2007] [top]
---
William of Ockham was a 14th century philosopher who wrote that when you're confronted with two competing explanations, you should choose the simplest. This principle is known as Ockham's Razor, which implies that one should slice away needless complexity to find the unencumbered truth. Such insights impressed me in my college years.

Then I got married, went to work (eventually), had children (eventually), and proceeded to live a full, complex life in New York City where nothing was ever simple. One day I found myself in an Executive Editor's office at a Boston publisher for an interview. The building had leaded glass windows, a grand piano in the middle of one floor, a wrought-iron elevator, and roll-top desks and Queen Anne easy chairs in the offices. As the interview began, a golden retriever ambled into the office, looked at me and put its head in my lap. My hope of having an excellent interview and a job offer was mixed with fear that the front of my suit pants was being accented with dog drool. My brain went dead except for one comment from my interviewer: "Simplify your life!" I got the job (the dog liked me), and I remembered the re-statement of Ockham's Razor. A few years later I did something about it. I started running.

Running is simple, probably the simplest thing we do in our lives. Shirt, pants, socks, shoes. Run. OK. Track, gotta count those laps, and where's the 330 marker? Is there a water stop down this road? Are those bushes bushy enough to be a restroom door? That's about it. If you're finding that running isn't the simplest and most relaxing thing you do, apply Ockham's Razor to shear away whatever nonsense you've added to a simple activity.

[top]