Love is a snowmobile racing across the tundra and then suddenly it flips over, pinning you underneath. At night, the ice-weasels come. [Matt Groening] [
more quotes
]
The reading year -- at least BOOK reading -- started badly with Dan Brown's Lost Symbol. I wrote about that earlier in this blog (March).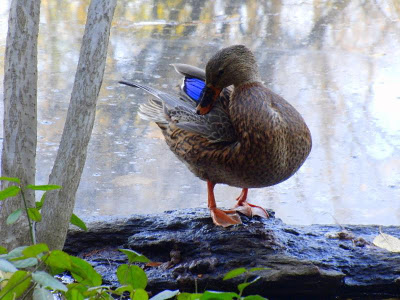 I continued my Robert B. Parker mania by reading the Spenser and Jesse Stone novels that I missed last year, and reading all of the Sunny Randalls. In November I read one of the Spensers published after Parker's death in January, 2010.

Sylvia Plath's Bell Jar and Leo Tolstoy's Anna Karenina were the "main courses" this year. I've written about them earlier in this blog.

For the past month I've been working on William Gibson's Spook Country.
Here's the breakdown:

March
Dan Brown, The Lost Symbol

April
Robert B. Parker, Double Deuce
Robert B. Parker, Potshot
Robert B. Parker, Early Autumn
Robert B. Parker, Crimson Joy
Sylvia Plath, The Bell Jar
Robert B. Parker, Trouble in Paradise
Robert B. Parker, Death in Paradise

May - September
Leo Tolstoy, Anna Karenina

September
Robert B. Parker, Painted Ladies

October
Robert B. Parker, High Profile
Robert B. Parker, Family Honor
Elmore Leonard, The Hot Kid
Robert B. Parker, Perish Twice
Robert B. Parker, Shrink Rap
Robert B. Parker, Melancholy Baby
Robert B. Parker, Blue Screen
Robert B. Parker, Spare Change

November
Robert B. Parker, The Professional
[December 30, 2011] [top]
---
On December 3 and 4 Miriam and I were at the 19th Annual Vermont International Festival in Essex Junction, Vermont, just outside of Burlington. The Festival is the creation of Miriam's brother Ben. Ben also has launched North End Studios, a community cultural center in the heart of Burlington's Old North End. North End Studios includes three separate venues, including the new 220-seat Studio A, a flexible state-of-the-art performing and gathering place.


We arrived on Saturday morning in time to hear David Carpenter, April Werner, and Bones Blankinship performing traditional New England music on the Main Stage.

They were followed by eight performances from the Vermont Chinese School (VCS). Leading off were Gabo (violin) and Zani (cello) Lewis with two pieces from Star Wars. There's a magic that young string players produce, and these brothers bring magic to the stage.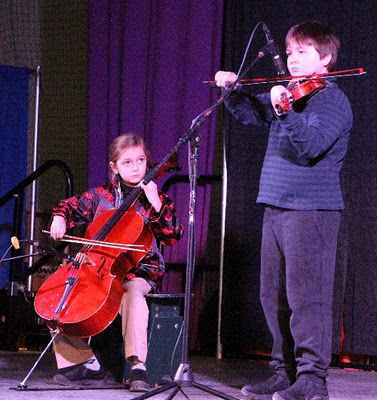 The Lewis boys were followed by Xiao Ping Gordon singing of "home town love"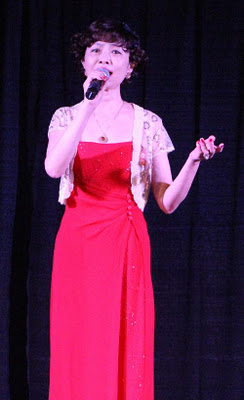 and then the VCS Dance Team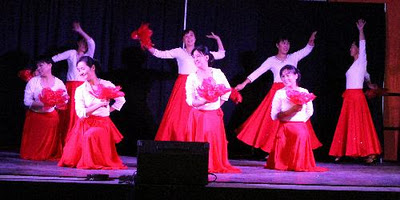 . After Lili Liang danced "Azalea Flowers,"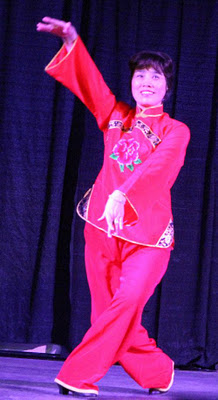 a troupe of VCS students danced Little Birds.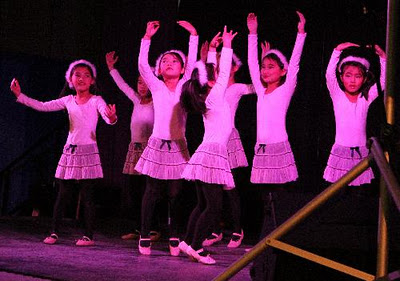 The rest of the VCS program was a martial arts demonstration, a song from Peking Opera, and more from the VCS Dance Team.

Meanwhile, on the Gazebo Stage, the dynamic Zumba Fitness session gave way to Adaptive Folk Dancing.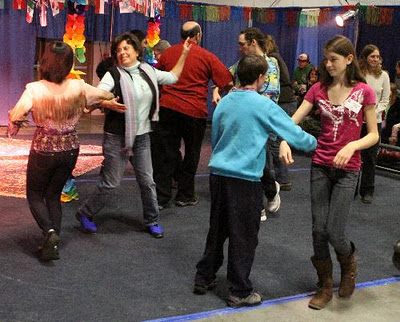 The afternoon on this stage continued with Arab music and belly dancing, drumming and dance from Africa by the Akoma Drummers, Brazilian martial arts,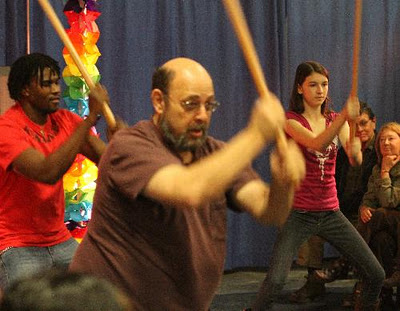 Japanese martial arts, a Salsa demo and dance opportunity,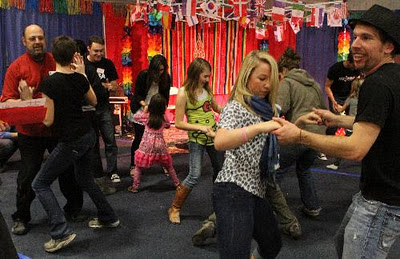 and finally the Ukulele Society.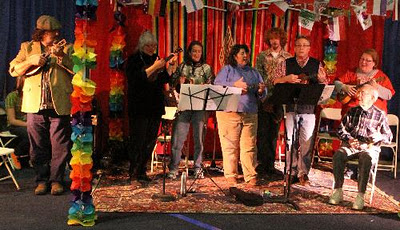 Over on the Main Stage, the VCS was followed by an Indian Fashion Show, a powerful Taiko performance,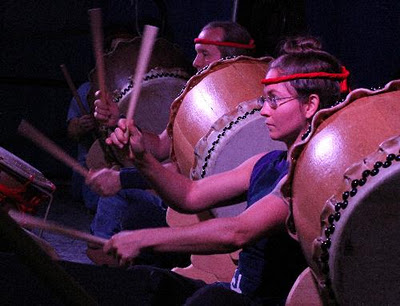 Va-et-Vient singing great French-Canadian songs,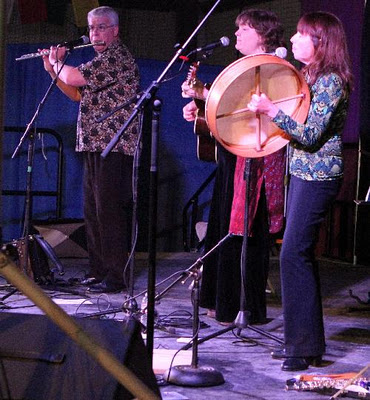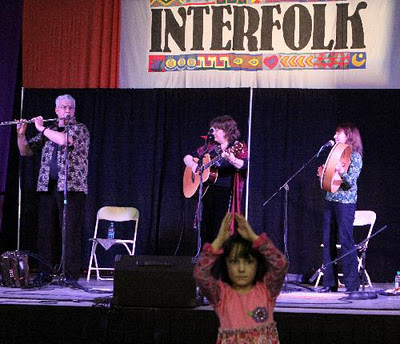 Brass Balagan (Eastern Europe brass band), sparkling and fascinating dance and song from the Tibet Society,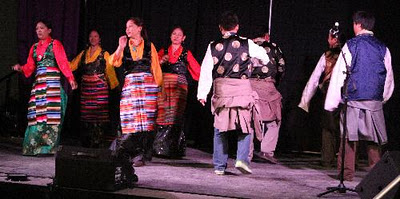 and Gua Gua (South American folk/jazz).

Throughout the day at various spots, one could find Terri Conti and her roaming accordion. Good stuff.

At all performances that included dancing, one also would find Anneka. At the age of 5 (almost 6), she seems to be a fixture at the International Festival. She's there each year, and if you look to the floor in front of the performance stage, you'll find her dancing. She has the true spirit of the Festival. Enjoy, participate, and never stop dancing.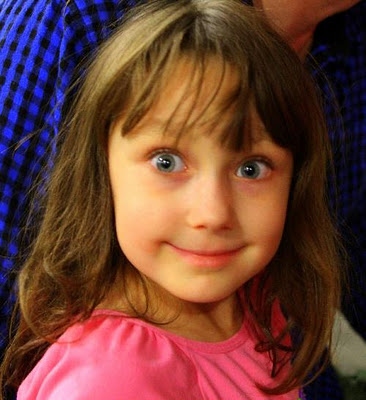 The performance highlight took place Sunday morning on the Main Stage. Hau Le is a classical guitarist who played a varied and difficult program that was overwhelming to hear.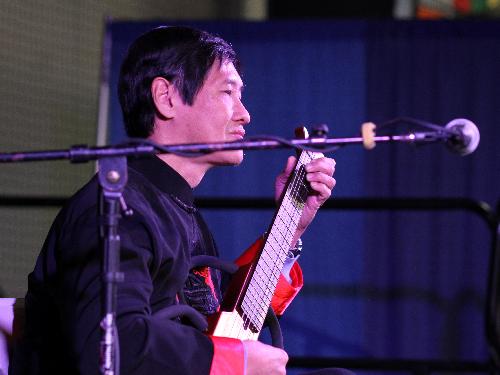 Originally from Saigon, Hau came to the U.S. with his wife Hue (Lily). He is a photographer as well as a classical guitar teacher – and performer.

Following Hau Le's performance, the Heather Morris Celtic Dancers took the stage. Among the highlights was a performance by a young woman who is Miss Vermont. If she reaches the top 10 in the Miss America competition, the performance we saw will be her performance piece for the pageant. Based on dancing talent alone, she should win easily.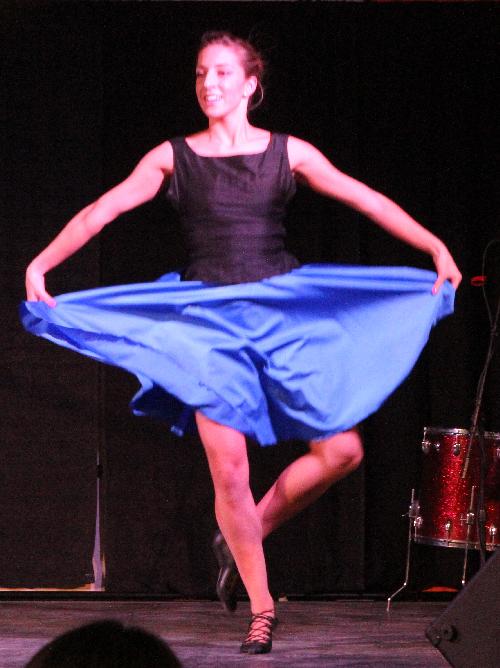 The most dramatic performance of the weekend was from the Burundi Dancers.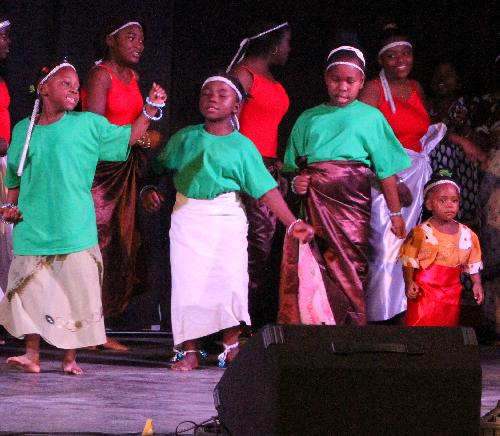 I missed performances by Mary Brust (South Indian Temple Dance), the Bosnian Lilies, Guayoyo (Haitian/Cuban), and Chimie Bangoura (West African drum and dance).

I did NOT miss the food court all weekend.
Highlights for me were the tantuni, a meat/tomato wrap that is unlike anything you have ever tasted. It's in the sauce, as we say. It's authentic from the streets of Istanbul, and it was available at Muzo's cay bahce. If you're in Burlington, look for the street cart.

My other profound food weakness at this Festival is the moussaka from the Euro Restaurant. But there was much more – Amir's Kebab Cart (European grill and griddle treats), food from the cuisines of Jamaica, Nepal, India, Bhutan, Morocco, Somalia, and China. And there was amazing ice cream, beer and wine, and coffee, soft drinks, water. Food from Asia, Africa, Europe, South America. Yup. How many plates can you fill in one day?

And on the Main Floor of the Festival, which is held at the Champlain Valley Exposition, you could find amazing items for sale from around the globe. Specifically, you could shop in the following countries, which for this weekend were all conveniently located within easy walking distance, with two performance stages nearby, and an international food court a few steps away – Ghana, Egypt, Dubai, Saudi Arabia, Spain Ghana, Ecuador, China, Nepal, Thailand, Vietnam, Laos, Russia, Central Asia, Colombia, Ireland, Swaziland, Grenada, Caribbean, Tibet, India, Vietnam, Peru, Western Africa, Congo, Mexico, Japan, Nicaragua, Guatemala, El Salvador, Uganda, Uzbekistan, Czech Republic, Russia, South Sudan, Thailand, Honduras, Ethiopia, Baltics, Haiti, Poland, Zimbabwe, USA.

Next year is the gala 20th Annual Vermont International Festival -- November 30, December 1 and 2, 2012. We won't miss it.

For many more photos of the 19th Festival, go here.
[December 7, 2011] [top]
---
The Mill Cities Relay is a road running event that covers a bit under 30 miles from Nashua, NH, to Lawrence, MA. It was started over 20 years ago by three running clubs. One club was based at the start of the race, one in the middle (Lowell, MA), and one at the end.

The original idea was that this event would be an "end of the year" celebration where the major running clubs in the area would get together for a convivial day of running together. The competitive season was over – the big races and the team competition. We were all tired and in the holiday spirit, and it would be good to get together to swap stories, run together, have a drink (or more) with our fellow competitors, and end the year as good friends.

Ha!!!

I'm not sure this lasted for even the first year. The Mill Cities Relay quickly became a very competitive event that exacerbated the acrimony between the major clubs. And other clubs were added to the competition. And yes, it became all about the competition. Who would win. Which club was the best. Which individual was the most worthy runner. Most worthy volunteer. Most worthy maven of this or that. Awards. Ceremony. A honkin' trophy. Braggin' rights.

Good grief.

Well, that's what we are. Each lap around the track is a battle. Why would a relay race against our hated rivals be any different? Collegial support for our fellow runners? Fuck that. Go for the trophy.

I ran the relay for the first 12 years, and in most of those years I organized a "fun" but "competitive" team. The race has a large selection of "team categories" that include men, women, men and women, old men, old women, old men and old women, ancient men, ancient women, ancient men and ancient women, men and goats, women and satyrs, and so on. My team was always just a "mens" team because we always had at least one woman, or one old man, or one old woman, or one goat. Whatever. These were my friends, and I chose to run with them. Fuck the trophy.

Don't get me wrong. The Mill Cities Relay is a wonderful event, and a glistening trophy to the enthusiasm of the running community north of Boston. But it could have been better than that.
[December 1, 2011] [top]
---
Which is easier? Keeping a streak going or breaking it? Deep thought.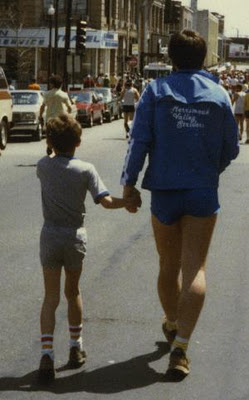 In 1988 I began running a road race on Thanksgiving morning. Bill Pennington and John Burke created a race in Andover (MA) called "Feaster Five" and I ran it. And ran it for the next 19 years. That's 20 years running the same race, year after year.

For most Thanksgiving mornings, my son Matt ran with me. I may have beaten him the first time in 1988, when he was only 12. But I remember well that he outsprinted me down Bartlett Street to the finish in 1989. There was a blizzard that year and we had to run down a narrow shoveled path in the last quarter mile. Hard to pass anyone. But Matt won fair and square. Over the next few years, Matt ran faster than me and we didn't see each other during the race. Then we started running the race together – a holiday tradition rather than a race. We didn't "trot" the race, we raced it. But not hard, and we stayed together and chatted.

After 20 years of running this race, it was time for a change. There are many excellent Thanksgiving races, and one of them is in New Paltz, NY. This is a vaguely measured 5k with half the course on a bike path. Low-key, no frills, with virtually all proceeds going to charity. I ran this alone in 2008, and Matt joined me 2009 and 2010.

And then, after a streak of 23 years running a race on Thanksgiving, I took this year off. I broke the streak. It felt good. Empowering. On Friday morning, the day after Thanksgiving, I went for a nice run in Lower Manhattan along the East River. Perhaps the start of another streak
[November 30, 2011] [top]
---
Miriam and I hosted Matt and Tenzing's two Lhasa Apsos for three weeks in August. Kalsang and Apollo love to eat, sleep, and be cute. And RUN. Since Miriam and I both run, we were almost fit enough to stay with them when they took off, dragging us behind as we clutched their leashes. These are small (20 to 25 solid pounds) but powerful dogs.

One day, while our 15-year old cousin was visiting, the five of us went to Popham Beach in Maine. After exploring the gentle surf, Apollo started running on the hard-packed sand near the water. He picked up the pace and so did I. Meanwhile, Miriam was walking with our cousin and holding back a straining Kalsang, who wanted to RUN. Finally Miriam gave the leash to our cousin, and Dog and Girl started Flying/Running along the ocean's edge, and quickly caught up with Apollo and me. Then the four of us began running faster, and faster, and faster, like four rocket-ships skimming toward hyperspace and hyperspeed.

Then we slowed and stopped. It was the humans' idea. The dogs wondered why we stopped.

The dogs run well and they know it. My cousin runs extremely well but she doesn't know it yet.

Dogs learn quickly. It takes humans a bit more time.
[August 23, 2011] [top]
---
It's normal to have a birthday.
It's not normal to have a Birthday Week.
Last week I had a Birthday Week.

I arrived at Helen and Joe's place in New Paltz on Sunday, July 17, after bringing Miriam to Bovina (NY) for a week-long pranic healing workshop.

On Monday, their daughter (hereafter referred to as "my cousin") took me to a Birthday Lunch up in Kingston. I think she spent some babysitting money. We went to a great taco place, and after lunch walked around a bit in a light rain. Didn't notice the rain, really. She has taken me to a birthday lunch for at least 3 of the past 5 years. My birthdays cost her money!

On Tuesday, my cousin and I went for a short run down Plains Road, similar to Monday. Two days running in a row. A good thing. Then by late morning we headed to their house-in-renovation in Livington Manor, an hour away. It's alleged that Livington Manor is the fly-fishing capital of the world. Possible. On the way, we stopped at a building supply mega-store so my cousin could use her new Iphone (woop woop) to take and send photos of some paneling back to her Mom. For the house-in-renovation.

The Livington Manor house is far advanced from a few years ago, where the Handy House in the driveway was our (at least my) best friend. Flooring, walls, electricity, water -- great stuff. My cousin showed me her room-to-be at the top of the stairs. Nice. Before visiting the house we stopped in town for lunch, polished off by some incredible milkshakes. Yum. On the way home, we might have gotten back sooner but talking all the time and paying attention to where we're going are mutually exclusive. We finally got back to New Paltz.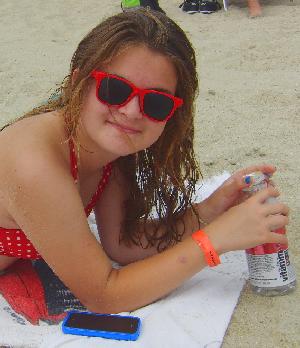 On Wednesday, my cousin had two very bright ideas. First, we headed to the SUNY-New Paltz track for a mile time trial (for her, not me). Second, "let's go to the beach." And yes, Sandy Hook beach on the Atlantic Ocean in New Jersey is only two hours from New Paltz.
After stopping at Jack's in town for huge sandwiches (which we consumed on the way), we were on our way by 11 and arrived at the ocean at 1.
I hadn't ridden the ocean waves for over 15 years, always out on the Cape. But with my cousin's encouragement, we dove, we rode, we jumped, we swam, we wallowed. It was a mirculous and wonderful experience to spend hours in the rolling salt water waves.
We left the beach close to 4pm and the ride home was slower due to (duh) traffic. At one of the many toll booths on the Garden State Parkway, we ended up in the 35 cent exact change lane. My cousin scrambled for the change and found it, we reached the booth where we had to drop the coins in the chute, and she said "let me throw them in" (from the passenger seat). Agreeable as I am, I said, "sure." And since the Laws of Physics do not accomodate for Agreeableness, a few coins clanked to pavement after she threw. Panic? Nah. She searched for some more coins, found some, I dropped them in. We ignored the honking horns behind us. We are so cool.

On Thursday we headed to Poughkeepsie to a Huge Freakin' Mall. Sure, malls are evil, but some things can be bought only at mall stores. Perhaps bathing suits for teenagers is one of those things. I'm quite mall-tolerant, having the ability to zone out, check out a few interesting shops, watch people, and focus on being connected with "the people." Anyway, my cousin is an incredibly good shopper, and found some perfect things at Forever 21 (which I didn't know existed, but do now!), but no bathing suit. We broke for lunch at Ruby Tuesdays and (not really, but it seemed so) consumed their entire salad bar, plus a couple "shared" appetizers, including a very nice artichoke/spinach dip (her idea, a good one). The bathing suit problem was solved by buying the top and bottom at different stores. This was all her, of course. I had no clue and no involvement, but was impressed with the creative and good result.

Thursday was an incredibly hot and humid day, and my cousin and I went for a short run in the morning. Just getting out there was a good thing.
But later in the afternoon, my cousin and I, and her young nephew headed out for a short hike in the mountains and a (secret) pool in a stream, that is amazingly and unofficially suited for swimming and diving into from rocks above. There were quite a few divers on this late and hot afternoon. We swam and settled in the large stream-pool, set in the middle of wood, trees. Nature at its best, and all of us blending without disturbing.
This was an incredible contrast to a few hours ago, when we were encased in the full trappings of "civilization," the Mall.

On Friday, with the heat not relenting, my cousin and I decided to skip our morning run. Sometimes a run hurts more than helps. I like that thought! (but must be careful not to overuse it)

For lunch, Joe, my cousin, and I headed to the Gilded Otter for lunch. And yes, Joe made sure this still counted as my birthday celebration. Thank you, Joe and Helen.

At about 3:30, my cousin and I headed to High Falls, to the very big Permaculture Event She had been asked to start the fire for the event, using a bow-drill. It is a great honor to be asked, and she was spectacularly successful. With a gathering of over 50 people surrounding the fire circle, she efficiently produced the needed coal, nurtured it, added kindling, gave it oxygen and life, and then fire, to burn throughout the weekend.
I was able to take this low-quality video of the firestarting process, about 9 minutes.

And that was my Birthday Week. 100% unplanned and 100% great.
[July 28, 2011] [top]
---
Miriam and I harvested books at the Wayne (Maine) library "buck-a-bag" sale on Saturday. I imagine the "good stuff" was picked away last weekend during the opening weekend of the library's book-purge.

So, as someone who got rid of 1,300 books last year (or maybe the year before) and is resolutely (or not) reducing his personal horde of stuff that neither he nor anyone else wants, what books did I take yesterday? And why? The first question is answered below. The second question has no good answer.

My intent was to take no books. Hah.

I took some classics I don't have and want to read:
Henry James, The American
William Faulkner, Sound and the Fury
F. Scott Fitzgerald, Last Tycoon (his last and unfinished novel)
F. Scott Fitzgerald, Benjamin Button (saw the movie, had no idea Fitz wrote the 52-page story)
C.S. Lewis, The Screwtape Letters
Frank Norris, McTeague (worth taking for the horrific cover illustration)
Chaim Potok, The Book of Lights (adding to our Potok library)

Couldn't resist:
Jack Finney, Invasion of the Body Snatchers (classic and I have it already, but nice cover on this one)
Grace Paley, The Little Disturbances of Man (graceful stories)
Steve Martin, Shopgirl (he's a good writer)
Anna Quindlen, Black and Blue (another good writer)
Stephen King, Just After Sunset (already have this story collection, but a pristine copy)

And finally:
The Writer's Home Companion: An Anthology of the World's Best Writing Advice
Here's a sample of this treasure --
Interviewer: How much re-writing do you do?
Hemingway: It depends. I re-wrote the ending of Farewell to Arms, the last page of it, 39 times before I was satisfied.
Interviewer: Was there some technical problem there? What was it that had stumped you?
Hemingway: Getting the words right.
[July 10, 2011] [top]
---
As Miriam and I drove toward Burlington (VT) early Saturday afternoon on May 21 the rain suddenly fell in one piece. It was a rain like when you close your eyes and look into a hard shower. That's fun when you take a shower. Less fun when you're driving. The Vermont rivers, streams, and lakes looked to be spreading over the land. And they were. It's been raining in Vermont (and other parts of the country) for the past month.

Michaela and four friends arrived at brother Ben's home in Burlington at 5pm for a photo-op on their way to the Junior Prom. This throng of beauty was preceded by our tour of Ben's new Studio in the North End. Though it's still in mid-storm of major renovation, it's already a work of art with virtually unlimited potential. Ben and April are working on a winner.

After a quick dinner of broccoli, rice, and steelhead trout, it was off to the Burlesque Show. And why not. The Spielpalast Cabaret was performing at the Auditorium in City Hall. (yup, a burlesque show at City Hall) Ben and April were ushering. What's it like to see a 1920s burlesque show performed in 2011? Sex and humor endure. There were great moments, when the singers/dancers/actors mastered excellent material. And there were flat moments. This was The Spielpalast Cabaret's 10th year. If you look for release from rigid "family values," you will like cabaret. We loved it.

On Sunday morning, I went for a run down to the Boathouse in Burlington and then north on the bike/run path along Lake Champlain. The lake is 3 feet higher than normal. Trees along the banks were partially submerged, and large puddles (lakelets) narrowed the bike path, where the Vermont City Marathon will run next week. It's always thrilling to run along the lake, and I hope the VCM runners have a great time, without getting too wet.

In the afternoon we headed north to Laura's house for the celebration of Cameron and Michaela's birthdays. There were 15 of us, all family. We came from New Jersey, Massachusetts, and of course Vermont. Happy Birthday to Cameron and Michaela.

Cameron and the Pinata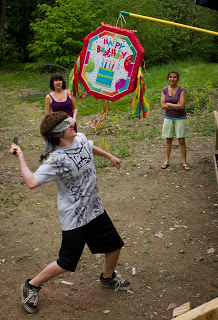 Michaela Scorns the Pinata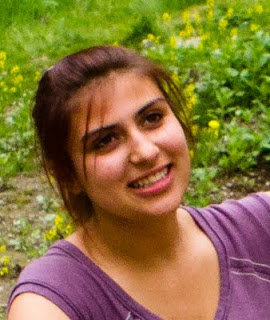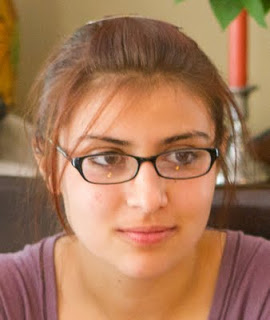 [May 24, 2011] [top]
---
Miriam and I were in Arizona from April 12 - 24. On the flight there from the East Coast I read Robert B. Parker's Double Deuce, a Spenser book, and on the way back I read Death in Paradise, a Jesse Stone book. We spent the first week in Sedona, where I read Potshot, Early Autumn, Crimson Joy (all Spenser books), and Trouble in Paradise (a Jesse Stone book).

In our 2nd week, we were in Tucson with Noah and Mandy (and family), after a stop in Chandler on the way down to spend an afternoon with my childhood friend, Mary (or Mar). We're still childhood friends and always will be, although some years have passed since 1st grade.

During the 2nd week in Arizona I read Sylvia Plath's The Bell Jar. Finally.

Why finally? Sylvia Plath was an American poet and writer who was born in 1932 and died in 1963, when she lost her battle with depression and committed suicide (gas oven). The Bell Jar was published in England in January, 1963, a month before she died, but not in the United States until 1971. The book is a novel, but also autobiographical, as it tells the story of Esther Greenwood's descent into depression and suicide attempts, and her faint return to "normal." By the end of the book, Esther "makes it." Sylvia did not.

It's a hard book to read. Yet it can pull you in. Perhaps it's the lure of peering into the abyss. The opening line is this: "It was a queer, sultry summer, the summer they electrocuted the Rosenbergs, and I didn't know what I was doing in New York."

Some have said The Bell Jar is a "rite of passage" book for young women. Plath expresses certain emotions and experiences of "growing up female" and these may resonate with female teenagers and young women. I don't know about that. That's not why I was drawn to the book yet avoided it for many years. It's a "classic" but we don't need to read all the classics.

I don't know why The Bell Jar remained on my list all these years, and I don't know why I finally read it. I do know that it's a book I'll never forget. And I'm glad I read it. Finally.
[May 19, 2011] [top]
---
Two Saturdays ago, Matt and I stopped at McSorley's on East 7th Street. We started with a dark ale and finished with a light. They make their own, always have. $5 gives you each a good mug. Sawdust on the floor, as always. They are proud to be NYC's oldest continuously opeated saloon.

Last Saturday, again on a walk back from Chinatown, we stopped at Swift Hibernian Lounge on East 4th Street, where they really know how to pour a Guiness. It takes over 10 minutes and three pours before it's ready. And well worth the $7. We were tempted to get some bar food, but knew the Guiness was almost a meal. And beside, we knew we would stop for a slice as we headed uptown for 14th Street. Which we did.
[March 24, 2011] [top]
---
There's so much to read.

In early March I read Dan Brown's The Lost Symbol, which was my 4th Brown book. The others were Deception Point, Angels & Demons, and The Da Vinci Code. In a similar way that we stop reading a book after a few pages when either the writing or the story doesn't please us, I should have stopped reading Dan Brown after Deception Point, the first one I read. I don't like the writing and the stories (plot) collapse within the first 100 pages, yet with another 400 to go. One continues reading, however. It reminds me of finishing that bag of potato chips because . . . well, you started it, and it's salty, and why not. But the chips aren't very good, and I don't find Brown's stories or writing very good either.

Moving on, who's fault was it that I read The Lost Symbol? My son Matt's. It was his book. I had it for about a year, to read and return, and I was avoiding it. Here's what happened. Miriam was going to an energy healing conference in Mahwah (New Jersey) for 5 nights, and I planned to drive her (and her friend) there and then drive back home. When Matt and Tenzing heard of this plan, they demanded that instead of driving over 8 hours in one day ("that's stupid, Dad"), I drive from Mahway down to the City (less than an hour) and stay with them. And with Dolma (Tenzing's mother), Momola and Popola (Tenzing's grandparents), and Apollo and Kal Sang. Seemed like a plan, and to be efficient I brought The Lost Symbol to read, expecting to finish it and leave it at the Manhattan apartment.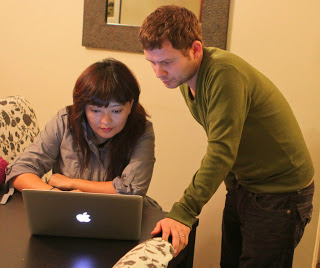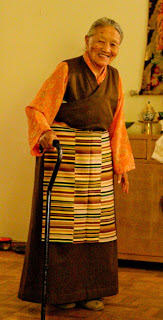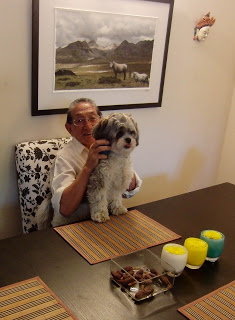 It was a great five days with a lot to do. So much that I fell 100 pages short of finishing the book. In addition to enjoying wonderful time with the family, I spent an afternoon at the Museum of Modern Art. I hadn't been to MOMA in a few years. The walk up to 53rd Street near 6th Avenue from 14th and Avenue B takes a little over an hour. After Union Square I headed up 5th Avenue, knowing it would be crowded even on a Monday afternoon, but it would manifest some of what the City is all about -- an international destination. Did I hear a dozen languages spoken during this walk? Perhaps. At the Museum, there were special exhibits of Andy Warhol films, Picasso's "guitar" period, and Women Photographers (an incredible Sally Mann image), plus Jackson Pollack, Rothko, Johns, Rauchenberg, Lichtenstein, Lee Krasner, Brancusi, Cezanne, Dali, Matisse, Monet, Van Gogh. And so on. Plus a perfect little lunch in the 5th floor cafe, and the weather was good enough for some time outside in the sculpture garden.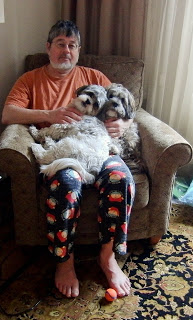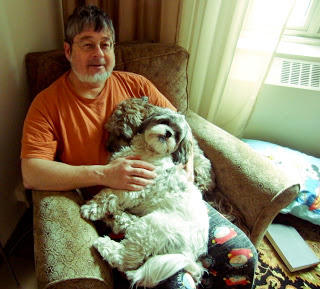 The following week Miriam was in Virginia for a workshop. During those days I made an enormous vat of potato/garlic soup, learned some more asp.net, and started learning how to use Lightroom (from Adobe, a grown-up version of Picasa). As mid-March neared with the clocks waiting to be moved ahead an hour (except for Arizona, of course), the afternoons were getting longer, and by 5pm I was in the hottub reading The Economist. Decadence or Good Planning?

So it was not a good start to the "reading year" but it will get better.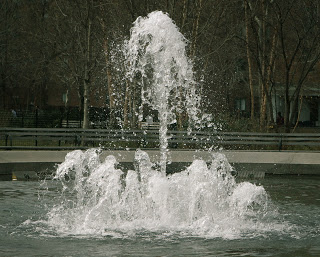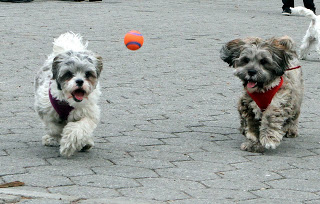 [March 17, 2011] [top]
---
On January 16, 2011, my niece Patience Smith and Sam Bloom were married at the Yale Club in New York City. It was a stunning, spectacular, and loving event.

On Saturday, the 15th, Miriam and I stopped in Manchester (CT) to pick up my brother Will and his wife Deb, and my sister Carol and her husband Bernie, who had driven over to Manchester from their home in Rhode Island. After a light lunch (thanks Deb), we all drove in my Sedona (yes, a mini-van, and perfect for this trip down to Manhattan) to our hotel on 40th Street, between Park and Lexington avenues.

Soon after we arrived in NYC, we gathered in Will and Deb's room on the 12th floor for some pre-dinner wine. For some reason, Carol's room (11th floor) and mine (10th floor) were half as large as Will's, had half the number of chairs, and no balcony. From Will's balcony (or inside), the Empire State Building shone impressively. As the six of us sat and talked, we slipped into good memories of September, 2000, when we all went to Switzerland, and always met in one of our rooms at the end of the day for refreshment and talk before heading to dinner.

Since we were on the edge of Manhattan's Koreatown, which runs from 31st to 36th between 5th and 6th avenues, that's where we headed for dinner. Along the way, I made a quick call to Matt for some recommendations. He and Tenzing have eaten at all (that's my theory) 37 (my guess) Korean restaurants in Koreatown, so when he said that Cho Dang Gol on 35th was fine, we went in. Miriam and I are chopstick mavens (and skilled at eating with our fingers, too), but this forkless meal was an adventure for my family. Part of the city experience. The food was excellent.

After eating, we returned to the hotel, and to Will and Deb's room for more refreshments and chat. Later on in the night (it no longer was evening), Miriam and I went out to a huge drugstore a few blocks away for a toothbrush (someone forgot to bring one, and I wasn't sharing mine) and a bottle of white-out. Will say nothing about the latter, but I'm glad it wasn't ME.

Sunday morning we were all up and out and down to Bloom's Deli on the corner for breakfast. No, it was not Sam's place. From there we made a test-walk to the Yale Club, which is on Vanderbilt between 44th and 45th. Along the way, Miriam and I (being sort of city people, since she was born and raised in Manhattan and we lived in the city for 11 years, and we visit often) led the family through Grand Central, which is a stunning experience, still. We determined that walking up Lex to 45 and then over to Vanderbilt was less wise than heading up Park to Grand Central on 42nd, turning left, walking a short way to Vanderbilt, and then north a couple streets. Then it was back to the hotel to get ready. We wanted to arrive by noon for the 12:15 ceremony.

We arrived at noon, as planned, and began mingling in the Yale Club's lobby, and meeting for the 1st time in 40 years family members with whom we'd lost touch. Weddings have a gift for bringing families together, beyond the obvious bride/groom thing. Matt walked in, and soon was followed by his cousins Leigh and Noelle, and Mike, Wendy, Dan and Erica and their daughter Ella.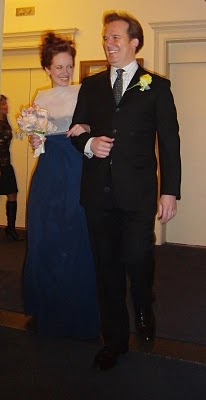 At 12:15 we all -- about 125 of us -- headed to the Library on the 4th floor. As we found seats, we were offered glasses of lemon-infused water, and a flute/guitar combo played quietly, romantically. Patience's brother Patrick escorted her down the aisle, and Sam was waiting for her. The ceremony itself was creative yet fundamental, informal yet formal. Patience was beautiful; Sam was handsome. It is good.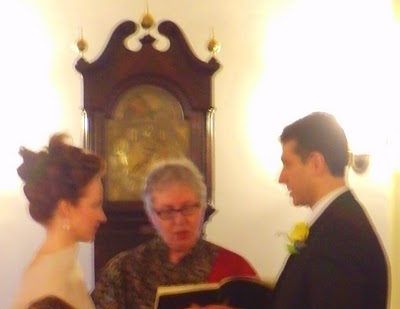 The ceremony was over. The two photographers continued to capture everything, and followed us all throughout the afternoon. We descended to the Tap Room on the 3rd floor, where inside an immense horseshoe table piled with food, two chefs prepared and served wondrous dishes. Waiters circled continually within the large room and offered trays of food.

There were two open bars. We mingled and talked and met and ate and drank and mingled and talked and met. For how many hours did we do this? Is this heaven? Or simply a food and drink orgy among family and friends? Oh yes, it was a wedding. Or rather, A WEDDING!!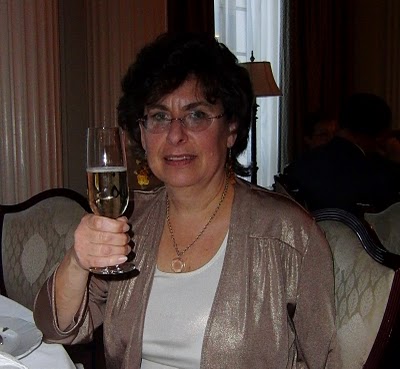 Then things got serious. We had to descend to the 2nd floor, to the Main Lounge. For dinner! We were at table 9. The horseshoe food table had an entire section of strict vegetarian food. Miriam was happy, and also happy with her wonderful vegetarian entree (spinach and mushroom profiterole). I was happy with the herb crusted salmon. To start off, we had panko crusted crab cake or grilled vegetable napoleon, plus raspberry walnut salad. There were desserts and then wedding cake.

Before long, a DJ started spinning and at some point Miriam and I started dancing. This was after, of course, Patience and Sam had danced, and a few speeches were made. For certain reasons, this was not a big dancing crowd, so it was different for the two of us to be bounding about on the dance floor without the shyness my dance skills usually demand.

Dan and his 3-year old daughter Ella rule the dance floor for now.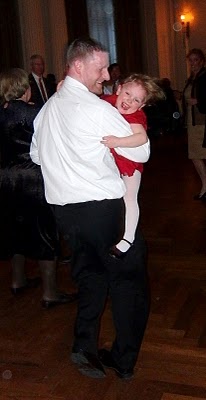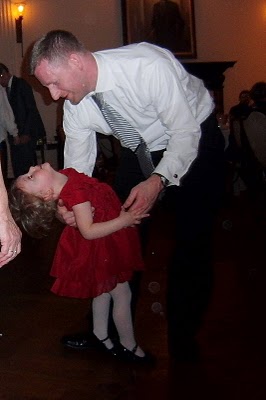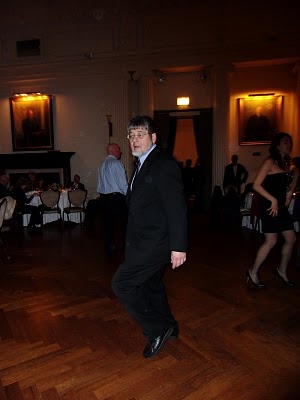 Patience and Patrick.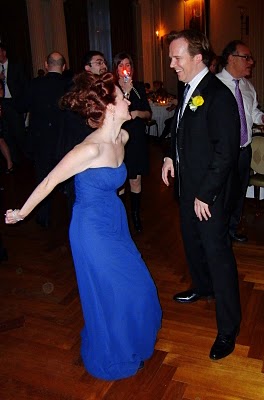 Eventually, it was over. We were not the last to leave, but it was close. We walked back to the hotel and soon re-convened in Will's room to watch the waning moments of the Patriots' last game of the season. We suggested dinner after 9pm, but Miriam and I were the only ones who wanted another meal.

We had our eyes on Shalom Bombay, a Glatt Kosher Indian restaurant between 39th and 40th on Lexington. Sure it was 10pm and sure we weren't really hungry, but what a great restaurant this was. Excellent food. The first Glatt Kosher Meat Indian restaurant in the U.S. We ate no meat, but the biryani and cauliflower/potatoes were perfect.

On Monday morning we all headed back home, and Miriam and I arrived in North Andover as the gigantic snowstorm began dumping big white flakes.

Patience and Sam -- thank you for an incredible wedding experience. Best of fortune, health, and love, always.
[January 30, 2011] [top]
---
When Miriam and I got married on a hot and humid day in late August, some years ago, I borrowed my Dad's car so we could take a Honeymoon Ride across the Connecticut border into Rhode Island. After crossing the border, we immediately headed south until we heard the ocean, and then we looked for a motel. No, It was not a well-planned honeymoon. But we immediately found a motel near the ocean. And our room had a gigantic shower. It was a great honeymoon of two days, whereupon we had to return my Dad's car and take a train down to NYC to get on with our lives.

I didn't own a car, or have a job, or have any sense of how to organize a honeymoon. Worst of all, I had no camera. So for the honeymoon I borrowed my brother Will's rangefinder and we took great photos of the two of us frolicking in the late August ocean surf.

Soon after we settled in the Borough Park section of Brooklyn (11th avenue and 55th street to be exact), I bought our 1st camera, a very nice Olympus Infinity Twin, and proceeded to take a lot of pictures. It still is in decent condition, and with fresh batteries and a roll of Kodachrome 25, one might take some great slides. Remember slides?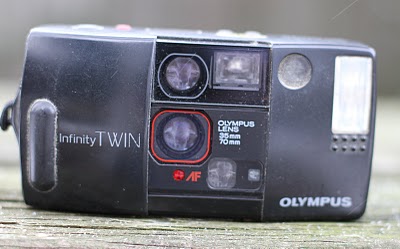 Next came an upgrade to the Konica C35, which was a rangefinder with a good 38mm lens. This camera looks for all the world as if it is ready to shoot more rolls.

My former college roommate, Paul Slater, was back in his Manhattan hometown and studying to be a medical doctor, which he became. He introduced us to the worst Kosher Pizza possible, but he also helped me buy my first single-lens reflex camera. As part of Paul's life as a doctor-to-be, he had access to a military PX, and from there I bought a Yashica TL Electro X, with a sharp 50mm lens (f/1.7). The Yashica uses a screw-mount lens. It remains a beautiful camera and the battery still works.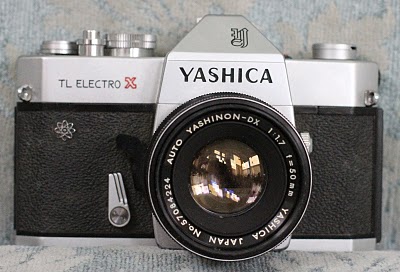 We moved from Borough Park up to Boerum Hill (Bergen Street, to be exact), just below Brooklyn Heights and next to Cobble Hill. We had the 2nd and 3rd floors in a brownstone, and there was a bathroom on the landing before entering our apartment. I covered the window of that small room with black contact paper and this became my darkroom. I shot, processed, and printed a lifetime worth of images taken with the Yashica and then the Nikkormat that soon entered my life.

A friend in work (Judith) sold me her Nikkormat and its 50mm f/2 lens for $150. The Nikkormat was a less expensive Nikon, but still a Nikon. It has an all-metal body, all black, and is the camera that most perfectly (ever) "fit" as part of my body. It had center-needle exposure control. I could hold this camera and work the exposure, aperture, shutter speed, and manual focus (of course) as if all the controls were meshed with my fingers and brain. I've experienced this control with no other camera. I bought the phenomenal Nikkor 105mm "portrait" lens and used that more often than the 50mm.

If digital hadn't happened, I might still be using the Nikkormat.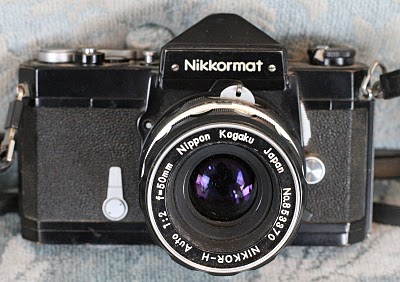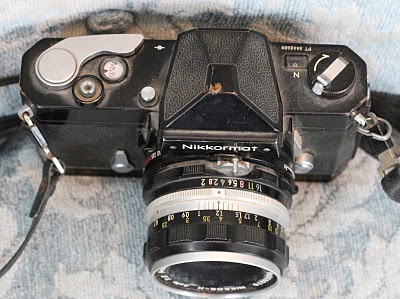 My first digital camera was the Canon Powershot S-40, recommended by my friend Pradeep. Although image quality was excellent, shutter lag was a problem, and anyway, I was more of an SLR person.

Canon broke the $1000 barrier for digital SLRs with the Rebel (300D) in late 2003. It was just under $1000 and well worth it. I added the excellent Canon 50mm f/1.8 lens for $90, and Pradeep sold me his Sigma 24-70mm aspherical zoom lens (f/2.8) for $150. The lens was in perfect condition and still sells for almost $500 new.

One problem with the original Rebel was the nylon pin that worked with the autofocus mirror. The pin wore out eventually, so that autofocus would not work. When this happened, I bought the Rebel XTi (400D) body. Then I gave to a friend the original Rebel, along with the Sigma lens and Canon 50mm lens, with the understanding that manually focusing for a young photographer would be a good experience. The broken pin eventually had to be replaced and the camera now works perfectly, but I don't know if it's still being used.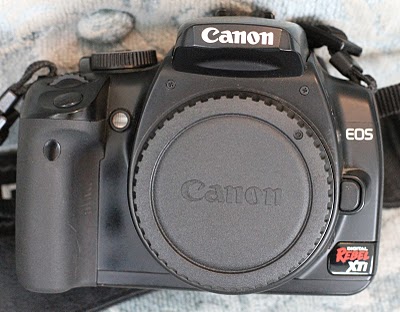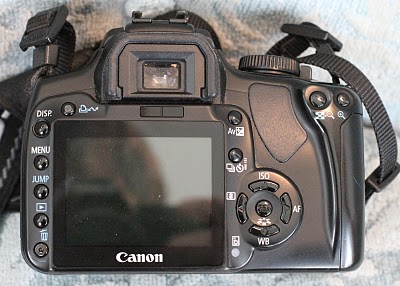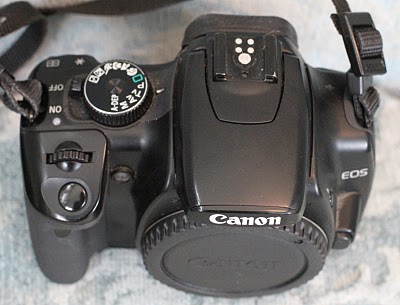 My workhorse lens for the XTi became the Canon 24-70mm f/2.8L ($1300), to which I added the 70-200mm f/4L IS ($1200) and 85mm f/1.8 ($375).

In the summer of 2010 I was looking for a "walking around" or "shirt pocket" camera, and settled on the Casio EX-FH100 ($250). This rangefinder has a 24-240mm (!!) lens and is bigger than some others in the category, but certainly qualifies as a pocket camera.

By the end of 2010, I needed more "camera body" to provide the shooting options and quality I wanted. Plus, I missed not having a 50mm prime lens. To solve that problem, I added the Canon 50mm f/1.4 ($350).

There were options for the body. In the Rebel line, there is the T1i ($560) and T2i ($700). And then there's the new 60D ($1100). Pradeep suggested I go for the full-frame 5D Mark II ($2500), but I wasn't convinced I needed the full-frame capability. Canon released the 7D ($1700) in late 2009, and that's the one I bought. It's a genuine step away/up from the Rebel line (and nothing wrong the Rebels). After less than a week, I'm still trying to figure it out, and I expect this learning curve to last throughout 2011. Learning is fun!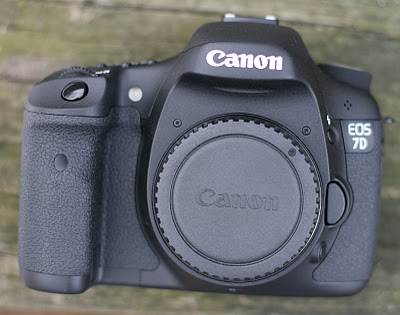 [January 8, 2011] [top]