Love is a snowmobile racing across the tundra and then suddenly it flips over, pinning you underneath. At night, the ice-weasels come. [Matt Groening] [
more quotes
]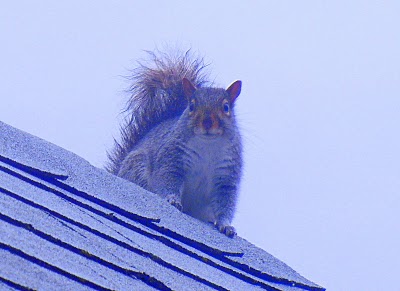 We talk about highlights rather than lowlights.
Why is that?

In February Miriam and I went to Arizona to visit Noah and Mandy, and River, Delaney, and Logan. February in Tucson is colder than we expected, and when we went with Noah and Delaney up Mt. Lemmon, there was a lot of snow. That really was a highlight. But in 2011 we'll go when it's HOT.

Tenzing's mom and grandparents visited from Nepal, and we had great visits with them in NYC, the Cape, and Maine.

Noah and Mandy came to the lake house in Maine for two weeks in August.

Miriam and I went to the Audubon sancutary in Wellfleet a couple times in June and again in October. And we had a great visit to the one in Ipswich in August. Also in late August I did the Lowell canal tour, where the locks still work and you experience the power of the Merrimack River.

In early August, we had our every-other-year family gathering at my brother Will's lake house in Connecticut. In 2011 it's the Big Reunion.

Late in August Miriam picked up her guitar and began singing and playing again, after a lapse of many years. She sings and plays virtually every day now, often very late in the evening. Her voice gets stronger and her playing more agile each week. It's a tremendous gift and a supreme highlight for this year.

Matt and I enjoyed (really!) putting in the dock in the spring and taking it out in the fall. It's always too cold and the water is always too deep.

We had a wonderful gathering of the Vermont family at our place in early April. The hottub was busy that afternoon. In November we went up to Burlington (VT) to visit Ben, April, Shari and the whole family, and see Michaela in Willy Wonka, and we went up again in December for the International Festival.

We had a great Christmas visit in NYC with Matt and Tenzing. Over three days, I never ate with a fork. Wooooo!!!!

Aside from these little events, the heart of any highlight list is the people who were part of the happiest moments of the year. Here are some:
Mary in AZ and Mary in MA, Cyndie and Mike, Judy, Sharon, Cindy, Trudy, Keith, Elyse, Helen and Joe, Fernando, and my whole family. And most of all, Miriam.

For those highlight events and good friends I've failed to mention, I apologize.
[December 31, 2010] [top]
---
Over the past two weeks I've listened to the Complete Dvorak. Missing a couple operas, so almost complete. All from a Brilliant box of 40 CDs.

9 symphonies
piano, violin, and cello concerti
Requiem
Stabat Mater
Rusalka (the only opera in the box)
Slavonic Dances
symphonic poems
string quartets, trios, quintets (complete)
piano works (solo and duet)
other chamber works

Out of approximately 45 hours of listening, perhaps the "desert island" music would be the string quartets, plus the piano quartets and quintets, and piano trios. The symphonies, especially 7-9, and slavonic dances are better known, and the cello concerto is perhaps the best concerto for that instrument. But the quartets offer a larger world to explore.
[December 29, 2010] [top]
---
Let's start with February. If I read anything in January, it's faded away.

Robert B. Parker died in January, 2010. Parker created the Spenser series. Oddly enough, I never saw a single episode of the TV series created from Parker's Spenser novels, but I started reading Parker novels in February. I read 36 of them from February into October. That's 36 in 9 months. Good grief. A bit excessive, for sure. All were in the Spenser series except as noted below.

February Parkers were: School Days and Night and Day (Jesse Stone series).

Matt lent me his copy of Malcolm Gladwell's The Tipping Point and I read it in March. By now, the ideas Gladwell presents are understood (mostly) to be commonplace and obvious, and that makes The Tipping Point required reading.

Another of Matt's books, Michael Lewis's Moneyball, filled the cold March days with warm thoughts of summer baseball mixed with the affirmation that new ideas (Billy Beane's) are rarely welcomed.

March Parkers were Valediction and Now and Then. In April it was Mortal Stakes and Hundred-Dollar Baby.
Then I got into it.

May:
Rough Weather
Walking Shadow
Promised Land
Small Vices
Widow's Walk

June:
Chance
Sudden Mischief
Back Story
Hush Money
Paper Doll
Taming a Sea-Horse
A Savage Place
The Widening Gyre
Cold Service

July:
Looking for Rachel Wallace
God Save the Child
The Judas Goat
Pastime
The Godwulf Manuscript
Playmates
Sea Change (Jesse Stone series)
A Catskill Eagle
Stone Cold (Jesse Stone series)

Early in August I read The Know-It All: One Man's Humble Quest to become the Smartest Person in the World by A.J. Jacobs. In late August I read The Hunger Games by Suzanne Collins. I understand there are two more books in this series but I haven't seen them.

In September it was Hugger Mugger and Steve Knopper's Appetite for Self-Destruction: The Spectacular Crash of the Record Industry in the Digital Age. That's all. I must have blotted out that month because I have no memory of it.

I was back at it in October:
Thin Air
Pale Kings and Princes
Stardust
Ceremony
Bad Business
Night Passage (Jesse Stone series)

November's highlight was Fred Kaplan's 1959: The Year Everything Changed. And then three Elmore Leonard novels:
Up in Honey's Room
Maximum Bob
Freaky Deaky

In the summer I watched Noah and Mandy reading Stephen King's Under the Dome to each other. They alternated chapters. I thought it must be a sweet book. So I read it in December. It took about three weeks, which 1072 pages will do to a slow reader like me.

Other than the books I remember reading, there were some I started and didn't finish (yet) and a few I may have forgotten. So that's it. Those were the books for 2010.
[December 27, 2010] [top]
---
Miriam and I went up to Essex Junction, Vermont, on Friday, December 3, where brother Ben hosts the Vermont International Festival, now in its 18th year. This is a weekend event that promotes performing arts, especially folk arts, and international exchanges.

In addition to the two performance stages, there are many vendors who offer gorgeous items from all over the world, and a truly international food court representing all the world's continents. One can spend the weekend buying items not found elsewhere, eating world food not available in your town, and enjoying spectacular music and dance.

We stayed in Colchester with Shari on Friday and Saturday nights.

Some highlights:

-- Pitz & Shrimp featured some amazing didgeridoo playing. Yes, that instrument CAN be played.

-- Africa Jamono featured five drummers from five countries in Western Africa. The drummers now live in the Burlington (VT) area, and are joined by five women dancers who have been performing African dance for many years. The combination of drumming and dancing is startling and breathtaking. This was the performance highlight of the weekend for us. We saw their two shows on Saturday. See photo site (link below) for photos.

-- Chinese School dance and martial arts featured classic dance from performers spanning the generations. The traditional sword dance set featured individual performances from daughter, mother, and grandmother, with the age span from 15 to 90. Stunning.

-- The Lewis brothers gave riveting performances, combining youth, talent, and stage awareness. Zani (7) plays cello and Gabriello (10) plays violin.

-- The Bosnian Lillies are a young dance/music group showing their tradition and heritage very well.

-- We bought seven Tibetan yak wool blankets, another jar of African black soap, and some other items.
[Reality update: these nice blankets are no more "yak wool" than my hair is. But unlike my hair, they are soft and don't have to be washed every day.]

-- I talked at length with Nancy from the Zienaele Foundation, an organization providing education and survival skill training in remote areas of Zimbabwe. Miriam and I continue to search for old friend, Liberty Mhlanga.

-- Miriam joined Ben on the 2nd stage for an "adapted folk dancing" performance.

-- At the Korean table, I successfully used chopsticks to move five beans from one plate to another, thereby winning a pair of chopsticks. Miriam also won a pair of chopsticks. Truth be told, Miriam and I are both chopstick mavens.

-- At the Chinese table, Cici wrote my name in Chinese script and tried valiantly to teach me how to pronounce "Dave" in Chinese.

-- I ate way too much moussaka. Miriam enjoyed the dal, which was wonderfully spicy.

-- On Saturday evening we went to Ben's North End Studio for "Reality Fix." This was Story Slam night, where "real people tell a 5-minute story without notes or BS." It has to be a true story. The audience picked the winner from the group before intermission, and then another winner from the group after intermission. Some truly amazing stories were told!

-- There are over 60 photos from the Festival. Since I prefer taking portraits most of all, they bookend this photoset, with Shari's cats Fletch and Miley to begin, and concluding with the ever-photogenic Michaela.

Phestival Photos
[December 12, 2010] [top]
---
This year's 5K in New Paltz, NY, on Thanksgiving was a "run" instead of a race. Of all the "running" events one might do on Thanksgiving morning, this may be the best.

-- there was a finish line clock, but results were not recorded
-- perhaps they took note of who won, but there were no age group awards
-- perhaps it was really a 5K, or maybe not. They have not measured the course
-- the race heads down Plains Road from Water Street Market and then heads back via the Rail Trail; a simple out and back, flat except for a small hill soon after the start
-- mostly crowded, especially in the 1st mile, and narrow on the Rail Trail
-- why run it? "This event is a fundraiser and all monies raised directly benefit the Family of New Paltz. Family of New Paltz provides our community with a food pantry, a 24 hour hotline, support groups, and shelter."
-- you are asked to return the pins, to use them next year
-- small budget? Yes. Huge benefit to a good cause? Yes

Matt and I ran it for the 2nd year in a row. It was my 3rd year. He has not run in 10 months, so our pace was modest. 17:13 for the first two miles (8:51 pace) and then 10:28 over the final 1.1 on the rail trail, 9:30 pace. 28:11 at the finish, 9:04 pace.

The start of a wonderful Thanksgiving. Matt said at about the 2 mile mark, "ya know, Dad, this reminds me, nothing in your day gets worse if you start by eating a live toad." Yup. The day was great after our 28 minutes of running. And deep down, we did love those 28 minutes. Deep down, the struggle is what helps us understand that we must work hard to love what is worth loving -- our friends, our family, ourselves.
[November 27, 2010] [top]
---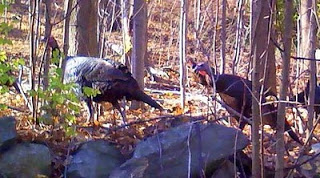 Motion on my left, in the woods. What?

A dozen wild turkeys wandering near the road. I was midway along in a 40 minute run. They were wandering about in the woods close to the road. What were they thinking? Do they think?

This was last Thursday, about noon, a clear and cool day. Perfect for a run.
Perfect for turkeys.
Thursday are not always so perfect for turkeys.

On Saturday morning, November 20th, I headed down to Wakefield for a 5K. Thought I might see Cristina Winsor since it's her hometown and she runs these races. It was cold as I trotted toward the race start. Someone ran past the other way and yelled "Hi Dave." It was Cristina. Couple minutes later she returned and we caught up for awhile until it was time to run the race. She headed to the front of the pack -- and she won the race, 1st woman and 1st master woman. I settled into the mid-pack to run my first race around Lake Quannapowitt. It's a flat loop where many 5Ks are run. Nice. My first mile was 8:38, and then 8:50, and over the last 1.1 my pace was 8:26. Overall, 26:47. Was I satisfied with that. No, but I was happy to have run a race. In the last mile I spotted one or two "youths" ahead of me and I felt proud to pass them before the end. Out-kicking a 12-year old in the last mile of a 5K. Is that what it's all about? Later when I looked at the results, I saw that a few other 12-year olds, male and female, had finished way ahead of me.

At the post-race food table there were a couple trays of donuts. I walked past them three times. But on the 4th walk-by I stopped and picked up half of a thick stick, heavy on the inside and overwhelmingly sweet on the outside. I have always loved donuts but have not had one in a long time. Now was the time to bite into this yummy treat. I bit. I chewed. I finally swallowed. Then looked at the thing in my hand. And threw it in the trash. Maybe just a bad donut. I'll try again, but there's no hurry.

A young woman walked over to the table and cleared away orange slices and bottles of water (the water was very good), and then taped down the race results, about three sheets. I heard a guy say to his female companion, "so, are they listed by time?" I went home.

Miriam joined me on Sunday for the scenic ride to Essex, on the lip of Ipswich Bay and the Atlantic Ocean. I ran this 5 mile race in 2007, and wrote about it here.

The running community really is a community. We know "our people" when we see them. I talked with a fellow in the starting line in Wakefield the day before, and here he was in Essex for his 2nd race in two days. Just like me. We chatted some more. GBTC coach Tom Derderian and I have seen each other at races and USATF meetings for many years. We hardly know each other but we always greet and talk about the race, the meeting, the state of the sport. We talked before the race and after the race, and in the last mile he yelled some encouragement. He had finished 10 minutes earlier and won a turkey (not, I'm sure, one of my friends from a few days ago).

Met up with Charlie Kellogg, whom I've known for many years and was a seriously competitive senior runner. Charlie is now 70 and still seriously competitive.

But for true inspiration, there was John Dicomandrea and Lou Peters. After the race, John complained that when he tripped on a curb and fell while avoiding another runner, some firefighters (who were helping on the course) wanted to help him up and take him to the hospital. John wouldn't let them touch him for fear that by being "aided" he would be disqualified. His hand was bleeding and his chest bruised but he finished the race. He complained that he lost a minute because of the fall. John is 82. Lou did not fall and he did finish. Lou is 86. Afterward in the chowder line, the women laddling soup wanted to meet Lou. The man is a legend.

There were no youths in this race, not that I could see. But in the first mile I found myself running just behind, just alongside, and just ahead of three women who talked for five miles. Uphill, downhill, flat. Talk talk talk. When we crested a hill, one would say "was that a hill?" And their conversation continued easily, as if they were sitting in Starbucks having a latte. Eventually they went ahead of me a bit, and they finished about 10 seconds before I did.

My splits -- 8:59, 9:04, 8:31, 9:08, 7:51. Total of 43:35, which is 8:43 pace. It's a hilly and rolling course, especially the first two miles, and I guess the 4th. My pace was similar to the 5K yesterday, and my fastest mile

of the weekend was the last mile of the weekend.

I did not win a turkey but I had five bowls of chowder, one for each mile.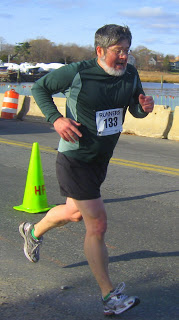 [November 23, 2010] [top]
---
Elmore Leonard published this one in 1991. The scene is Florida. A crazy judge (Bob), an unforgettable bad guy (Elvin), someone to root for (Kathy), someone good who won't make it (Gary), an odd couple (Dr Tommy and Hector), and a great supporting cast.

Leonard weaves his spell right to the final page.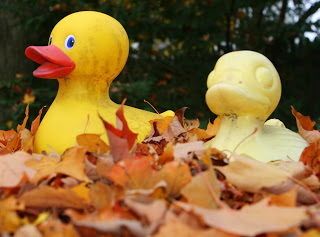 [November 16, 2010] [top]
---
Miriam and I arrived in Burlington, Vermont, last Friday in time for an "adapted folk dancing" class, led by brother Ben. Then it was off to a Vietnamese restaurant across the street from Ben's North End Studio. The food was great and it was prepared and served in a curious way -- our four meals were served one by one. As one of us finished eating (alone while everyone else talked and drooled), the meal for the next person arrived. Interesting concept.

Then it was back to the studio for some real folk dancing. Miriam danced and I caught up with email and GTD business.

On Saturday morning I headed out for one of my favorite runs -- down the hill to Lake Champlain and then along the lake. The popular Vermont City Marathon in the spring runs along the lake (in part). It's gorgeous and mostly flat.

In the afternoon, Miriam, Ben, and I walked over to Church Street, Burlington's open-air, downtown "mall" that is closed to traffic and usually features street performers and vendors as well as the many shops along the wide street. There was a young gentleman who climaxed his act by jumping through a ring of fire, and the Top Cats were there. They are UVM's all-male a cappella group.

Later in the afternoon we headed north to Laura and Darin's beautifully expanded house in Fairfax. We all -- Laura, Darin, Cameron, Shari, Ben, April, Miriam, me -- had a great dinner. But wait! Who's missing?

Michaela was already at Fairfax High School getting ready for the 4th and final performance of Willy Wonka, acted and sung by The Bellows Free Academy Dramatic Arts Ensemble. Michaela has been performing for most of her 15 years and when she -- Veruca Salt -- uncoiled onto the stage, she literally took it over. Do I think her performance was dynamic and sparkling because she's the daughter of my niece-in-law? No. Not at all.
She's good!
[November 15, 2010] [top]
---
Bob Dylan released "Up to Me" on one of the Bootleg sets. Have always liked it. Here's some:

-----------------------
Everything went from bad to worse, money never
changed a thing, Death kept followin', trackin' us
down, at least I heard your bluebird sing. Now
somebody's got to show their hand, time is an
enemy, I know you're long gone, I guess it must be
up to me.

If I'd thought about it I never would've done it,
I guess I would've let it slide, If I'd lived my
life by what others were thinkin', the heart
inside me would've died. I was just too stubborn
to ever be governed by enforced insanity, Someone
had to reach for the risin' star, I guess it was
up to me.

-----------------------------

And from Tambourine Man --

Then take me disappearin' through the smoke rings of my mind
Down the foggy ruins of time, far past the frozen leaves
The haunted, frightened trees, out to the windy beach
Far from the twisted reach of crazy sorrow
Yes, to dance beneath the diamond sky with one hand waving free
Silhouetted by the sea, circled by the circus sands
With all memory and fate driven deep beneath the waves
Let me forget about today until tomorrow.
[November 10, 2010] [top]
---
Elmore Leonard published it in 2007, so it's "late Elmore."

Nazi spies in Detroit in the waning days of WW2. But that plot summary is like saying fine wine is grape juice.

Leonard has his own sense of grammar and sentence construction, guided by the flow of normal speech rather than "rules" of the written word. For those of us who focus on grammar and "good writing," Leonard can be liberating or annoying. Right now I'm feeling liberated, but as I start my 3rd Leonard novel in less than a week, I'm open to being annoyed. I doubt it will happen. Leonard's stories are that good, and he would say "it's about the story, not the sentence." And ya gotta be good to get away with it.
[November 10, 2010] [top]
---
Fred Kaplan published 1959: The Year Everything Changed in 2009. Kaplan uses "1959" as a hook to tell the story of how art, music, social behavior, politics, and rest of our life experience changed from what it was in the 1st half of the 20th century to what it is today. I've listed below some of the people and topics that Kaplan covers. You may not know all of them, but they all mesh in Kaplan's tapestry to tell a story that is stunning. It was only a few decades ago that the world was the opposite of our current experience in music, art, censorship, and world politics. And of course everything continues to change.

--------------------------------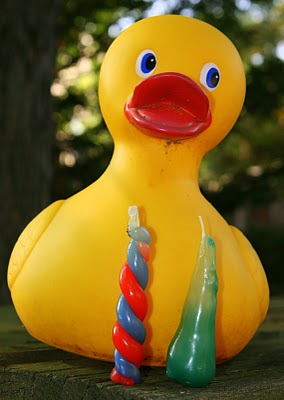 Lunik space capsule, Anastas Mikoyan, John Foster Dulles, Eisenhower, Krushchev, Norman Mailer, Diana Trilling, Lionel Trilling, Philip Roth, James Baldwin, Allen Ginsberg, Jack Kerouac, Lawrence Ferlinghetti, Sputnik, William Burroughs, William Carlos Williams, Charlie Parker, Dizzy Gillespie

Lady Chatterley's Lover, Naked Lunch, Irving Rosenthal, Howl, Big Table, Olympia Press, Grove Press, Barney Rosset, Charles Rembar, Jackson Pollack, Willem de Kooning, Franz Kline, Robert Motherwell, Anthony Comstock,

Lenny Bruce, Mort Sahl

Herman Kahn, RAND, thinking the unthinkable, On Thermonuclear War, missile gap, cold war

Pioneer IV, Project Mercury, NASA, astronauts

Jack Kilby, William Shockley, transistors, Bell Labs, Texas Instruments, microchip, IBM 1401

Miles Davis, Kind of Blue, George Russell, John Lewis, MJQ, Gerry Mulligan, Gil Evans, Bill Evans, John Coltrane, Cannonball Adderley

Fidel Castro, Che Guevara, C. Wright Mills, Tom Hayden, SDS, Richard Nixon, Henry Cabot Lodge, U-2, Gary Powers, Berlin Wall, Cuban missile crisis, John F. Kennedy

Saigon, Vietnam, Viet Cong, Ho Chi Minh, row of dominoes, Ngo Dien Diem, William Appleman Williams, Adam Clayton Powell Jr, Voice of America, Duke Ellington, Benny Goodman, Louis Armstrong, Little Rock, Dave Brubeck, Paul Desmond

US Civil Rights Commission, James Eastland, Strom Thurmond, Brown v. Board of Education, Lyndon Johnson, Martin Luther King Jr, SCLC, George Wallace, NAACP, Medgar Evers, White Citizens Council, Elijah Muhammad, Nation Islam, Malcolm X, Black Muslims, Mike Wallace, Louis Lomax, John Howard Griffin, Black Like Me, SNCC

interstellar communication, Phil Morrison, extraterrestrial life, Giuseppi Cocconi, Frank Drake, Carl Sagan, SETI

Guggenheim Museum, Frank Lloyd Wright, Wassily Kandinsky, Marc Chagall, Paul Klee, Fernand Leger, Rudolf Bauer, Hilla Rebay, Robert Moses, James Sweeney, Solomon Guggenheim, Harry Guggenheim, Peggy Guggenheim, Marcel Duchamp, Dada, Mark Rothko

Robert Rauschenberg, Jasper Johns, John Cage, Andy Warhol, Roy Lichtenstein, Allan Kaprow, Happenings

Robert Frank, Walker Evans, John Cassavetes, Shadows, Francois Truffaut, Jean-Luc Godard, Ingmar Bergman, Ornette Coleman, Charlie Haden, Leonard Bernstein, Max Roach, Five Spot, Don Cherry, Lester Koenig, Art Pepper, Chet Baker, Benny Carter, Shorty Rogers, Cecil Taylor, Red Mitchell, Percy Heath, Gunther Schuller, Lenox School, Martin Williams, Thelonius Monk, Billie Holiday, Nesuhi Ertegun, Atlantic Records, Art Farmer, Sonny Rollins

Edsel, Motown, Berry Gordy, national musical culture, transistor radio

Margaret Sanger, Gregory Pincus, Katherinne McCormick, GD Searle, Gloria Steinem, birth control pill "freed women to control not only when to have children, and how many, but also what to do with their lives"
[November 9, 2010] [top]
---
It's Monday, November 8. The plan was for perfect roof-laying weather. I arrived Sunday at 6pm and all looked good. After a hour or two, I heard rain. Perhaps a passing cloud.

Sometime in the middle of the night I sensed that the electric power in the house was out. This is Maine and that happens a lot. Back to sleep, all will be fine in the morning.

By 6:45am it was daylight. A very cold daylight, and I was up. No power. No heat. No computer! The rain was steady and the wind howled. Called CMP and learned that I was not alone. It's always nice to know that you're not the only one suffering. You don't suffer less, but knowing that others are suffering makes it seem ok. Weird.

Called the roof guys. They had to plans to come out today.

So I settled in front of the fireplace with an Elmore Leonard book, some candles (romance or light, not sure, but since I was alone maybe it was just dim light), and a very yummy yak hair blanket, extremely soft and tightly woven and warm. But good grief, the house was cold. And dark.

Power came on at 1pm. I made myself a couple tuna sandwiches with big slabs of onion.
[November 8, 2010] [top]
---
"I've realized that love is the most complex sensation in the world, partly because it's a mix of everything there is to feel. Finding a definition for it could take a lifetime, and in the end it's still only a theory." [quoted in the 11/6/10 Boston Globe, from a poem written by 17-year old Gracie James, who was killed last month in an SUV rollover accident in Utah]
[November 6, 2010] [top]
---
"My son is gay. Or he's not. I don't care. He is still my son. And he is 5. And I am his mother. And if you have a problem with anything mentioned above, I don't want to know you." [quoted in the Boston Globe on 11/6/10, by "Sarah," in her blog post on her son's choice of a Daphne (from Scooby Doo) costume for Halloween] Amen
[November 6, 2010] [top]
---
". . . We get a feel for that kind of action, huh? Know when to step outside, so to speak, let them do their own kind of freaky deaky. You remember that sexy dance? Was about ten years ago. Man, we had people shooting each other over it -- two homicides I know of come to mind. You freaky deak with somebody else's woman you could get seriously hurt."

Elmore Leonard's Freaky Deaky. After a dozen Robert B. Parkers in the last two months, and then Fred Kaplan's 1959, it was time for the periodic Elmore Leonard Immersion. Nothing quite like this stuff.

With another three or four days of Maine woods coming up, with days shimmering in cool sunlight and early (yet long) nights that are dark and creepy, there may be another couple Elmore Leonards staring at me.
[November 5, 2010] [top]
---
As I turned into the steep driveway at the Maine house I saw two CO Beck Roofing trucks there already, still with their lights on. It was 9:15 on Monday morning. My day had begun over three hours ago back in North Andover; theirs had probably begun about the same time.

After a few years of talking about replacing the 35-year old roof, Miriam and I became tired of picking up little shingle chunks after each big wind, and so this fall was New Roof Season. With Noah and Matt's encouragement, we also sprung for two 22x70 skylights on the lake side of the upstairs bedroom. And since this is Maine, the roof itself would be metal -- standing seam, specifically 20" wide continuous roof panels, machine fabricated onsite from 24 gauge galvalume with a color-coated (medium bronze) Kynar 500 finish. The roof panels are attached with concealed cleats that are integrated into an inch and a half machined double-lock standing seam. The custom-fabricated drip edge and rake moldings and valleys are made from the same metal as the roof panels. Plumbing vents are flashed using welded aluminum flanges with custom sleeves and caps made from the same material as the roof panels.

By 9:30 Dennis and Wes were headed right to the roof on the non-lake side, and Rhodes (a carpenter as well as metal roofer) and I went upstairs to lay out the location of the two skylights. We found a beam on the road-side that was dead center to where we wanted the skylights on the lake side, and we followed it up and over to get the exact location of the skylights. Although Noah encouraged a close placement, the nearest we could manage was a 17.5 inch separation. With that, Rhodes had to construct new headers.

It was after 11 in the morning when John came over and said "Dave, we have a problem." It's not good when the crew chief says that. There's a pipe that extends from the electric meter through (or perhaps alongside) your roof, and up about 4 feet above the roof. The electric wire from the street comes through this pipe. The pipe on our house had been bent for many years, so that it leaned strongly toward the pole on our property. Oops. John said that pipe had to be replaced before the metal roof went on. "What's involved" I asked. John said "you need to have CMP [Central Maine Power] come down and float [turn off] the line, and your electrician needs to replace the pipe." Well, I'm thinking, this could take weeks. Not only didn't I have an electrician, but CMP was not going to come do this right away. It was a roofing tragedy.

So I called Gary, our carpenter. He had used an electrican this spring for some work on our house. He picked up his cell phone after five rings, and this was a miracle. We chatted and chatted and I told him about our problem. Gary said to call Kaplan Electric and speak with Dan Kaplan, which I did. Dan and I were back and forth a couple times as I gave him the necessary information to call CMP on my behalf. I assumed CMP knew him, not me, and Dan agreed with this strategy. Dan called back and said the CMP office gave him the earliest appointment, which was next Monday, the 8th, but he was going to call a "line supervisor." When Dan stopped at the house a couple hours later he said "good news. CMP will be here at 8:30 tomorrow morning, and so will Greg [who works for Dan]."

So on Tuesday morning we had two or three Beck trucks in the driveway, plus a Kaplan truck, plus a huge CMP truck. The electricity went off by 9am, and Greg went to work. CMP was back before noon to turn on the power. It didn't come on. They quickly decided that the transformer on our pole had died. It was on for 35 years and then turned off, and that was it. So we moved the trucks around to get the CMP bucket truck close enough to the pole, and one of the guys went up and installed a new transformer. Once that was done we had power on the box and so Greg went down to the basement to turn on the main breaker. When he came back up, there no power at all. Uh oh. An electrical mystery. Meanwhile, the bucket had gone back to the truck, but the CMP guy got back into it and went back up to the pole. Yup, before he had come back down after installing the new transformer, he had flipped the switch to "on." Except it had been "on" already, and he had switched it "off." Now it was really "on." CMP was onsite for almost two hours combined, and Greg for about six hours. He also re-wired the line on the lakeside of the upstairs bedroom to drop it from waist level to mouse level.

Work on the roof continued Tuesday and Wednesday, and until about 2 in the afternoon Thursday before the rain became heavy. Roof work will start again on Monday the 8th, with a bit left to do on the road side, and all of the lake side, plus laying down the skylights and re-installing the gutter.
[November 4, 2010] [top]
---
Start of a glorious weekend in Maine. It's in the low 40s and the sun shines during the day, providing very little heat. The lake ripples as if there are monsters lurking beneath the surface. Fallen leaves and pine needles flood the land.

Roasted green beans and cauliflower followed by roasted root vegetables. Amazing.

Reading Fred Kaplan's 1959: The Year Everything Changed. The "beat" generation became "beatnik" because of Sputnik. Who knew?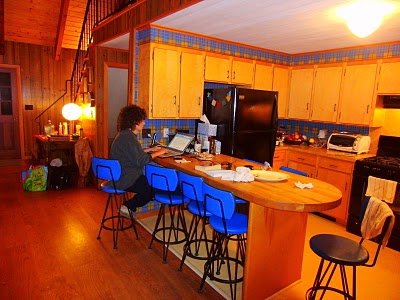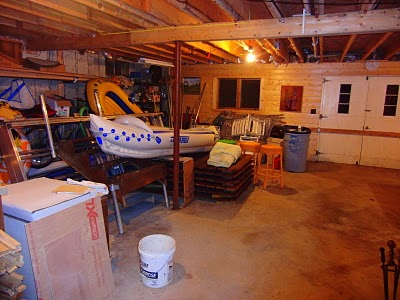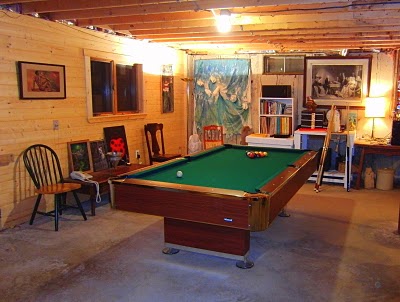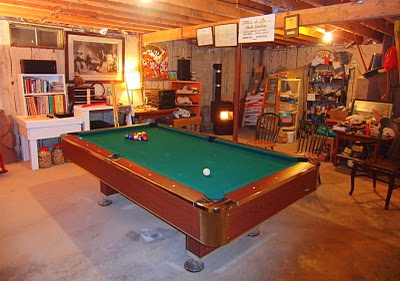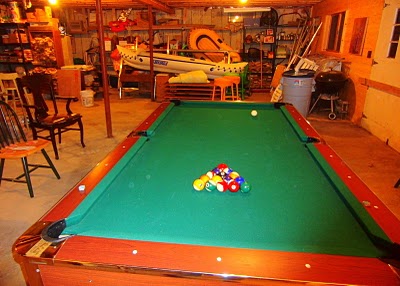 [October 22, 2010] [top]
---
It was April when Matt and I put the dock in. We took it out on October 16th. Air temperature was low 50s and very windy. Water was in the 40s. Our wetsuits helped but we couldn't avoid a sense of misery with this task and vowed to "pay someone" next year. But as with many things in life that are not easy, when it was done we said "that wasn't bad, we can do this again."

During the spring, summer, and fall the dock had many happy visitors -- Cindy S, Tenzing's mother and grandparents, Mandy and Noah, Helen and Joe, Keith, Miriam and me, and others. A weekend highlight always was being picked up by Mike and Cyndie for a lake tour in their boat. We will miss all of it. The loons have now left, the lake will freeze, and perhaps early next spring the dock will go back in. That's the plan.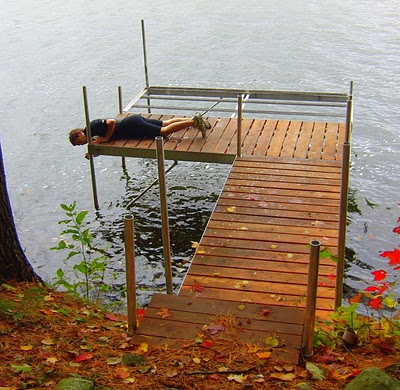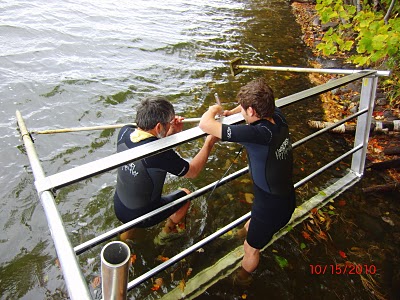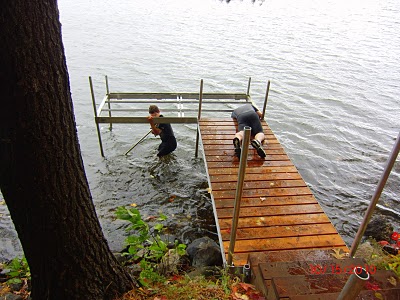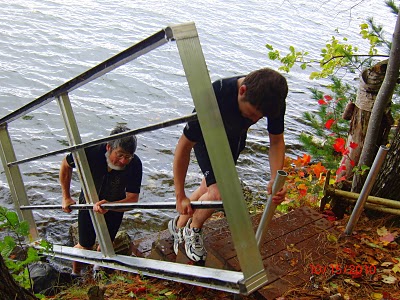 [October 20, 2010] [top]
---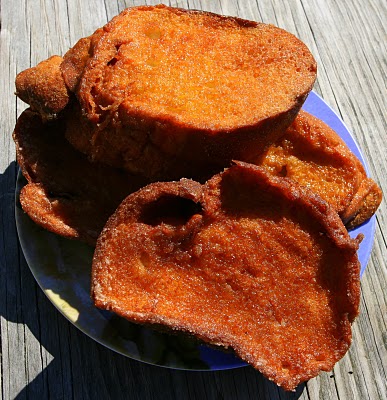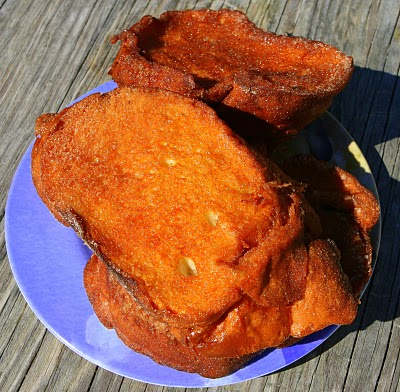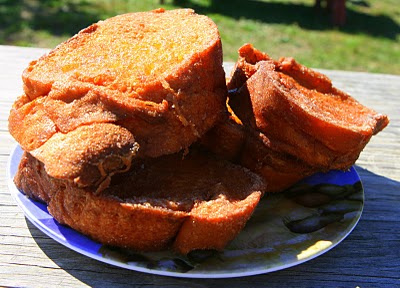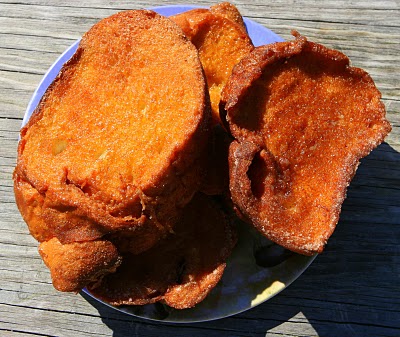 [October 2, 2010] [top]
---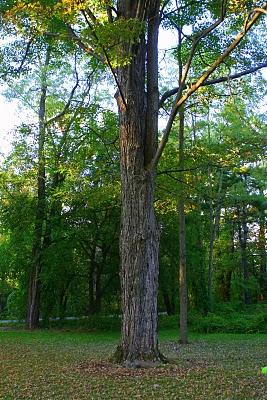 I was in New Paltz for a short weekend on September 25/26, and this meant long runs on the Wallkill Valley Rail Trail, which is 12.2 miles long, going from the southern border of Gardiner to the northern border of New Paltz, virtually into Rosendale. It passes through woods, open fields, and agricultural lands, and links Gardiner with downtown New Paltz. You will find a wide variety of birds and other wildlife and beautiful views of the Shawangunk Ridge and the Wallkill River. The trail surface is gravel and packed dirt -- with some flat but raised rock outcrops that tend to lurk beneath leaves on the trail.

My starting point is near downtown New Paltz. On Saturday I headed north toward Rosendale. It was hot and muggy and the 76 minute run was just right. This was long for me, based on my running over the past few years, but I'm moving the volume back up and need to get my body and mind comfortable with distance again. I have lost that zone that allows us to run for an hour or two or three.

On Sunday morning I went south toward Gardiner and reached route 44 in Gardiner. Early in the run, I saw runners heading toward me on the trail. Soon, three passed in single file with a cheery "good morning." It was a gorgeous morning to run. Warm but not hot, clear sky, fresh air, sun glinting through the trees overhanging the trail, giving the path a glow. Two more runners appeared running toward me and passed with happy hellos. Then one more, and then two, and then a group of four, and then another one, then two, then one more. I lost count, but it was before 10 in the morning and it was clear that these runners were a local high school's girls cross-country team out for a group run. Then the boys appeared, running hard but talking, packed close, and looking on top of the world as they breezed past with greetings. The group effort from these young runners reminded me of the many long, Sunday runs I've done with others. And seeing them was an affirmation that the younger generations of runners are tasting the joy of a good run, especially with companions on a beautiful morning.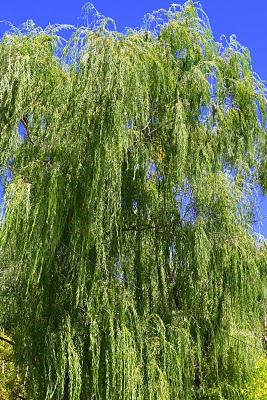 All of this company on the trail was over before I had run for 40 minutes, and I still had another hour to go. Sometimes it's good to be alone on a run, especially this morning. I was moving very well, not tired from yesterday's hot, fairly long run. The trail surface is good on feet and knees. On the other hand, failure to focus on the vague leaf piles (covering rocks!) on the trail can be a problem. And I'm good at failing to focus. About 50 minutes into the run I went airborne, flew horizontal for a bit before landing in the gravel on my right knee and left hand. It was quick. And thinking quickly, I immediately turned off my watch, since I had stopped running and was on the ground assessing the damage, which was a bit fascinating. Both the hand and knee wounds were (turn away if you're squeamish) oozing blood, but it was almost black. I saw that gravel had pushed through the skin, breaking it of course, but also stopping most of the bleeding. I thought this was a good thing, since I still had another hour to run, at least. After about five minutes, the stinging stopped. The knee ached a bit and I won't know if that's a problem until I get on the track on Tuesday evening.

After a day, the gravel has not all washed out. Maybe it will stay and form a protective shield to prevent further injury when I fall next time. One can only hope.
[September 27, 2010] [top]
---
Sharon and I executed the workout tonight. I mean, we really did execute it. When we were done, the workout was done and we were alive. We won. Very big win.

How does this happen? Many weeks/months of steady running, increasing mileage and intensity. Many weeks of attacking the track workouts. Not just getting through them, but grinding our bodies and minds to the task.

And then tonight. Was it easier than last week? I don't think so. But it seemed so. We hit the target paces and bettered them on some key intervals. Fernando did not disapprove. "It's a great night to run" he said. It was.

Last workout of the summer. Fall is here in two days.
Does it -- meaning life -- get any better than this? Don't think so.
[September 21, 2010] [top]
---
They're not hard. 200s are fast. 800s (and beyond) seem long.
A 600 is a lap and a half. Runners see that as 3x200.
It's reasonable. On the workout card it seems ok.
Tonight we had 10 of them. A group of 6 followed by a group of 4 with different paces for each 200 of the 600.
Rests were different for the 6x600 set and the 4x600[3x200] set.
After the 3rd one of the 1st set I decided to complete the set and stop.
My partner was not thrilled with completing the workout alone, though there were many other runners tromping past us on each lap, and we even "sped" past some others.
The joy of mid-packery.
As we finished the 5th one I was determined to do one more and then stop.
We finished that 6th 600 and then pushed into a lap recovery.
Ok, I'll do one more and see what happens.
By the 2nd (8th overall) 600 of this set I was resigned/enthused to finishing the whole workout. No reason not to at this point.
Everything was working, nothing broken, slight hamstring twinge 15 minutes ago was no longer there.
Maybe we weren't flying around the track, but we were moving well.
What is it about a track workout that challenges us. Each week it looks right at us and we look back. We commit to it or we don't. Over the past couple of years, I've blinked (stopped) more than not.
But not tonight.
I don't know why I do it. I really don't.
But each week that I show up, I feel my life is better for it.
And on those weeks that I don't blink, I feel I've won something.
Perhaps what I've won is life itself.
For another week.
[September 14, 2010] [top]
---
Mississippi

Every step of the way, we walk the line
Your days are numbered, so are mine
Time is piling up, we struggle and we stray
We're all boxed in, nowhere to escape

City's just a jungle, more games to play
Trapped in the heart of it, tryin' to get away
I was raised in the country, I been working in the town
I been in trouble ever since I set my suitcase down

Got nothing for you, I had nothing before
Don't even have anything for myself anymore
Sky full of fire, came pouring down
Nothing you can sell me, I'll see you around

All my powers of expression and thoughts so sublime
Could never do you justice in reason or rhyme
Only one thing I did wrong
Stayed in Mississippi a day too long

Well, the devil's in the alley, mule's in the stall
Say anything you wanna, I have heard it all
I was thinking about the things that Rosie said
I was dreaming I was sleeping in Rosie's bed

Walking through the leaves, falling from the trees
Feeling like a stranger nobody sees
So many things that we never will undo
I know you're sorry, I'm sorry too

Some people will offer you their hand and some won't
Last night I knew you, tonight I don't
I need something strong to distract my mind
I'm gonna look at you 'til my eyes go blind

Well I got here following the southern star
I crossed that river just to be where you are
Only one thing I did wrong
Stayed in Mississippi a day too long

Well my ship's been split to splinters and it's sinking fast
I'm drowning in the poison, got no future, got no past
But my heart is not weary, it's light and it's free
I've got nothing but affection for all those who sailed with me

Everybody's moving, if they ain't already there
Everybody's got to move somewhere
Stick with me baby, stick with me anyhow
Things should start to get interesting right about now

My clothes are wet, tight on my skin
Not as tight as the corner that I painted myself in
I know that fortune is waiting to be kind
So give me your hand and say you'll be mine

Well, the emptiness is endless, cold as the clay
You can always come back, but you can't come back all the way
Only one thing I did wrong
Stayed in Mississippi a day too long.

Bob Dylan
[September 13, 2010] [top]
---
Congratulations Matt!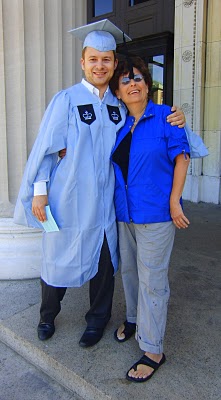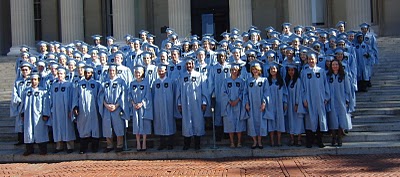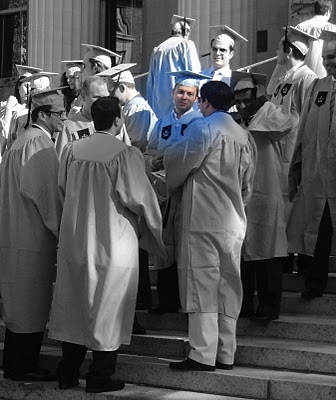 [September 13, 2010] [top]
---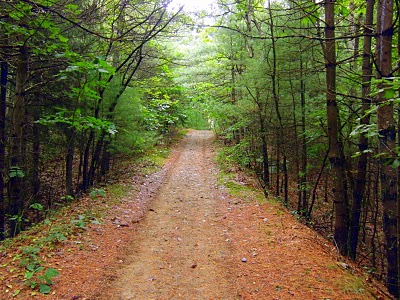 On the first Saturday of August of every odd year, my 1st cousins on my Dad's side have a reunion. There are 18 of us left. Back in the 1990s we had over 70 at the reunions, counting aunts and uncles and spouses and children and children of children. We're spread around the Eastern Seaboard and down to Texas and beyond, but we still get about 50 of the family together to spend a day re-bonding.

On the first Saturday of August of every even year, my brother Will and his wife Deb host a smaller reunion at their house on a lake in Connecticut. This is for the four siblings on my Mom and Dad's side and their families.

In late June, I sent the following email to the "even year" reunion gang. The subject line was "Free Encyclopedia."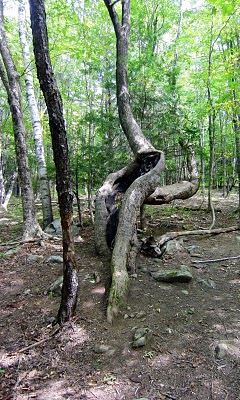 Hello All –

Yes, it's true.
This year's reunion offers – for the 1st time – YOUR opportunity to be the proud owner of a Smith Family Heirloom: the 23-volume Encyclopedia Britannica.
And that's not all. If you jump on this right now, you receive the Index volume FREE.
But wait.
There's more.
There are five yearbooks that provide incredible detail and updates for the years 1963-1967.
So step right up.
You want 'em, they're yours.
I may or may not spare you the curious story of how they became part of the Smith Treasure Trove.
The story is one I might tell in 5-part harmony, which it richly deserves since it involves a young boy who liked mailing for "free stuff" (glossy brochures, yeah!), a salesman who drove up the winding driveway at 35 Nova one evening, a young boy heading to the Cameo Theater as quick as he could that night, and his return home after the movie to see the same salesman smiling and shaking his dad's hand. Oh my.
Seriously. This is a swell set, looking for a loving home.
Lemme know.

It was a big gathering on the first Saturday in August, packed with my bright siblings and spouses, nephews and nieces. Nobody expressed ANY interest in the Family Heirloom Set of 23 hefty volumes of knowledge. Did I say this is a bright group?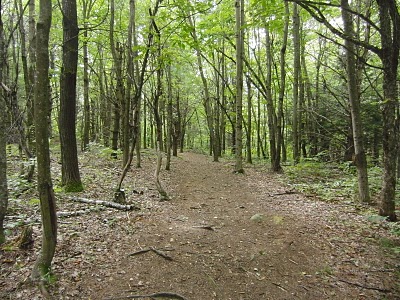 However, as Miriam and I were leaving, my sister Carol gave me a book by A.J. Jacobs, editor-at-large at Esquire magazine and author of numerous books, including The Know-It-All, One Man's Humble Quest to become the Smartest Person in the World. And what was this quest all about? It was to read the entire Britannica, cover to cover, all 32,900 pages of the 2002 edition. It took him a year.
OK.
I read Jacobs's book, all of it, all 369 pages.
I still have my Smith Family Heirloom Set of the Britannica.
It's waiting for me to start reading.
Help!!!
[September 9, 2010] [top]
---
It's where we live.
It's where we do track workouts.
Have you ever tried to explain what a "track workout" is?
To a non-runner. A relative. A friend.
If you're in your 20s, or 30s, or 40s, or 50s, or 60s, or 70s, and beyond.
And you try to say what you "did" this evening, to a "non-runner," you will get a blank look. They are not wrong. It is crazy.
Tonight I was late for the warm-up and stretching.
On the first "strides" I thought (very seriously) I would just go home immediately. My legs, feet, lungs. Did not want to run, even 50 yards down the track.
But with Sharon and Amy, I headed out for the 1st 800, the first of 4 in this set. I vowed to finish the two laps and then stop. The mind is a powerful thing. Mine was saying I should stop running.
But we headed out for the 2nd 800.
And then the 3rd and 4th.
I can go home now.
But we did our 4x200s.
And then two more 800s.
And then a long cooldown run. I was pushing the pace in the cooldown. As I was running, I could have run for another 30 or 60 minutes.
Crazy.
We are.
And loving it.
[September 7, 2010] [top]
---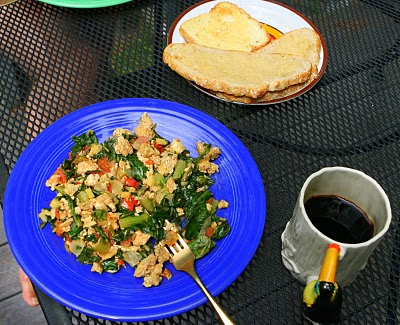 It was the 8th Annual "Friends on the Fourth" 5K in Winthrop, Maine. That's "Friends of the Cobbossee Watershed." There were 562 of us in the 8am starting line.

About a 100 yards after the start we climbed a hill and I thought how unfair life is, but then we descended the hill onto Main Street and I wondered whether downhills were more uncomfortable than uphills. My first mile was 8:40. There was a group of young men talking and joking and (yes) being annoying. But you expect that at an 8:40 pace on July 4th. A woman ran near them and suggested to them that they would run better if they stopped talking. They shouted back that they were having more fun than anyone else in the race. Both sides were correct, in their own way. The woman passed the guys. I was tired of listening to the chatter so I passed the guys too. On the other hand, I didn't want to be scolded, so I picked it up a bit and ran past the woman. She would later pass me in the 3rd mile and I thought if she had not wasted her energy scolding the guys she would have passed me earlier.

My 2nd mile was 8:28. It was hot.

Most of the last mile and a tenth was along the lake, and we ran up one side of the road, did a turnaround, and then ran back to the finish. Because of this, unless you were very fast, you saw the faster runners heading back as you were still heading to the turnaround. Not sure what this does psychologically, but I was unable to pick up my pace much in the last 1.1, which was 9:09 (8:19 pace). Final time was 26:18 (8:27), about 20 seconds faster than last Saturday's 5K. A good trend, although the different courses might explain the marginal difference in time. And the extremely hot air. But I'm not sure that very hot weather is a factor in a race as short as a 5K.

Rest of the 4th was kayaking on the lake and just wallowing about and having a good time.
Wallow wallow.
[July 5, 2010] [top]
---
As I write, I'm listening to Brahms' German Requiem.
Appropriate.

A few days ago, I mentioned to Fernando that I might do a 5K on Saturday (June 26). Knowing my random running behavior over the last few months, he said "start easy and finish hard."
So at the Ipswich 5K this morning, Judy Silva and I compared race strategy notes. They were simple. Start easy. Finish easy. But of course that doesn't happen. Judy ran a great race on very little training.

I finished.

After an opening 8:38 mostly on the road, the course went onto a farm's gravel path. And there were a few hills. And so on. Mile 2 was 9:07.

But it was fun. Some runners were dropping, and I was picking off others even at that modest pace, which I was comfortable with. I was thinking of Fernando's words about going easy. I have not trained to race in over 2 years, and have run only a couple "social" races in a couple years. Plus, well, everything has slowed down in terms of track, mileage, race pace.
But here I was. Racing. What a trip!

A bit after the mile 2 timer, the course went back onto the road, and there were a couple "timers" yelling splits. It was a riot. These were at what was probably the 2.2 and 2.4 mile marks, and they were giving splits. Very funny, but any human contact in the last mile of a race is inspiring. Maybe I'm just a baby. Talk to me or touch me and I smile.

So I was smiling in the last mile. There was no 3 mile marker, so the last 1.1 was 8:48, for a 26:35 finish. Yeah.
As for finishing hard (coach's orders), I'm a card-carrying member of the Whatta Jerk Club, which means if I have anything left in the last mile, or last 10 yards, I run my ass off. Which means I often pass people in the last 100 yards, like today.
Lousy finishing time, but I'm passing people. It's like, a race, ya know.
Next up is a race on July 4. Watch for me in the last 10 yards!
[June 26, 2010] [top]
---
Rail trail running is the best.
Racing on a rail trail is bester.

On Father's Day morning, June 20, I headed off for a run from Helen, Joe, and Lily's home near the rail trail in New Paltz, at the foot of the Shawungunk Mountains. After a half-mile, as I turned onto the trail I saw a Road Race Water Table and some race volunteers. Woop. Just for me?

No. A 5K and half-marathon had just started about a mile away at Water Street Market. I had missed it.

I ran down the trail toward the start/finish, and coming toward me were the runners from both races. I cheered them on, stopped often to clap and shout. And to feel a bit silly, since I was the only one going in the wrong direction.

I got to the finish line, and watched the 5K finish, which was won by a woman in 18 something. Later on during my extended run (as I did penance for missing a real race), I saw the winner walking home along the trail with a friend, and as she passed I said (brightly) "congratulations" and she said "thank you very much." And may have wondered how this random runner knew she had just won a race. Ha. Winners walk with a lilt to their stride, and she had it.
[June 26, 2010] [top]
---
On this morning's run I turned the corner past the town library on Main Street and headed toward the Middle School. I was running on the sidewalk.

Ambling along ahead of me were six Middle School girls with a teacher. Why they were out at 10:30 in the morning, and why they were blocking the entire sidewalk, I don't know.

As I approached, I hopped onto the street and zipped past them and then hopped back over the curb onto the sidewalk in front of them and kept galloping along with my run.

Well, not really.

As I hopped back over the curb, my right foot and the curb got to know each other and as in many of our dreams/nightmares I went "flying" toward the sidewalk. Horizontally. Actually, my right side followed my right foot and I hit first with my right chest, and then right palm, and then lower right leg.

I lay stunned.

The girls and their teacher looked down at me. Stunned.

I looked up. I said to them, "wasn't that exciting?"

Six girls decided at that moment to never run in their lives.

Blood was streaming down my leg and pooling on my hand.

And this old man was saying, "I'm fine. I'll just continue my run."

Freaky. Traumatic.

Not for me. I've fallen many times. I even moderated a web page about runners falling down.

But for these poor kids, it was one more horrible reason not to run, not to grow up, not to risk anything.
Ah well.

The bleeding stopped. The chest is sore, but it only hurts when I move.
I can still read and type. Life is good.
[June 3, 2010] [top]
---
The large tree that ripped from the ground and crashed through our dock area and half-way into the lake is no longer in the way, thanks to a logger and my own bothering with it last weekend.

Other news from Maine -- finished Parker's Mortal Stakes (sort of a baseball story) and replaced the Harvest Gold refrigerator that was still working and consuming enough electricity to power a small city with a new one, 35 years younger. As for Mexican Train Dominoes, Mike won big 2 weeks ago and Cyndie won this time. Miriam and I have all summer to maybe win a game. Looks bleak, however.

First track on the track last Tuesday, and running with Beth at noon on Wednesdays. The fear/love relationship with track workouts is back, plus the anxiety of running with someone else, which reduces the lure to plod rather than actually run with purpose. It's more fun to run with a companion, but there's a wisp or even a strong wind of pressure that's missing when one runs alone. We need pressure in our lives.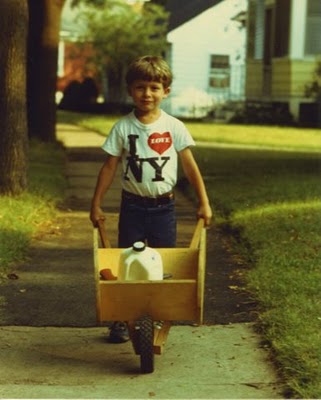 [April 27, 2010] [top]
---
Finished Robert B. Parker's Hundred-Dollar Baby last weekend. Visited Pace Wildenstein gallery and Sotheby's to explore an item on Monday. Between visits, we had lunch at an Indian restaurant on Lex in the 60s, whose food was many levels below what Dolma (Tenzing's mom) had been making every day during our visit. Miriam and Dolma went shopping for spices and ingredients. I asked, "don't we need a cookbook?" Miriam said, "no, we have Dolma."
The little ones are now "fixed" as all young dogs should be. And they look very silly in their collars. Queens they're not
[April 3, 2010] [top]
---
Last night Rob and I went to the Boston Symphony's rehearsal concert to hear the world premiere of Peter Lieberson's Songs of Love and Sorrow, based on poems by Pablo Neruda. This commission from the BSO was originally to be composed for Mr. Lieberson's wife, the mezzo Lorraine Hunt Lieberson. However, she died in 2006 of breast cancer, and he too was soon diagnosed with a severe cancer.

Mr. Lieberson writes that, in Neruda's words, he "personally discovered the truth about love: 'just as it never had a birth, it has no death; it is like a long river, only changing lands, and changing lips.'"

Mr. Lieberson survived his cancer and re-married, and gained a clear understanding of the link between love and sorrow. His music and Neruda's words are powerful, as was the performance by the baritone Gerald Finley and the BSO, led by Jayce Ogren (filling in by James Levine).

The rest of the program was Finlandia (now, THAT's a national anthem) and Valse Triste by Sibelius, and Schubert's 9th symphony.

Dinner was at Pho and I (Thai), around the corner from Symphony Hall. A nice Pinot Noir and excellent Pad Thai.
Finished Robert B. Parker's Now and Then. Next?
[March 25, 2010] [top]
---
An hour this morning on the Rail Trail in New Paltz. The snow here finally left yesterday and the trail is good to run on. Some mud but not much.

As always, one could run for hours on a good rail trail and feel nothing more than the urge to run more. And more.

At the Wellfleet Wildlife Sanctuary, part of Audubon, the bay and shore meet like the hands of two lovers -- they are one.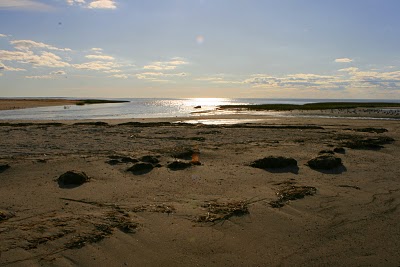 [March 19, 2010] [top]
---
It was, like, over 60 degrees in late afternoon.
The sun.
The blue sky.
The threatening WARMTH.
Yes.
Like the scared squirrels who romped nearby, I sat in the hottub with fear dulling my joy.
What joy was this.
Winter was gone.
Freezing windy air that would fling my towel into the 101 degree water and mock my joy. As I mocked back. Haha you winter cold!!!
Now there are many months ahead that promise warm to hot and beautiful weather.
The hottub will feel useless.
Perhaps as an icebath.
Is that possible.
Must ask the Coach.
[March 17, 2010] [top]
---
Workout on the track with Sharon this morning. Stunning weather -- cool but sunny, and blue sky. Rain no more. She did the whole thing, which was 5 and a half miles of tempo at Fernando's secret pattern of hard/easy/rest. I did 3 and a half. The mile and a half warm-up and cool-down were appetizer and dessert.

Yes, running may be all about food. We run to eat.

Finished Robert B. Parker's Valediction, a 1984 Spenser novel. At one point he walks into an office to the sound of typewriters typing. At another point he's being chased by bad guys but he doesn't have a cell phone to call for help. Only 26 years ago we had typewriters but no cell phones.
Anyone want my old typewriter? It's electric!
[March 16, 2010] [top]
---
Miriam and I spent last weekend in Manhattan with Matt, Tenzing, Tenzing's mom and grandparents, and Apollo and Kalsang, who are Lhasa Apsos (Tibetan Guard Dogs!!).
Here are some moments.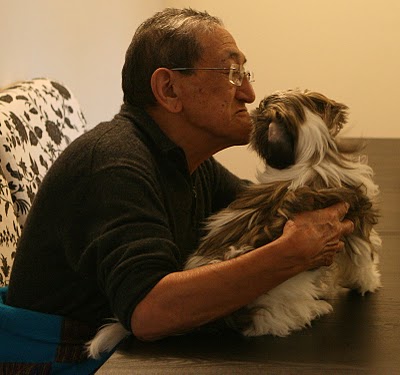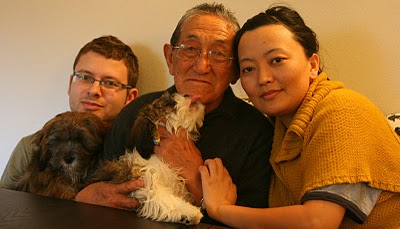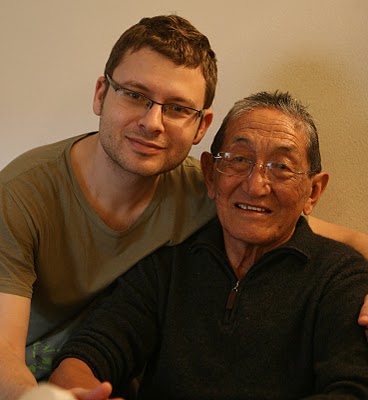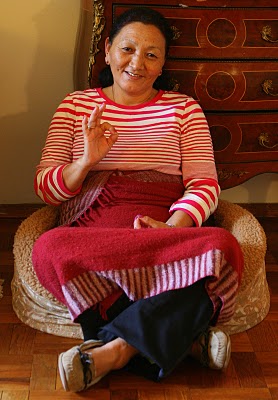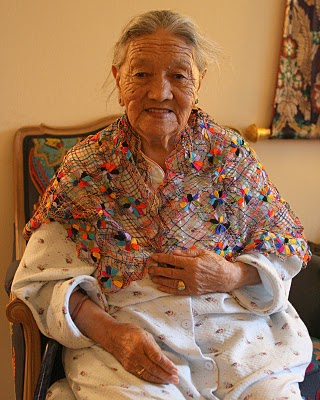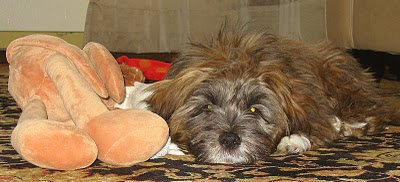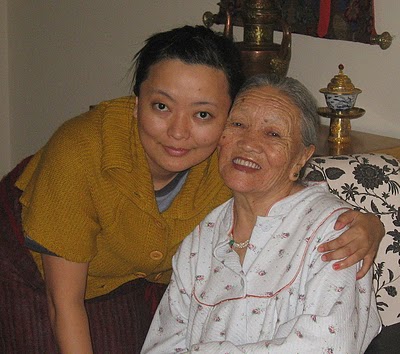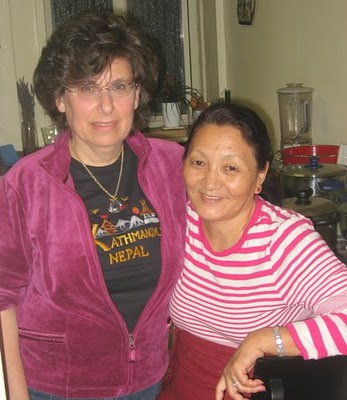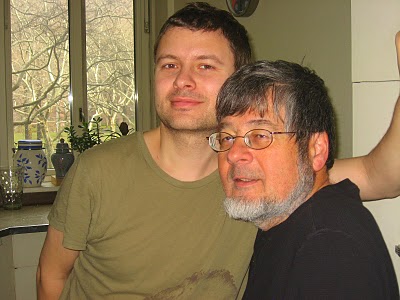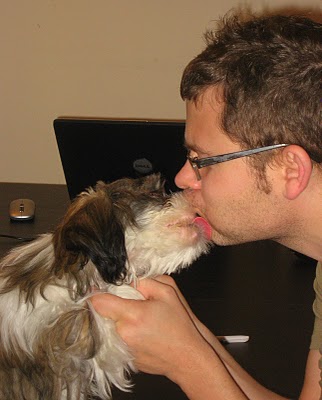 [March 15, 2010] [top]
---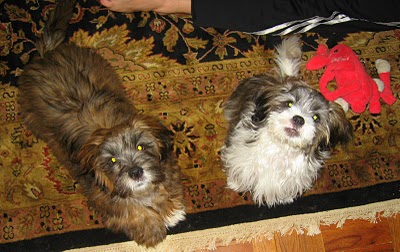 It's raining in Manhattan this weekend. Raining elsewhere too.
Emailed Fernando early this morning (Saturday) to say I was heading out for a rainy run. He replied: "Don't melt!" Thanks Coach. I don't wear a watch anymore, and rely on my cell phone for the time of day. But I run with a watch, either my Garmin 305 (Big Clunker) or my '80s Casio with the orange, green, and purple accenting. Love that watch.

But I forgot my watch on this trip down to Manhattan. How would I time myself without a watch? How would I know that I had run at all if I didn't have an official time for the run? Maybe I should skip the run down the East River. It's cold and raining and very windy. And I have no watch.

But I do have a cell phone. Mmmmm. Check the time when I leave and check the time when I'm done. Will that work? Yup. I don't know about the number of seconds I ran. I do know I ran from 8:40am until about 9:14am. Not long at all, but conditions were miserable.

Usually there are 100s of runners zipping up and down the East Side along the river. This morning I saw only about half a dozen. And unlike other times when we don't wave or look at each other, this morning we few idiots greeted each other with smiles and waves. Misery truly does love company.
[March 13, 2010] [top]
---
Sliding in the snow -- that's Delaney pulling Noah, atop Mt. Lemmon near Tucson.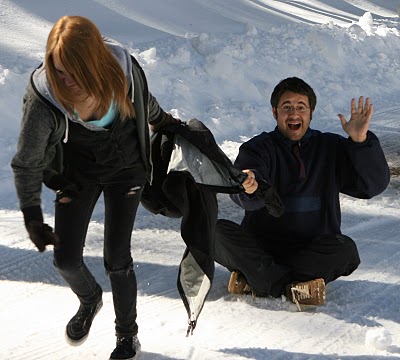 [March 12, 2010] [top]
---
Ok, not a happy moment. Right butt hurts, a lot.
No reason for this. None at all. Did not run today because I imagined I should not run if I'm in a lot of pain, but in last few days it did not hurt only when I DID run. Really really stupid.
Tomorrow off to the chiropractor. Heal, darn it.
[March 11, 2010] [top]
---
This morning ran to the track with Sharon and did 5x800. Exciting to be on a track again and doing a workout at tempo pace, or hard pace, or at least with a sense of being a purposeful runner doing a genuine workout. Sharon did 8x800. She's running the Paris Marathon on April 11th, so she needs to imprint more pain in her body than I do. I skipped her 3rd, 5th, and 7th 800s.

On the 3rd I walked around the track with Andy, who was in the middle of I think a 7 mile "walk." He was walking faster than I could, so I did only one lap with him. To keep up, I noticed I was extending my stride, since the other way of gaining speed (leg turnover) would have me running while he was walking, and I would feel foolish (and yes, feeling foolish is my world, but I'm usually unaware of it).

But by extending my stride I began to feel my left hamstring tugging away in the socket behind the knee, and I realized I couldn't walk with Andy without injuring myself.
Weird to say, running was easier than walking.
And who says runners are crazy.
[March 9, 2010] [top]
---
50 minute runs alone in New Paltz on Friday and Saturday, and then easier runs on Sunday and Monday with a friend. Always good to run with someone. Snow on the rail trail so these were all on the roads.
Finished Malcolm Gladwell's Tipping Point. He misplaces the locations of Andover and Ashby, and he doesn't know that the E and F trains in Manhattan had air conditioning in the '70s. But the grand sweep of his argument makes good reading and sense. Now to make a million bucks with my new knowledge of epidemics, from shoes to suicides.
[March 8, 2010] [top]
---
After 10 days in Tucson, we headed home to MA. Flight to Las Vegas was short and easy and I had enough time to get one last burrito before boarding the plane for a 5 hour flight to Manchester, NH, airport.

We were due to land at 11:50pm and we would have been home before 1am. Nice.

We were 40 minutes from Manchester when Sir Pilot announced that we were turning around and heading west to Midway Airport in Chicago, almost 2 hours away.

Aaaaaaaaaaccccchhh.

Ok, 50 knot winds and no power at Manchester made this a good idea.

But.

When we landed in Chicago and 120 of us trooped into the terminal, we expected to be greeted with sweet comfort. Nope. Some workers were there, but they really hadn't figured out what to do with 120 diverted passengers at midnight on Thursday, which now was Friday. And the airport was closing.

And then another 120 passengers from another diverted Manchester flight arrived. Whoopie. The joke (haha) was that these folks had left Midway earlier in the evening and headed to Manchester, and were 2 minutes from beginning their landing descent when they were sent back to where they began -- Midway. Aaaaaaacchhhh.

So now there were over 200 of us swarming the desk. The 3 or 4 overwhelmed folks at the desk (hard to tell because they kept physically evaporating from us) demanded that we (all 200 of us) "form a single line."

hahahaha.
Not going to happen.

We're all tired and pissed and swarming.
We were told to call a certain 800 number or use the Internet to re-book for the promised 4:30am and 4:50am flights that would take us to Manchester.

After the 2nd announcement one of us shouted out "the person at the 800 won't book us because they say our flight had ended." We heard no more about the 800 number.

As for using your smartphone or laptop to re-book your flight home, (1) there was no free wifi available, and (2) those who managed to do this had no boarding pass 5 hours later and ended up riding home in the baggage hold with the suitcases. We eventually got booked on the 4:30am flight and got boarding passes.

And then we headed to Gate 5, our departure gate. After an hour, the floor wax guys told us we had to move to Gate 9.
Ok.
After a half hour there, the Terminal Law told us we had to leave the entire B Concourse and go to Concourse C, where there were cots for us.
Let me tell you about 200 cots in a huge space with many people squirming around like they have ants crawling in their undergotchies.
It's loud. Nobody sleeps, except some folks who may have been Zombies.
Actually, we were all zombies at this point, maybe 3am.
There was one food place open. Actually a drinking place. And about 10 guys who had never before met whooped it up all night as if they were best friends.
Miriam lay on a cot that I moved to a "chair place" and I read The Tipping Point.

Anyway, this is a long story and I can tell more details, many of which I'll make up to entertain you, when I see you.
Our plane took off at 5:10am, not 4:30am, and we were delayed an extra 10 minutes while they searched for ice to bring on board. As if anyone wanted ice at 6am.
We got home.
It was great.
[February 28, 2010] [top]
---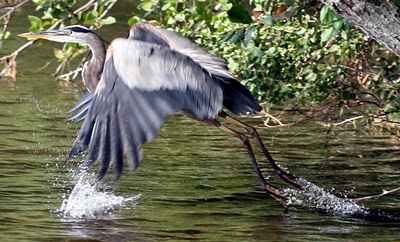 It rains in Tucson in February and the temperature drops to 50 and maybe 40, certainly that low when the sun is gone. But after a day or two of rain, everything green is greener and everything else is starting to bloom as if you're watching flowers opening in a fast-forwarded time-lapse world. Very beautiful. Have read two Robert B. Parker books this week -- School Days (a Spenser book) and Night and Day (a Jesse Stone book). Passed on a Parker western and now reading Gladwell's The Tipping Point. Curious that in his discussion of Paul Revere's Ride he misplaces the locations of Andover and Ashby. Didn't he have an editor with a map? Ran yesterday despite the chill. Reminded me of being home except I was dressed for summer, which it's not.
[February 23, 2010] [top]
---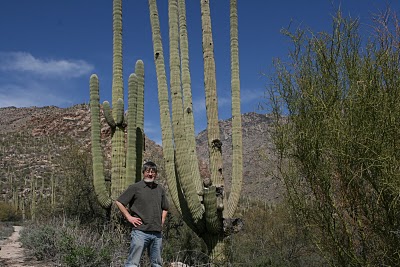 Short hike into Ventana Canyon yesterday with Mary My Kindergarten Friend and Miriam. Can't fool either of these women -- one knows me as a child and the other as an adult.

Then a lucious lunch at the Resort at Ventana.

Rain today in Tucson, but before that I helped Noah put three huge blue tarps over the outside 2nd floor windows, where there aren't windows yet. Haha Rain -- we outsmarted you.

Typical of here, after it rained for a few hours, it got bored with that and the bright sun and blue sky returned.
[February 20, 2010] [top]
---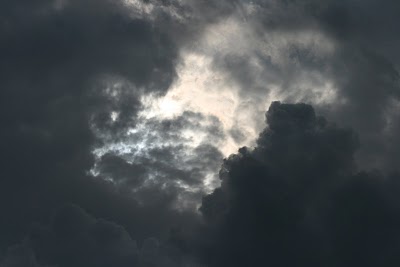 Late afternoon on Tuesday. Snowing. Plows on the runway. Plane being de-iced. Pilot does a visual check of the wings at top of the runway. And then we're off, leaving a mid-February snowstorm in New England to arrive in Tucson, 70s daytime with blue sky and sun, maybe 40s and 50s at night.
Community dinner last night with many neighbors in common area. Outside of course.
Running in shorts and t-shirt.
Expect snow in New England to be all gone by end of next week.
[February 19, 2010] [top]
---
These human bodies are poor vessels to house our perfection, eh? We have flaws and are flawable, daily.
Spring of 2008. I became intimate with plantar fasciitis. I moaned about this in On the Road.
Summer of 2009. Something that might be called sciatica became my 24-hour a day enemy. Who knows what this is all about, a pain that runs from one's foot up the leg into the lower back.
Winter of 2009-2010. Lower back pain. How boring. How debilitating.
All of these damages made it impossible to run. And I do define myself as a runner. What's a runner who cannot run?
A crazy person.
And so recently when I burned my left thumb while cooking (clumsily) and cut my left index finger while cutting (clumsily) an onion, I LAUGHED.
These painful and annoying damages did NOT affect my running. Which is still lousy, but I can live with that. As long as I can run.

Mandy, Noah, and their horses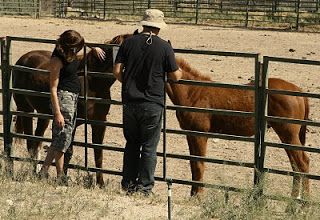 [February 15, 2010] [top]