Love is a snowmobile racing across the tundra and then suddenly it flips over, pinning you underneath. At night, the ice-weasels come. [Matt Groening] [
more quotes
]
This year I read only 17 books, 8 fewer than 2013. Perhaps this year's books were longer, or more complex. Perhaps other matters of import reduced my reading time. Or perhaps I took more naps.

In January it was Claire Messud's The Hunters, part of my quest to read all of Messud. Gary Shteyngard's Little Failure was in February. I watched a Shteyngard reading of this book at a bookshop in DC; the questions and answers after the reading were as good as the book.

My niece, Patience Bloom, wrote Romance Is My Day Job, and that was my March book. Interesting.

Also in March was Messud's most recent book, The Upstairs Woman. In April, I read Many Lives, Many Masters by Brian Weiss, and then for a gigantic change of pace, Lullaby by Ace Atkins, a continuation of the Robert Parker "Spenser" series.

Tishomingo Blues by Elmore Leonard was in May. Hope I never run out of Elmore Leonard stories.

In June it was Karen Russell's St. Lucy's Home for Girls Raised by Wolves. I've read complaints that Russell's stories don't always have happy endings, and sometimes no real ending at all, they just stop. Russell and Messud are writing about life. Life can be hard. Not always happy, and events don't always "end" -- they just keep going, beyond what we can see or understand.

In August it was A Change of Gravity by George V. Higgins, and another Spenser novel by Ace Atkins, Wonderland.

Stephen King showed up in September with Mr. Mercedes. October was bookended by Claire Messud's first novel, When the World Was Steady, and Karen Russell's newest collection of stories, Vampires in the Lemon Grove. In the middle were Elmore Leonard's Out of Sight and Michael Brandman's Fool Me Twice, a Jesse Stone novel in the spirit of Robert Parker.

Leonard showed up again in November, with Road Dogs, oddly enough a continuation of Out of Sight. And there was Brandman again, with Damned If You Do.

That was it for finished books. Currently reading David Mitchell's Cloud Atlas.
[December 29, 2014] [top]
---
We had great plans for Monday, April 28. We would head to Versailles.
But it's closed on Monday.
Instead, we'd head to Musee d'Orsay to see all the great impressionists.
But it's closed on Monday.
Grumble grumble.

Sister Carol, who had been to Paris before, said "let's go to Place Saint-Michel, and explore the Latin Quarter."

So, in a light rain, we left the hotel to hail a cab. When there are 4 passengers in a Paris cab, there's an extra fee for the 4th. As for 6 (our group), well, there are a few cab/vans that fit 6, but they are scarce. Outside the hotel, there were none. I headed up the street to look for one. Miriam, who was raised in Manhattan, went out into the street and flagged one down. Brilliant!

Place Saint-Michel is a public square bordering the Seine in the Latin Quarter on the left bank. It's a great place from which to explore Paris.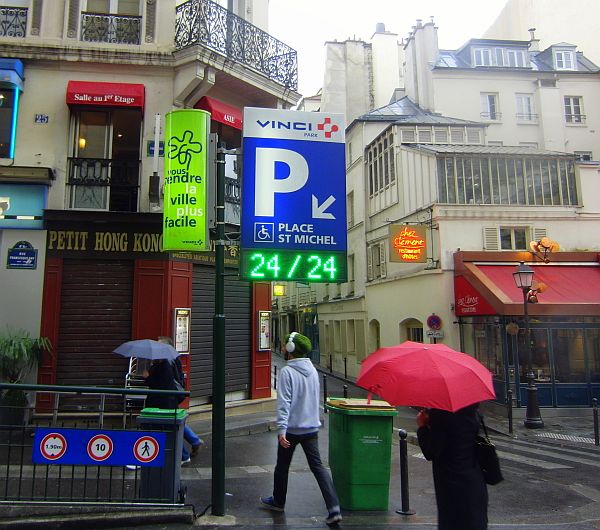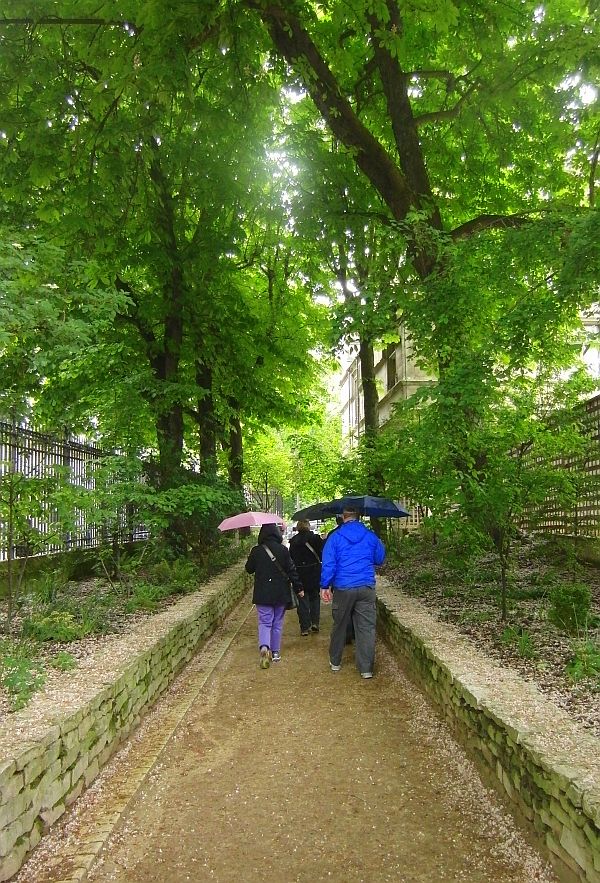 We headed to the National Museum of the Middle Ages, which one might think is boring, but one would be wrong. It is stunning.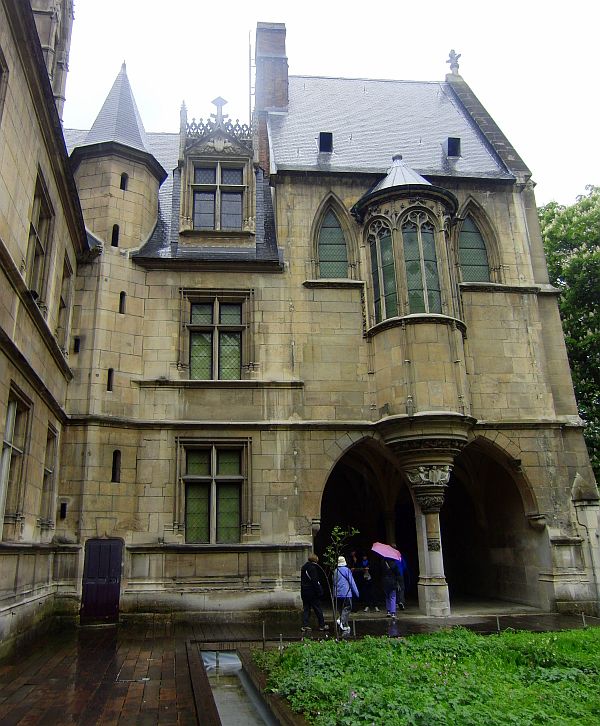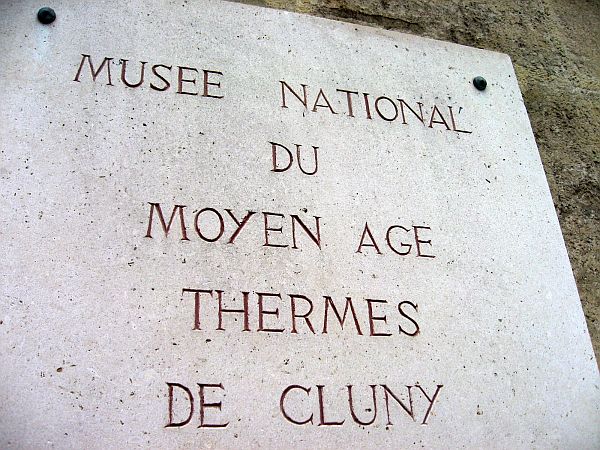 Among the goals of this venture was to see the tapestries from Cluny, which are here rather than in Cluny. There was a rich collection of paintings, sculptures, tapestries, stained glass windows, and other treasures. There also were several school groups of bubbly, chattering little French people (children, in fact) who were on a school "field trip." The bustle of youth was great -- museums should not be seen only by old people on holiday!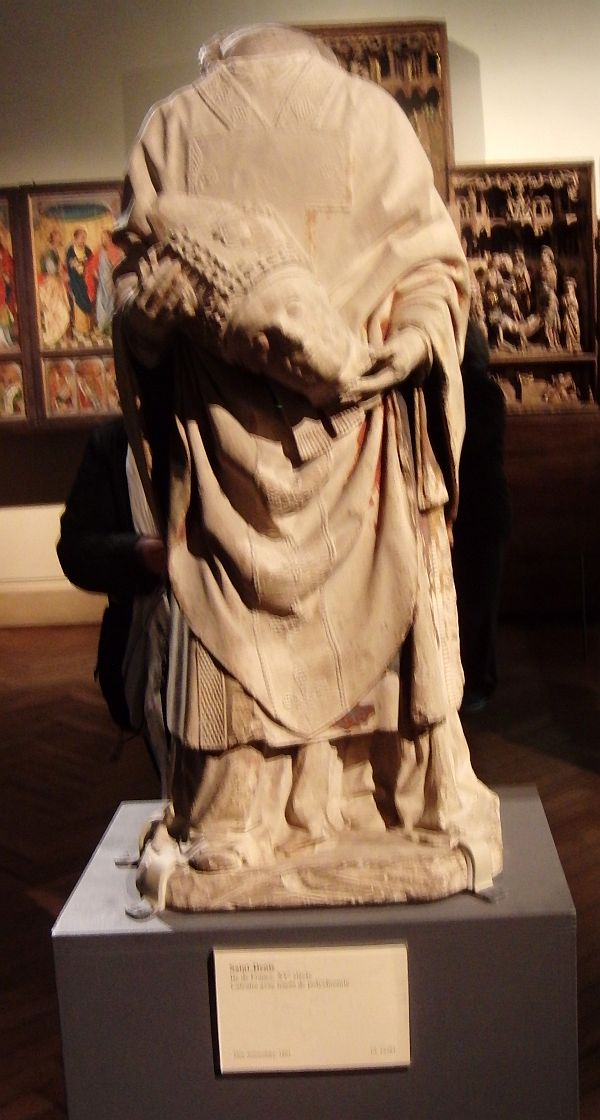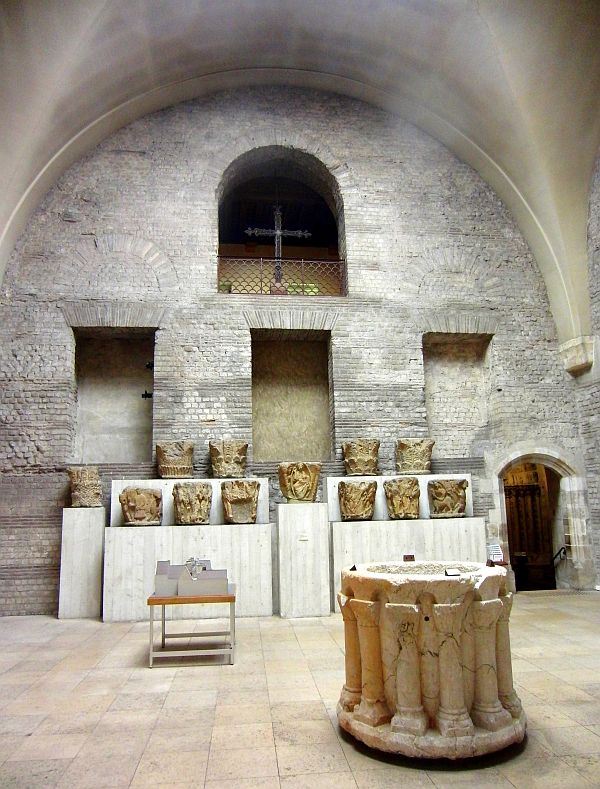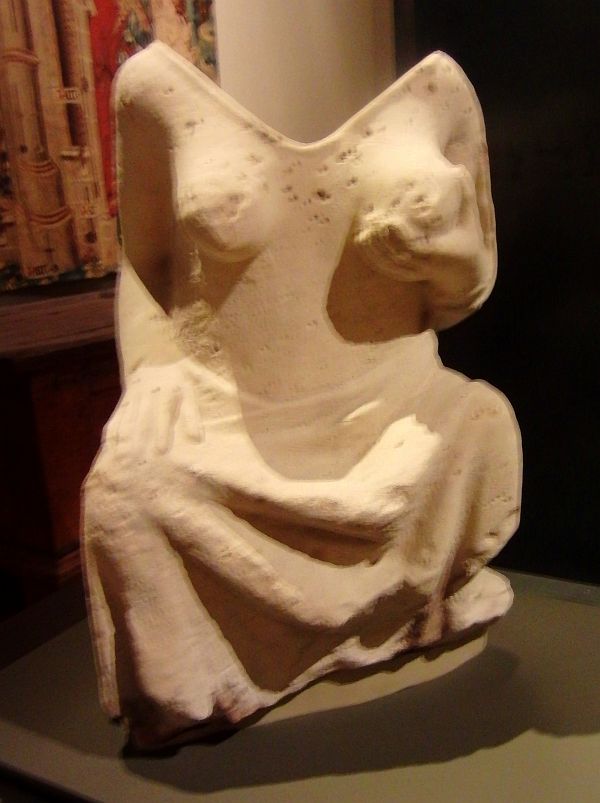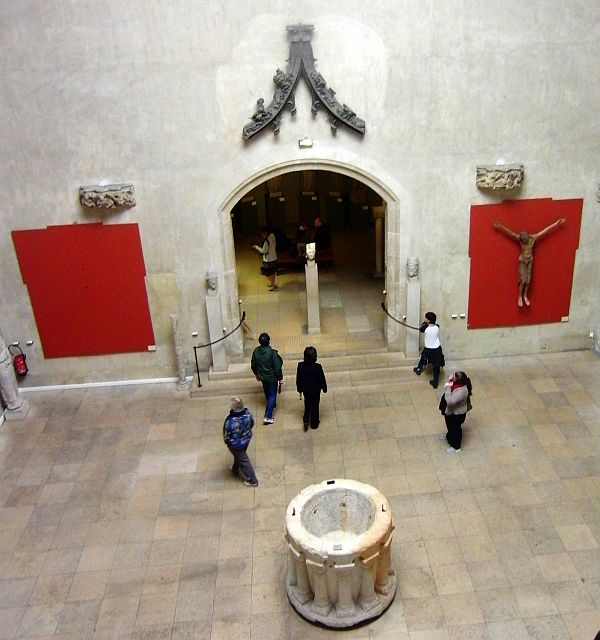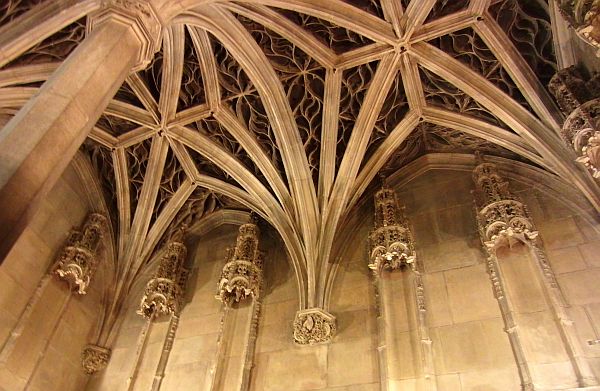 After our cultural immersion, we were ready for lunch (again), and we quickly found Cafe Cantante near the Museum of the Middle Ages. This is a colorful Spanish restaurant with a French twist, or the other way around. We were happy, especially after the two women at a table next to us broke away from their rapid French conversation to explain (in perfect Engish) what was confusing us about the menu.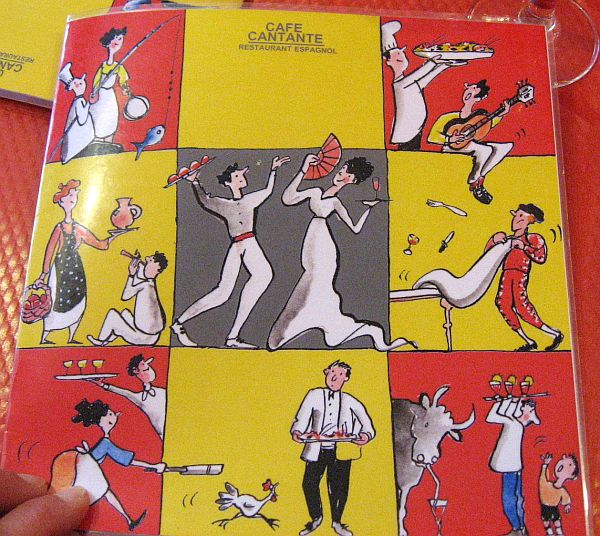 The rain had stopped and we strolled easily and arrived outside the Church of Saint-Germain-des-Prés, which is the oldest church in Paris. It was built in the 6th century. In the huge courtyard outside the church, young people were handing out sheets of paper. Since we were wise to pickpockets and scams we turned away from these nicely dressed but unknown 12-year old girls who were trying to interest us in their mischief.

We went inside the church, and saw more of these sheets of paper. The "mischief" was an announcement for a concert starting in 15 minutes by the famous Jitro Czech Girls Choir that performs all over the world. The choir was singing a benefit concert in 15 minutes right here, in this church that "boasts fantastic acoustics and a marvelous medieval atmosphere. The church was built to accommodate an age without microphones, and the sound effects will thrill you." We were staying.

We walked around the inside of the church and were stunned by the immense space and beauty. In front of the main alter were several dozen rows of chairs. We sat. Soon we heard voices, singing. Angels? The sound came from everywhere. In fact, it came from the line of singers walking slowly up the main aisle from the back, singing Gregorian chant. They soon arrived on the small stage in front of us and proceeded to sing for 75 minutes. It truly was stunning. Was it the single greatest highlight of our entire trip? It certainly was unexpected, unplanned, and we were just lucky to have stumbled in.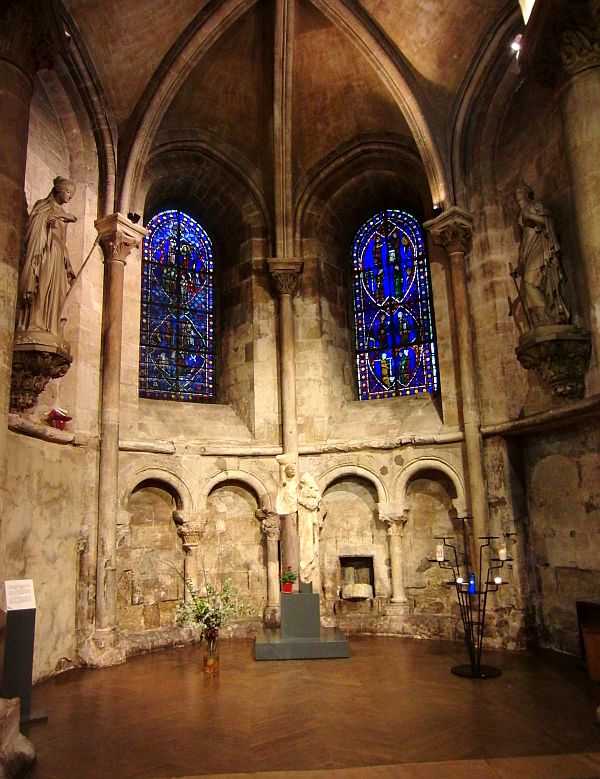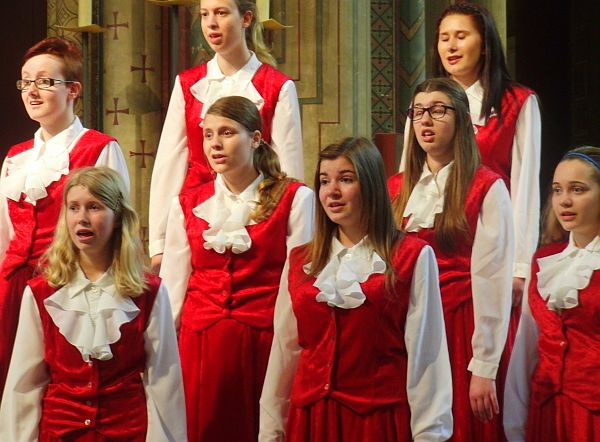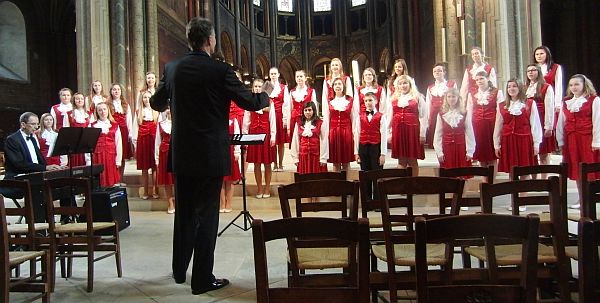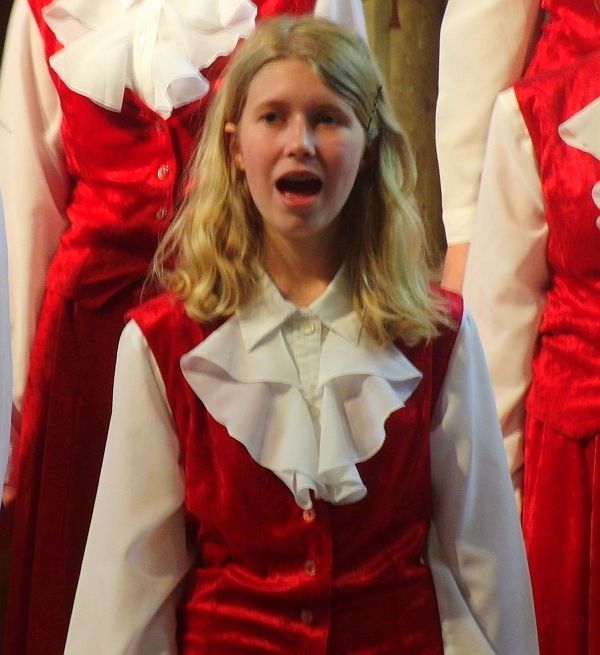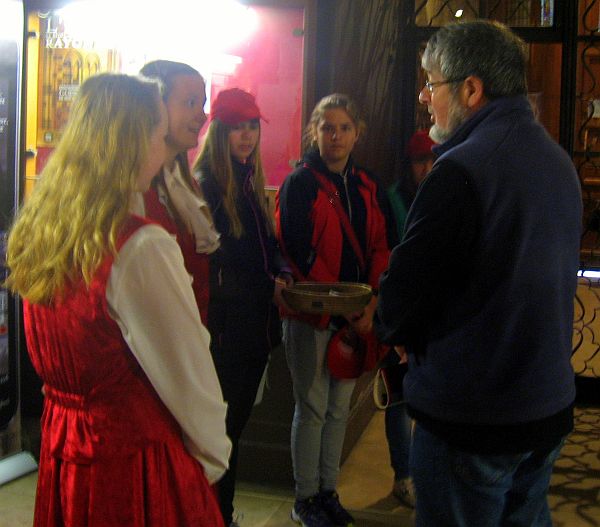 Back on the street, we walked along the Seine for awhile. After all, that's almost the main reason we came to Paris. We sat in a coffeeshop for awhile, were ignored, and left. Never did figure that one out. But some of our group made good use of their restroom, so maybe that's all that was meant to be.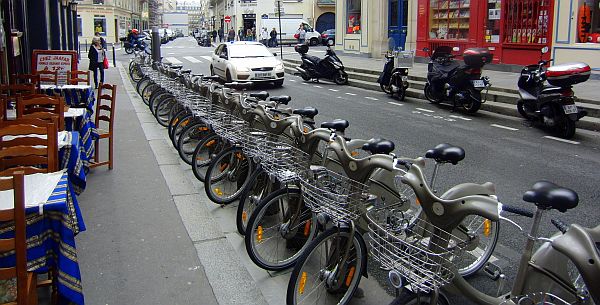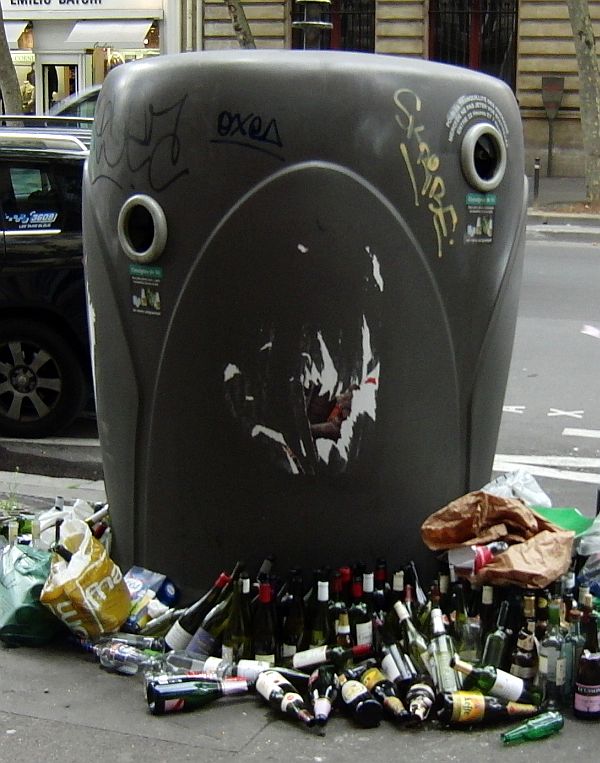 It was getting late in the afternoon, and Miriam and I broke off to explore the Latin Quarter some more. We found a Tunisian bakery (yum!), and decided that when we return to Paris, we will stay in or very near the Latin Quarter. It's close to things we want to see and do, and it reminded us of the Village in NYC.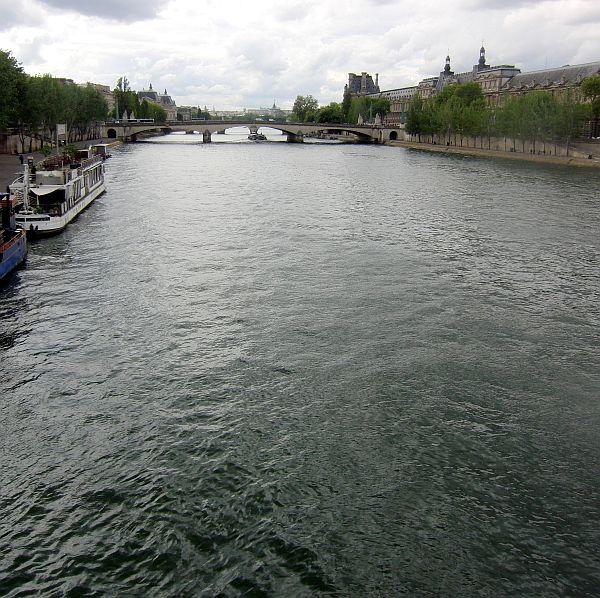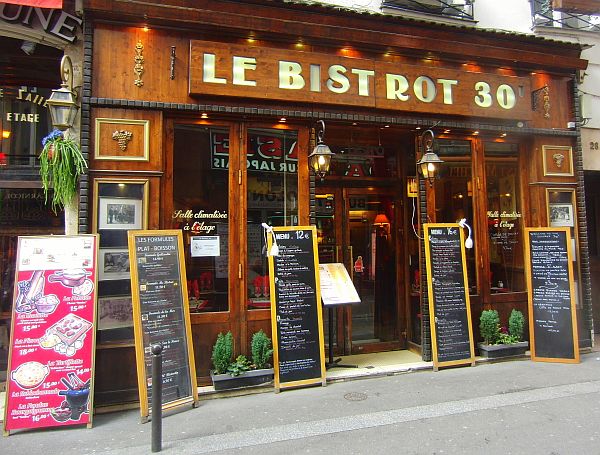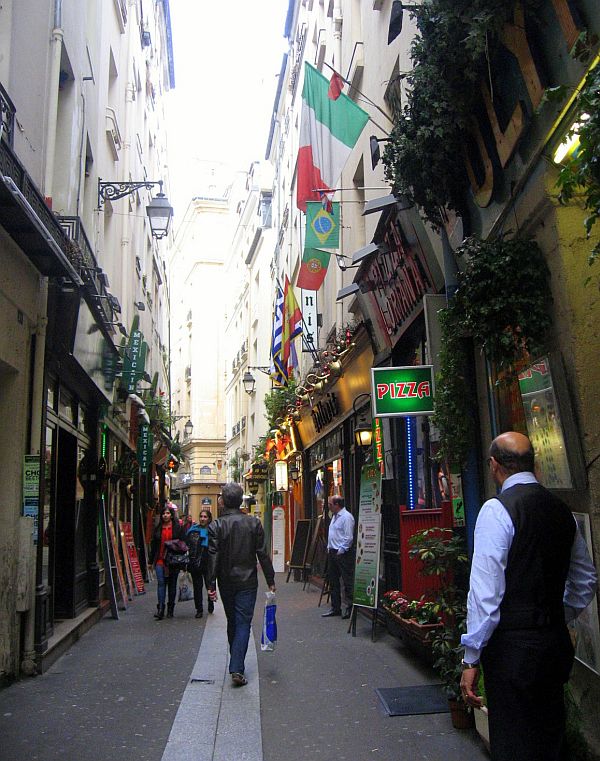 We took a cab back to the hotel. Our cab almost ran over a person on a bicycle as it pulled away from the curb, and the driver yelled something very bad at the cyclist. It was clear that that our cabbie was crazy.

Again, it was late and we all were tired, so dinner was at a nearby Italian restaurant. Food was excellent. Menu was in Italian and French, of course. Our waiter (who greeted us, seated us, took our orders, served our wine, served our food, cleared the table, and gave us the bill) was a stock restaurant guy from a Godfather movie. He also may have cooked the food. Wasn't going to ask. But it was good.

That's about it for the trip. We left the next morning via Air Canada from the Charles de Gaulle airport, arrived in Montreal, and then continued to Boston, and home.

Some quick thoughts on the experience.

-- A Viking River Cruise is expensive, but if you don't know much about where you're going, you'll see more this way than on your own.

-- River cruises (and some ocean cruises that go from major port to major port) are a good way to see much of the world's great centers of civilization, many of which are near a waterway.

-- We tasted no "bad" French wine, and it was all more crisp and dry than most American wines. If you avoid "buttery" and oaky chards, you will like French wines.

-- If you want to "be with the people" and eat in their homes, and live the way the natives live, don't do a cruise, or probably any type of "guided" tour. If you want a high-level view of a country's history and culture, a cruise or tour is a good choice. You then can return on your own for a more in-depth experience.
[May 20, 2014] [top]
---
On Sunday morning, April 27, it was raining in Paris.

It rained for most of the time we were in Paris, but we ignored the rain. It was not a soaking rain and the temperature was in the 50s, so not so bad. And we were in Paris!

We were surprised to discover that the 5-star breakfast at our hotel was covered as part of our cruise extension. We are easily surprised. One of the 6 of us should have been reading the fine print. So, we had great breakfasts on Sunday, Monday, and Tuesday. Thanks Viking! Oh, what? We paid for these as part of the Lump Sum Cruise/Extension Fee? Ok. No guilt over eating Big each morning.

In another surprise, on Sunday morning Viking had arranged a tour of the Marais district of Paris, a major center of Paris's Jewish community, and the Bastille district. This area includes the 3rd and 4th arrondissements and is on the right bank. During our walking tour (in a light rain), we saw some of the beauty of Paris.

When the tour ended, we were on our own. Viking offered to bus us back to the hotel, but we chose to stay where we were, which was not far from the Louvre. We had tickets to the Louvre, thanks to sister Carol, and we were going.

Notre Dame was another destination, and we got as far as the outside, but the line was extremely long, and we chose to "do the Louvre" this time.

It was late afternoon when left the museum, and time to head back. Miriam and I persuaded my sister and brother, and spouses, to walk back to the hotel, perhaps 2 miles, in the rain. "We'll see more this way." And we did. We saw (some of) the Tuileries Gardens. We saw the Luxor Obelisk at the Place de la Concorde. This 75 foot high Egyptian obelisk was originally located at the entrance to Luxor Temple in Egypt. And we were (politely but sternly) barked at for taking a photo of the gorgeous grounds of the U.S. Embassy on rue de Rivoli (photos not allowed, and just keep walking). (Two weeks after we returned home, Miriam said something about being barked at by the Guard for taking a photo there, and I said, "no he was barking at me" and she said "you were taking a photo?" and I said "and you too?" and at least we would have been locked up together.)

The walk was a tremendous experience. Especially since we finally made it back to the hotel, from which nobody had the mental or physical energy to leave. So we had the supper (as Hercule Poirot would say) at the hotel. The food was excellent. And the bill was . . . huge. And no, Viking did not pay for this one. It was many euros for the meal and wine (excellent, of course), but it also was an opportunity to enjoy a major meal at a pricey hotel. And we certainly enjoyed it.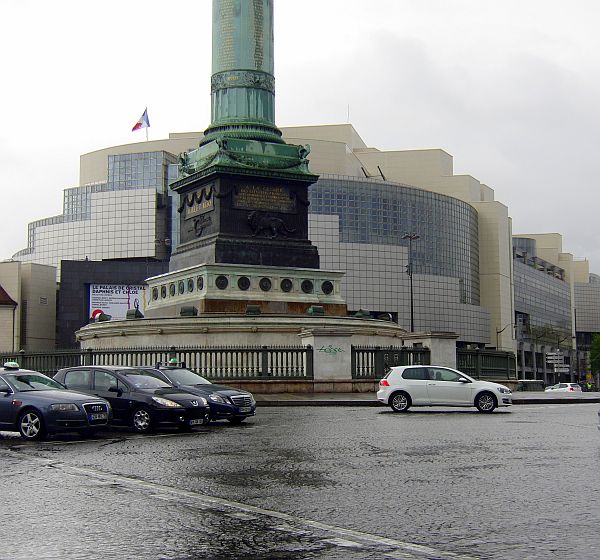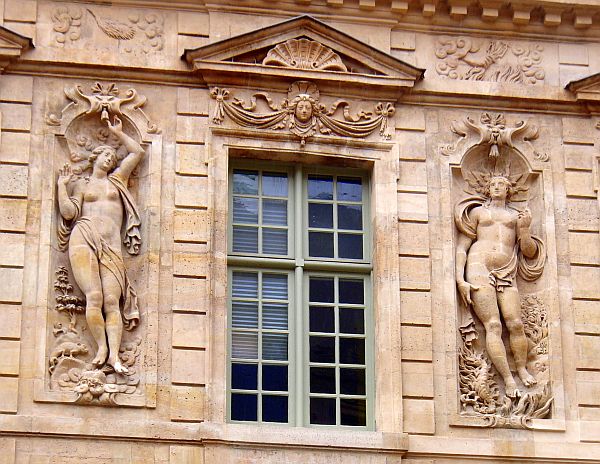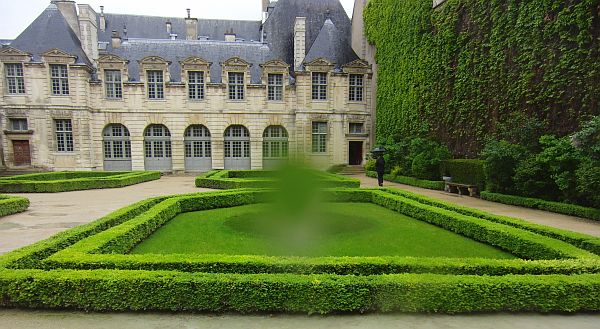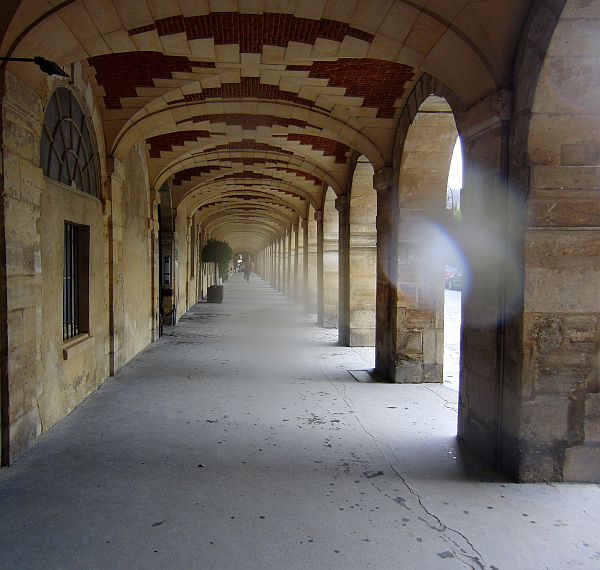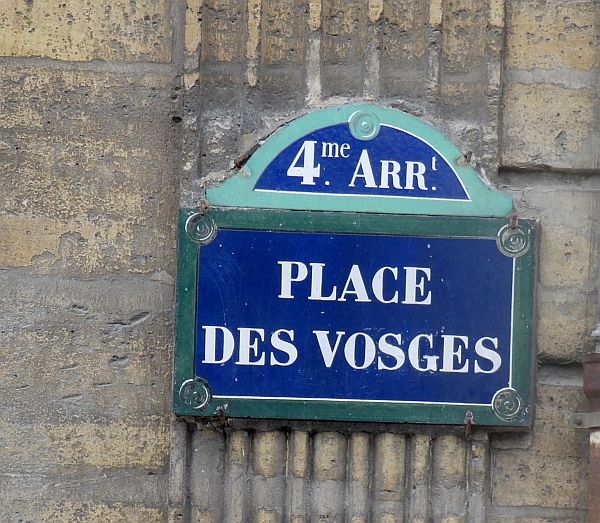 The Place des Vosges is the oldest planned square in Paris and one of the finest in the city. It is located in the Marais district, and it straddles the dividing-line between the 3rd and 4th arrondissements.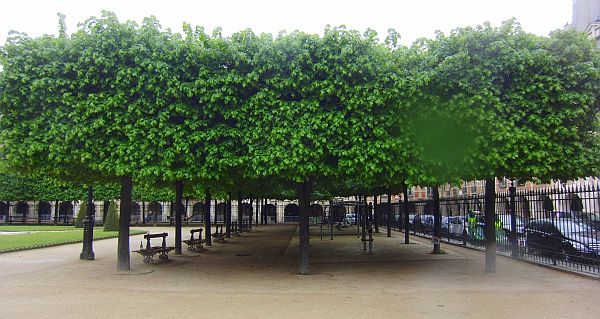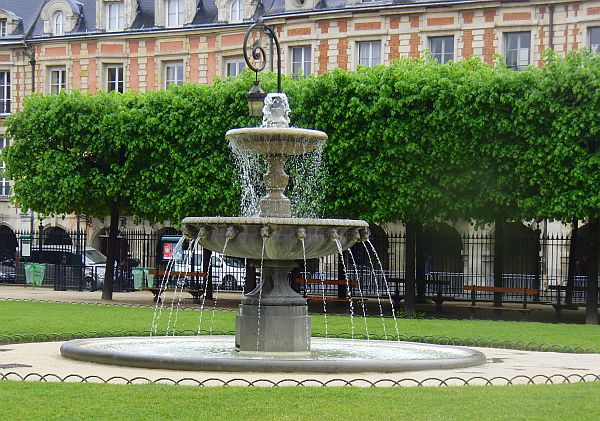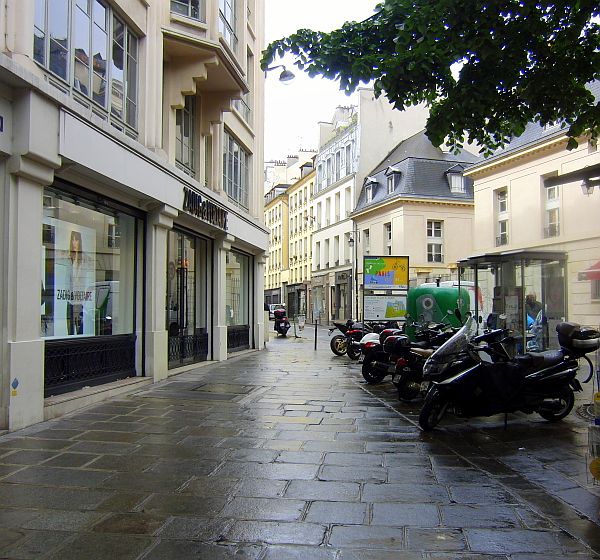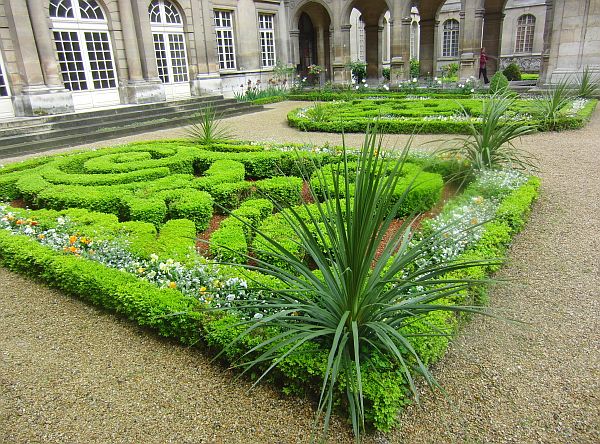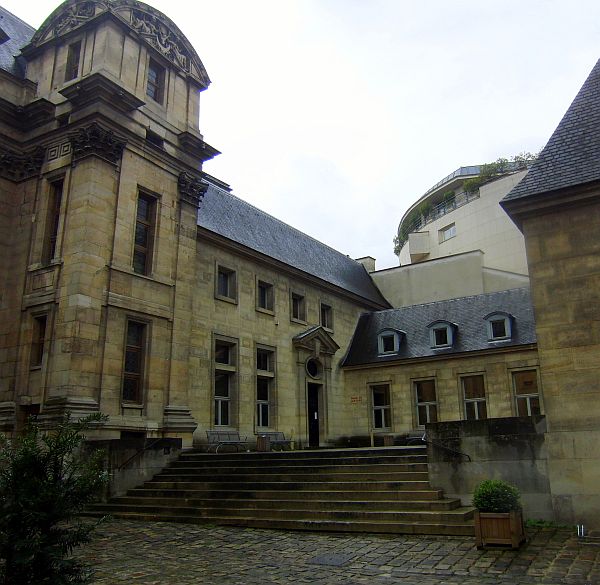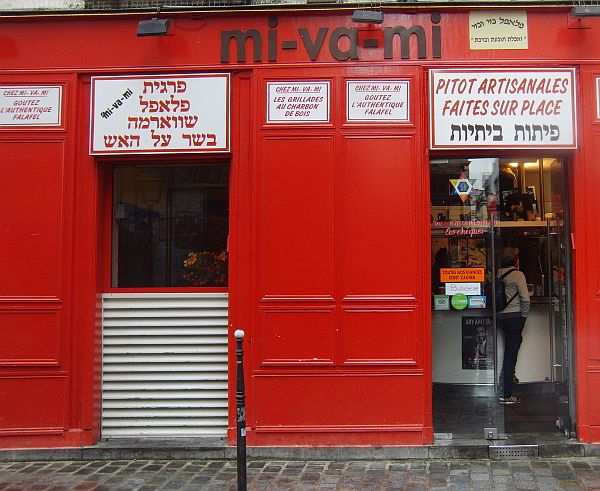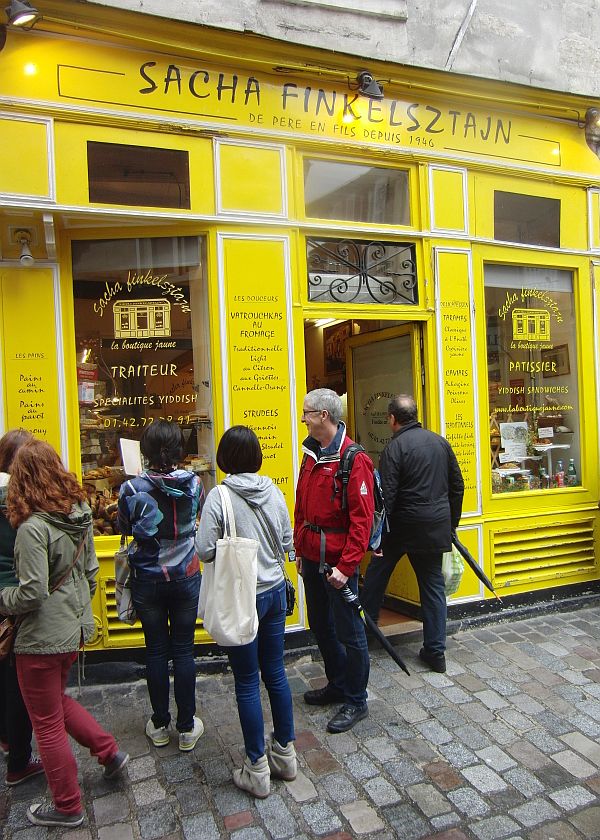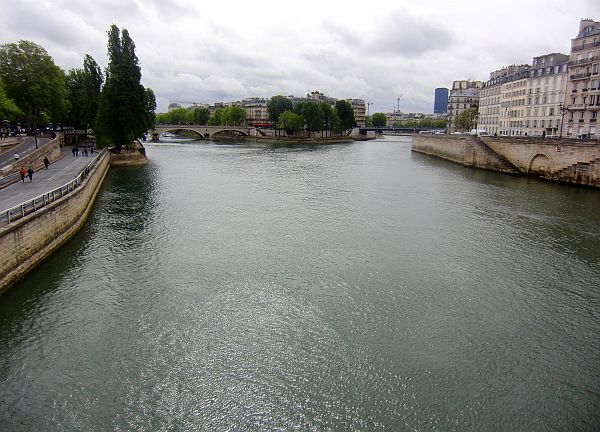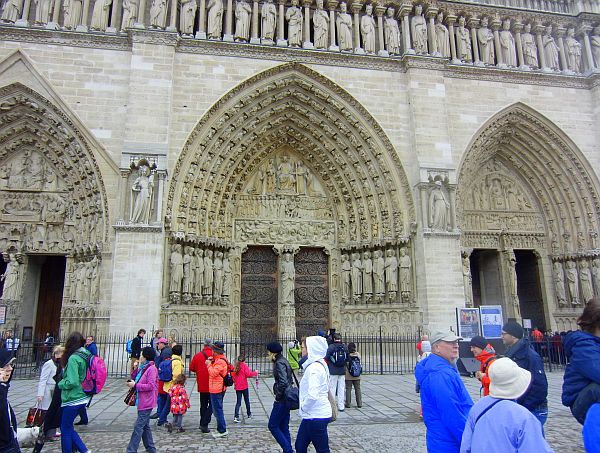 Notre Dame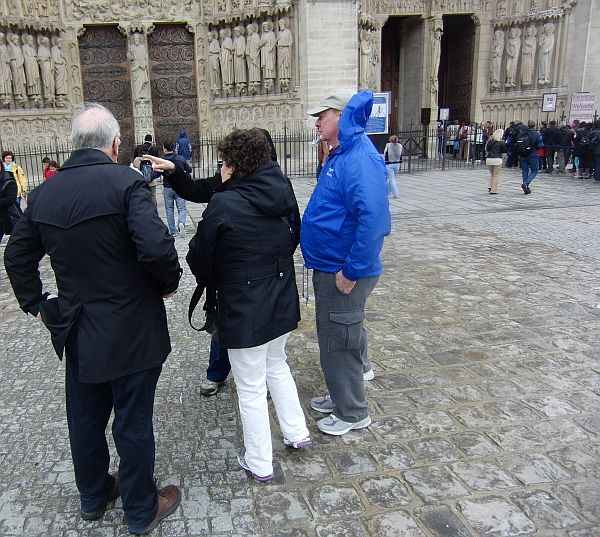 team meeting: wait in line for ND (see line at right) or go have lunch and then head to Louvre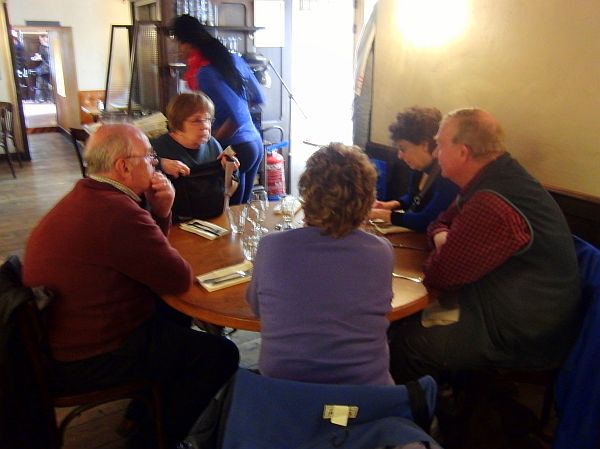 Stupendous lunch at Au Bougnat, and a menu lesson: I ordered the asperagus "entree" from the right side of the menu. It was delicious and all I needed for lunch. As we all were finishing, our lovely waitress plunked in front of me a gigantic plate of some sort of cooked animal. Whereas in English an "entree" is a main course, in French it is an appetizer. Le plat is the main course, in this case, the large animal was cooked, I'm sure, in a delicious way. As if I ate large animal parts. Back it went, on the heels of a Grand Cultural/Gastronomic Divide.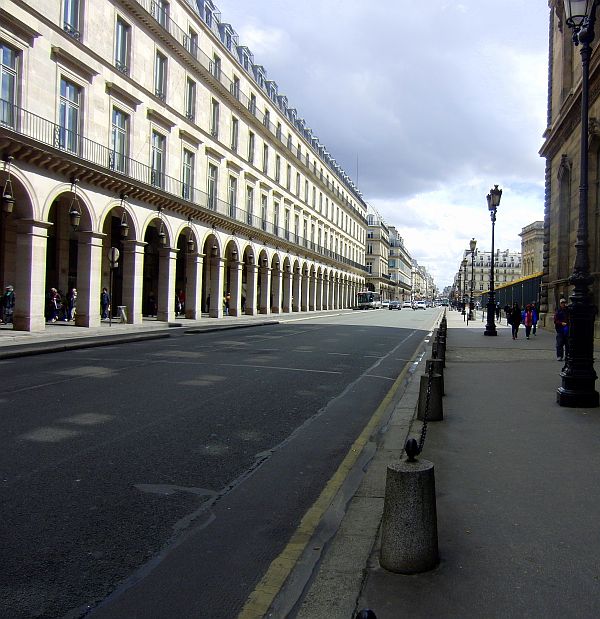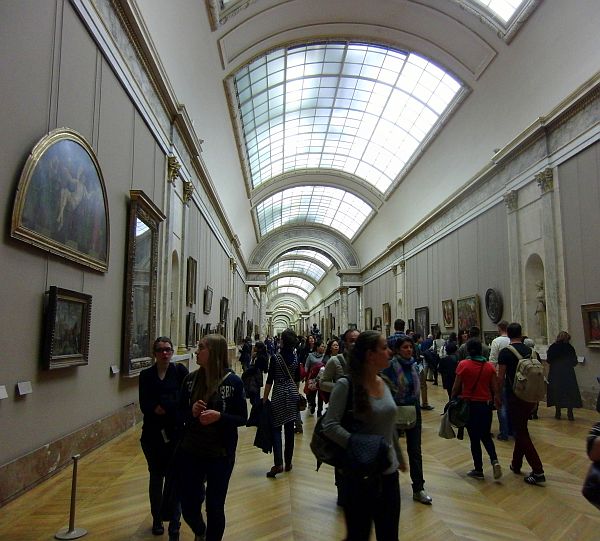 the Louvre!!!!!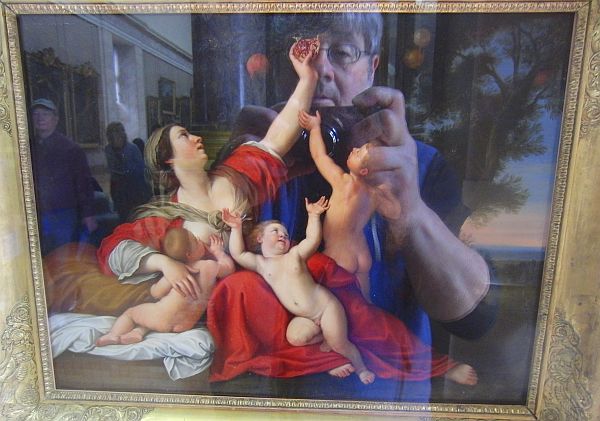 trompe l'oeil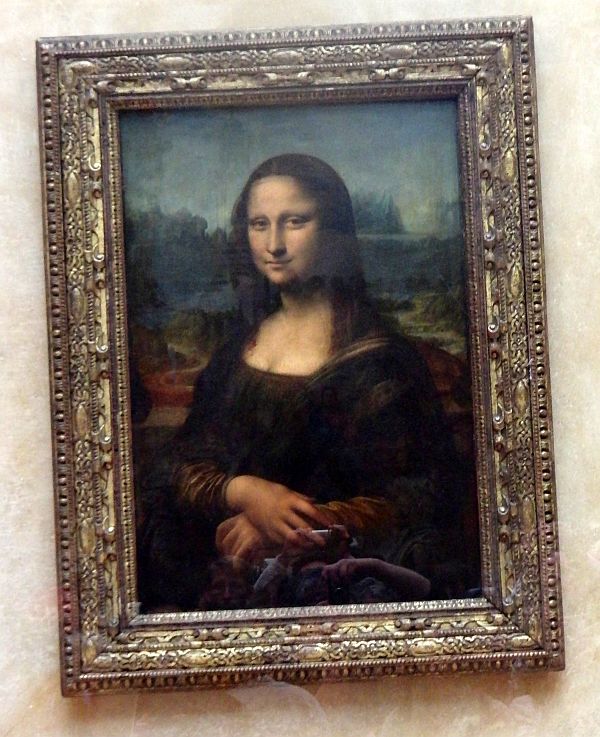 yup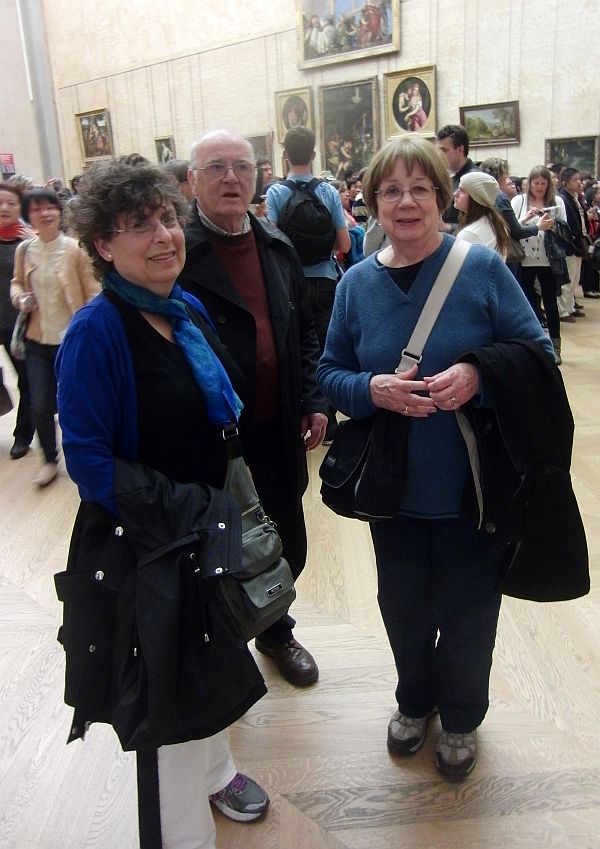 another team meeting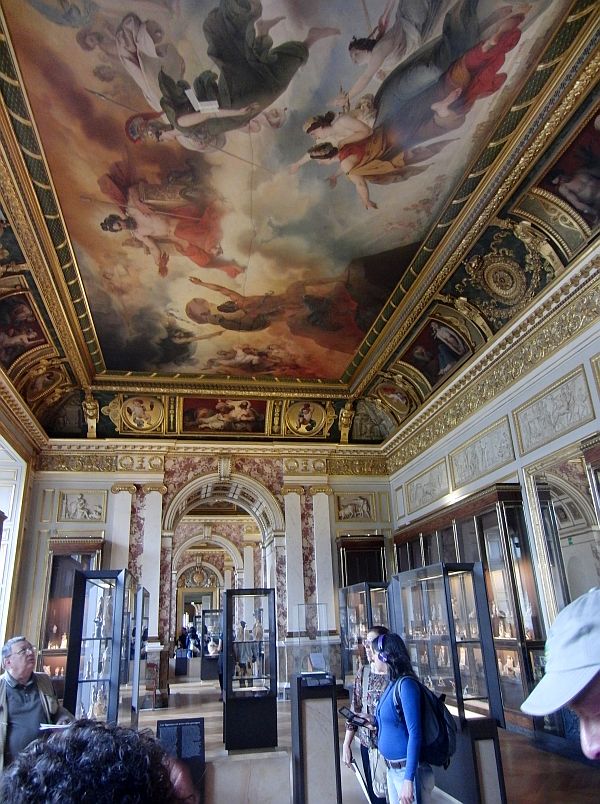 the ceilings alone are amazing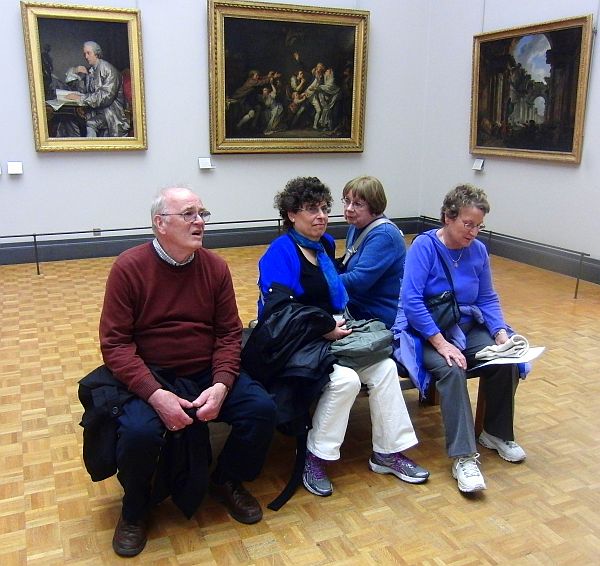 ha ha. there was an hour walk in the rain coming up next!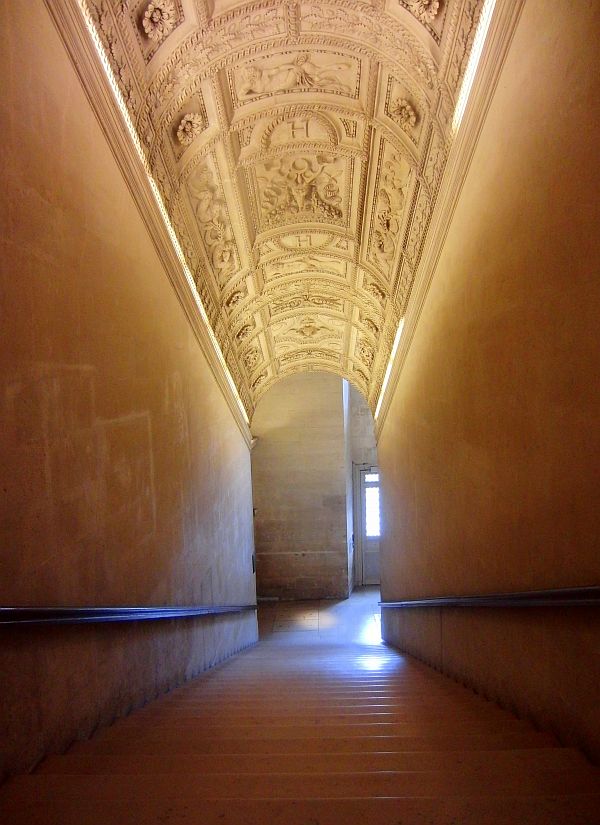 if there was a challenging staircase, we took it!!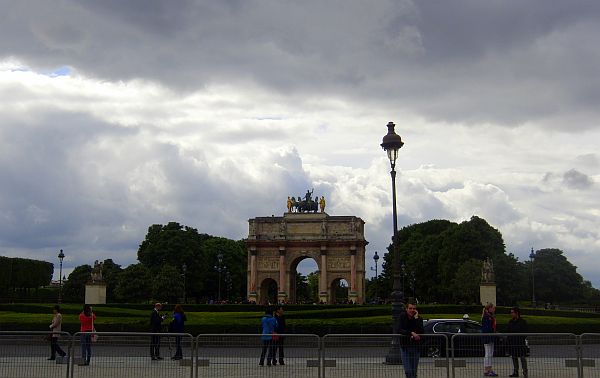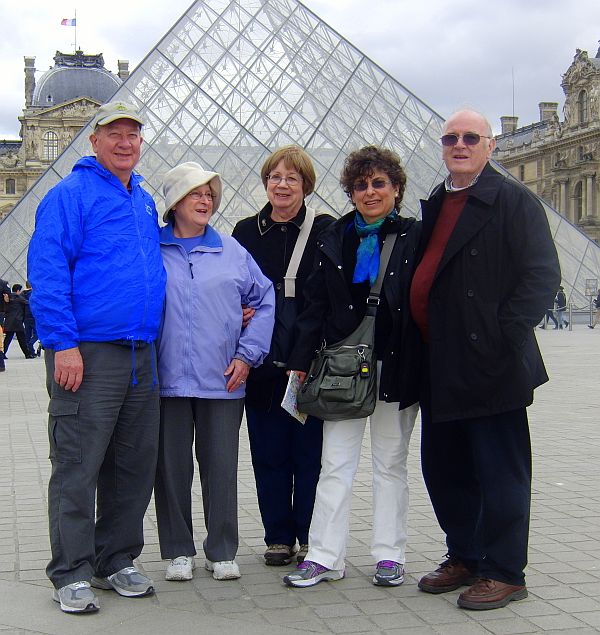 we conquered the Louvre -- not really, we saw 2% of it, but we're happy for that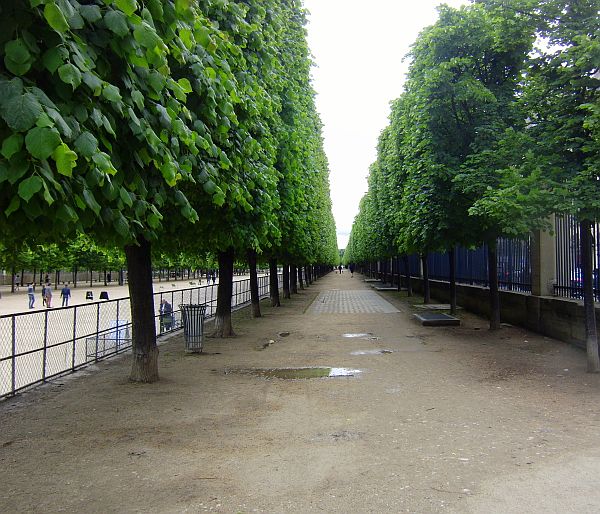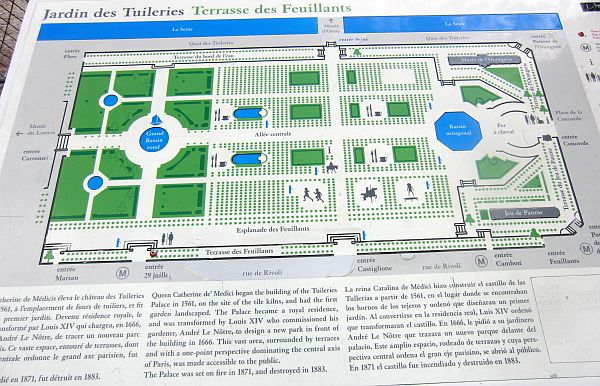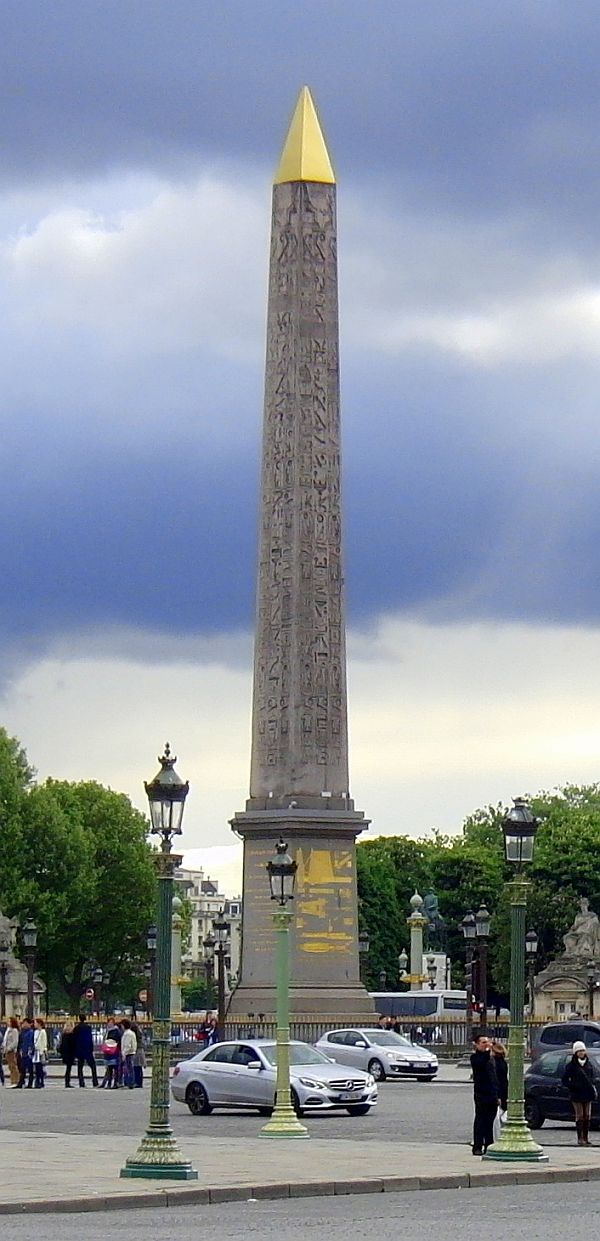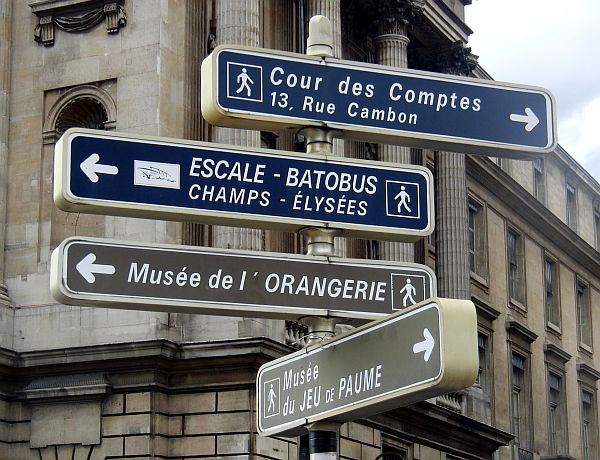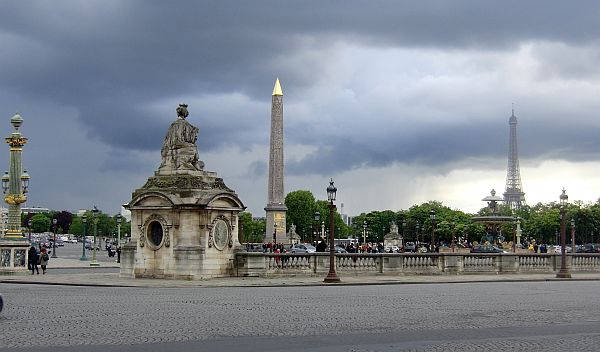 the Obelisk, with the Eiffel Tower off to the right
[May 14, 2014] [top]
---
Our bus finally arrived in Paris at the entrance of the Hotel du Collectioneur Arc de Triomphe. Our Viking guide who took us from the boat to the hotel, including a tour of Auxerre, handed us over to our Viking Paris guide. We were in the 8th arrondissement, bordering the 17th, on the Right Bank.

Our Paris guide made sure we were settled in the hotel, and then led us on a late afternoon tour of the area around the hotel, including the Arc de Triomphe and the Champs-Elysee. He explained how to get around in Paris by cab, bus, and metro. He warned us of pickpockets and he was quite enthused about the high price of real-estate in Paris. He was there to help us each morning and evening. He really was a great resource for any questions we had, problems we thought we had, and suggestions we needed.

But unlike being on the boat, in Paris we were on our own!

It was raining in Paris on Saturday evening, April 26, and we were tired. There were very few restaurants near our hotel and we didn't want to travel anymore, so one might think that having dinner at a Japanese restaurant in the shadow of the Arc de Triomphe would be a disppointment. It wasn't. The food was great, and so was the service. Best of all for me, I learned that French Reislings exist. They are very dry and crisp, and stunningly good. They are from Alsace in the northeast of France, across the border from Germany. Since returning to the U.S. I have not found any French Reislings, but I'll keep looking.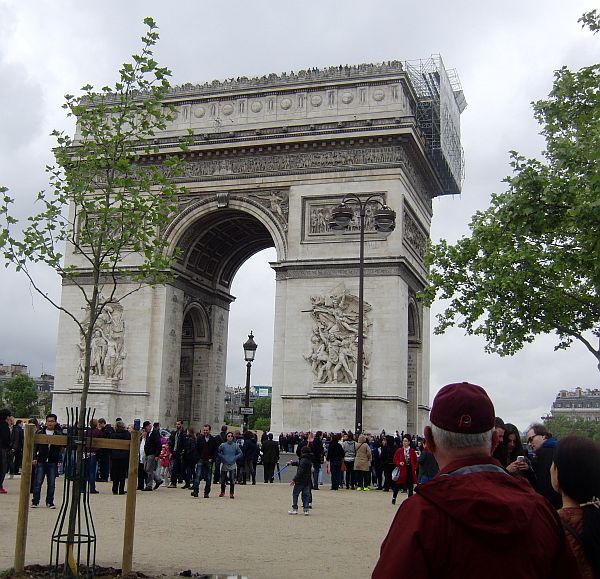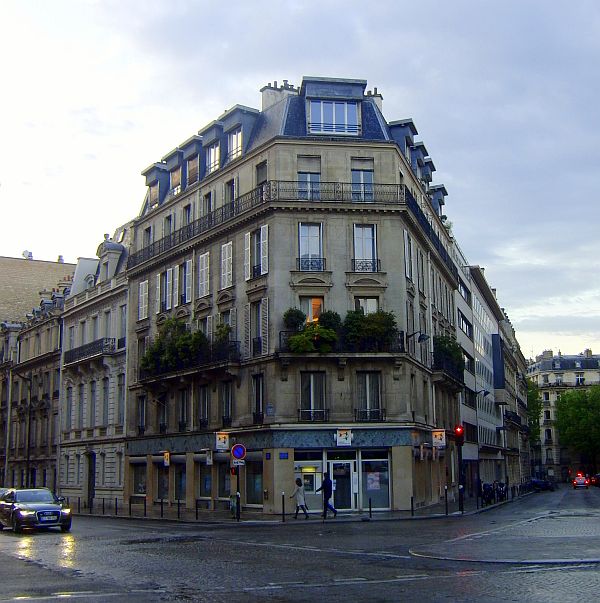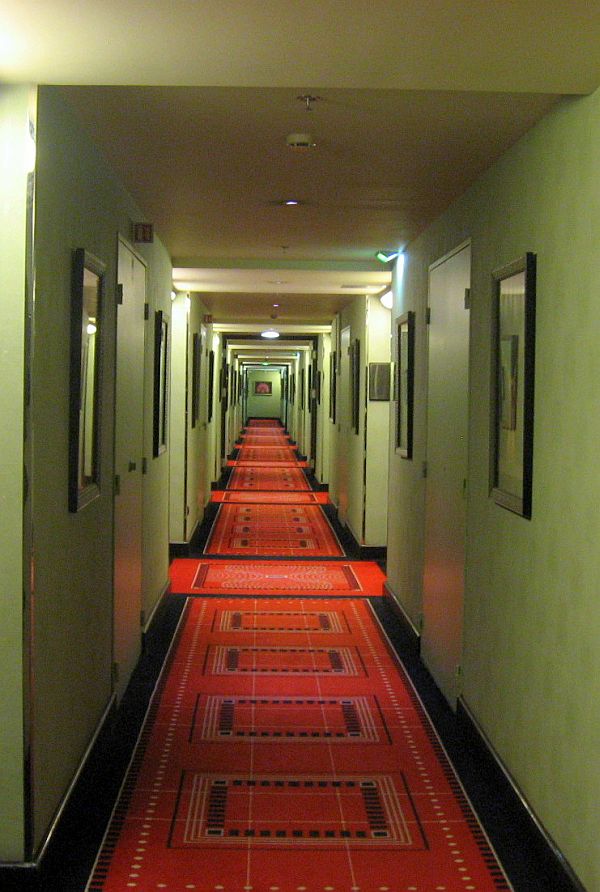 looking down the corridor of a 5-star hotel; our room is on the left, somewhere
[May 13, 2014] [top]
---
After a final Breakfast That Couldn't Be Beat on the Viking Heimdal on Saturday morning, April 26, we left by bus for a 5-hour ride to Paris. Typical of our habit during this trip of not knowing where we were going or what we were doing (surprise us!!), half-way to Paris we stopped at Auxerre on the River Yonne, an old city of 40,000 people with a history that goes back thousands of years. This visit, led by yet another Viking guide, was a hidden gem of the cruise. Not everyone "extends" their cruise to Paris; some go home after the final docking in Chalon-sur-Saone, and some have taken the pre-cruise extension to Nice. We were happy to have not missed Auxerre.

In addition to the ancient cobblestone streets, there are some ancient and spectacular churches. The Cathedral of St. Etienne goes back to the 11th century, and the Abbey of Saint-Germain to the 9th century.

Before we got back on the bus to continue our journey to Paris, we had lunch at Le quai, an excellent little restaurant near St Nicholas Square. This was our first meal "on our own." No more selected (but great) lunches and dinners from Viking. We had to figure out the menu and communicate with the waiter. We succeeded!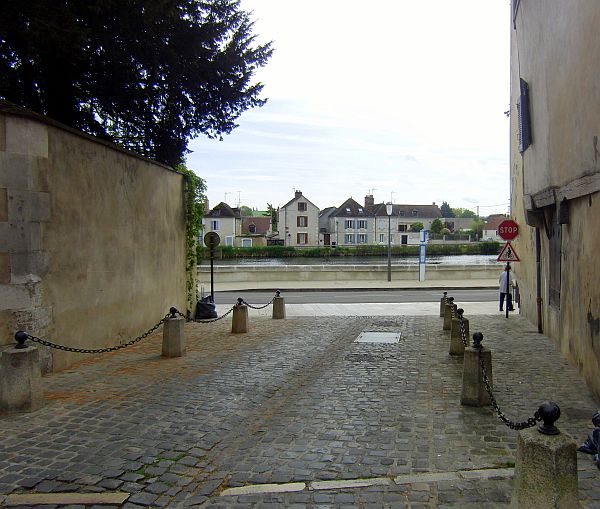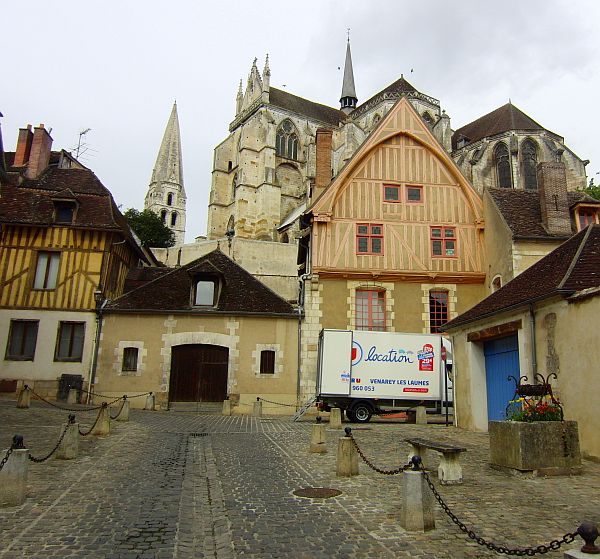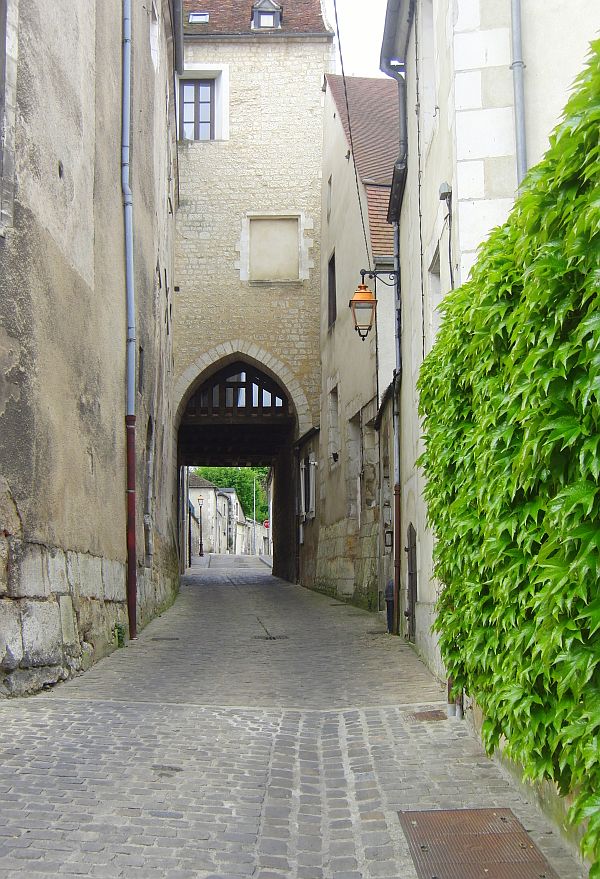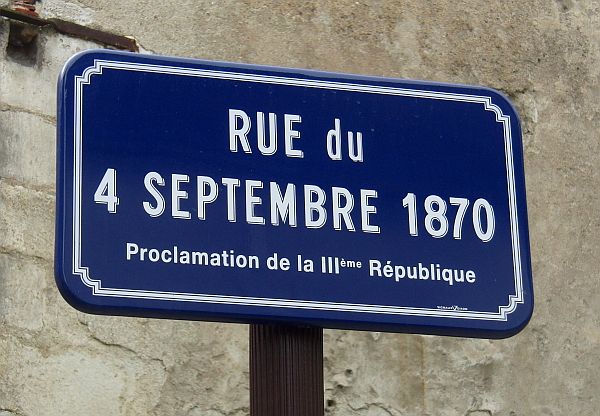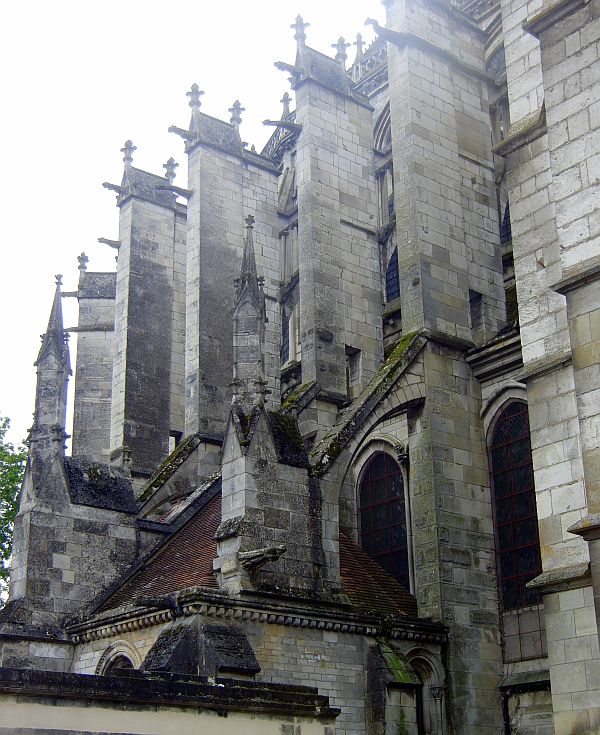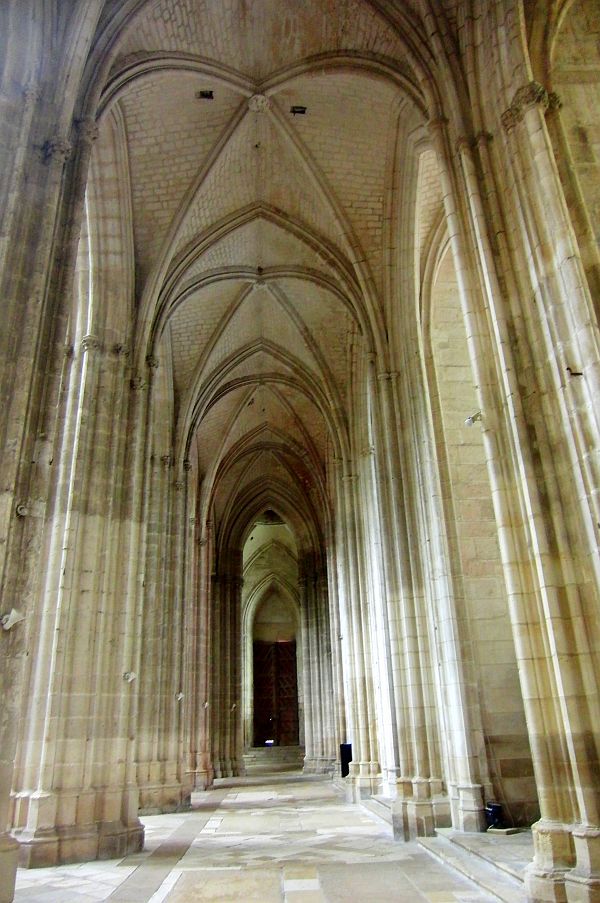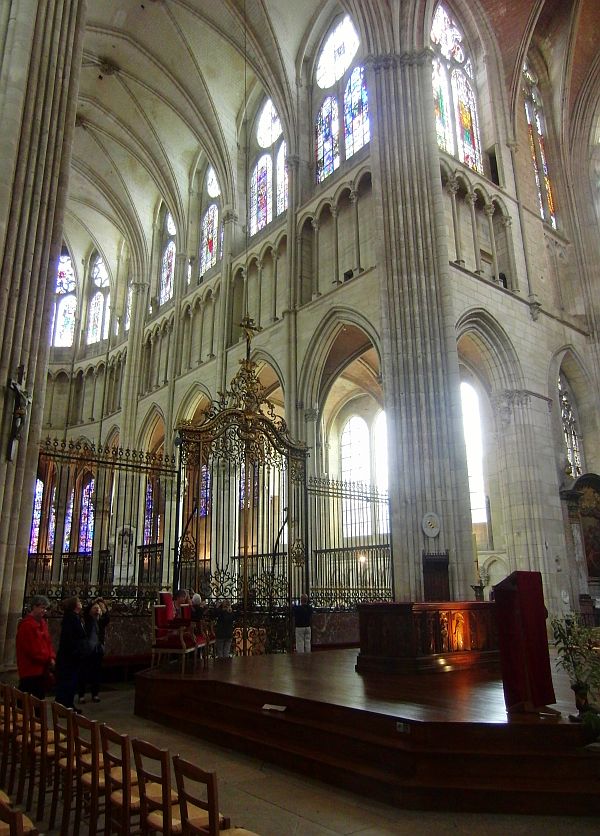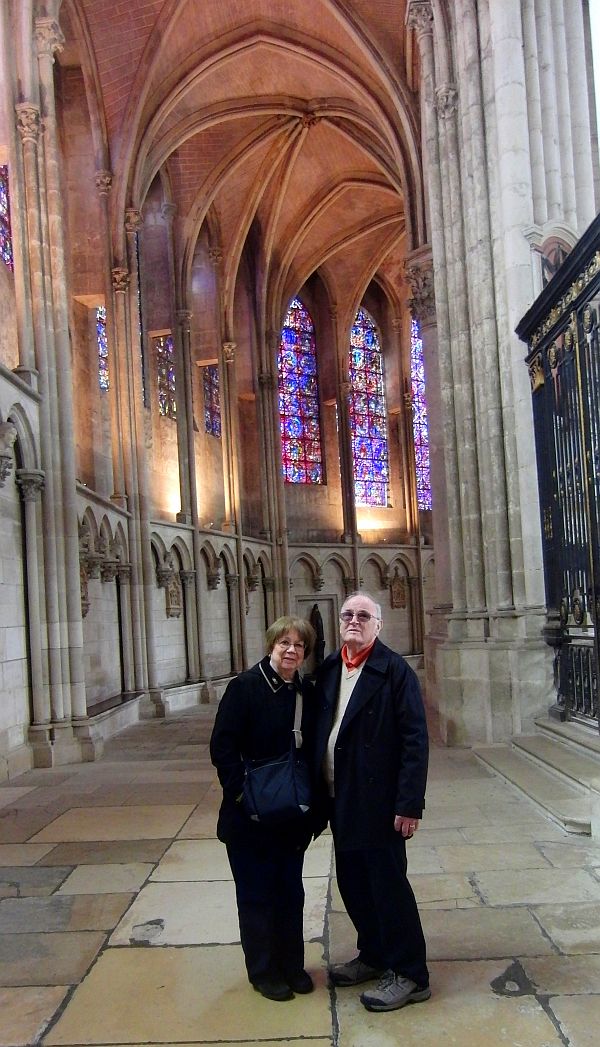 Carol and Bernie -- we all wandered about in St. Etienne; it was huge and beautiful; notice how the high ceiling reaches toward God while leaving the people at a lower (ground) level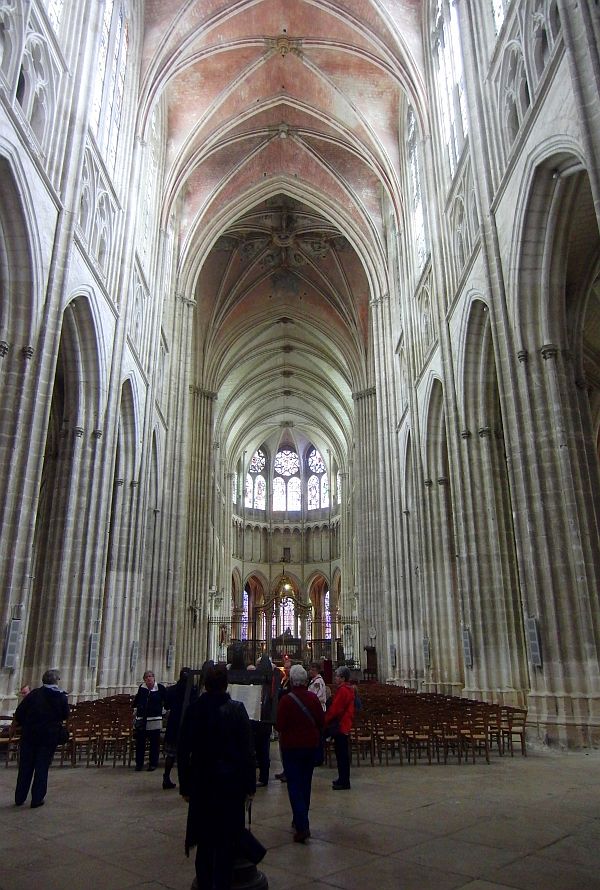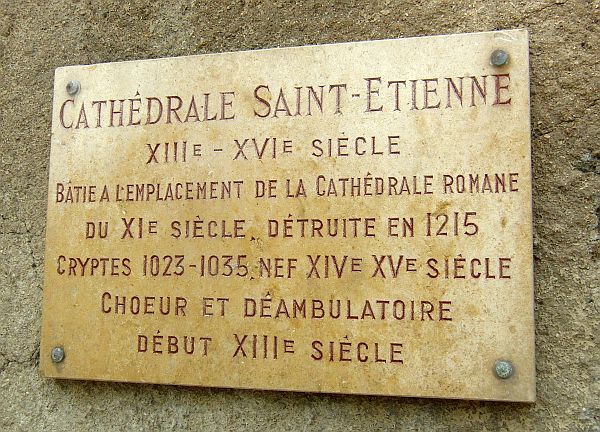 brother Will, and Bernie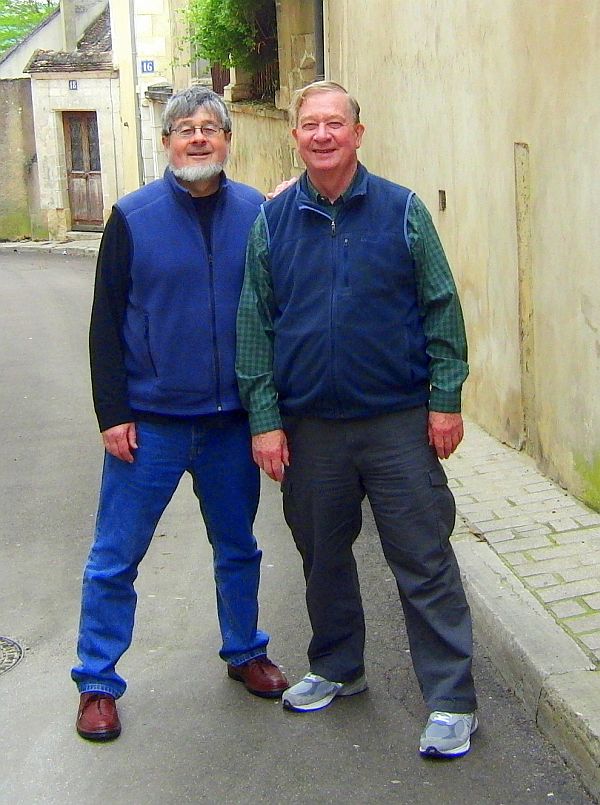 bro and me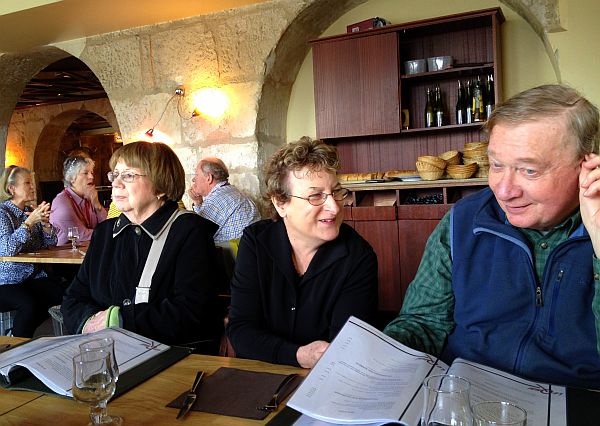 What's for lunch? Will and Deb have a plan. Carol in deep thought.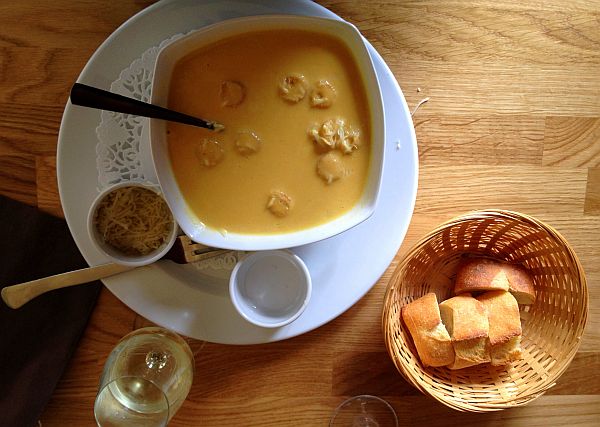 my lunch -- a fantastique soup, and of course a glass of crisp wine from the heart of Burgundy country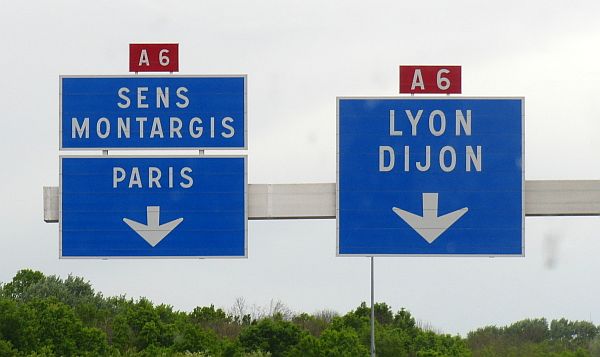 and we're off to Paris!!
[May 13, 2014] [top]
---
After lunch on Friday the 25th (and no, we never missed lunch!), we headed to Beaune, the wine capital of Burgundy. Many of the region's vineyards are still owned by the Hospices de Beaune, founded in 1443 as a hospital. Our tour of the hospital provided insight into health care 600 years ago. The building itself was splendid.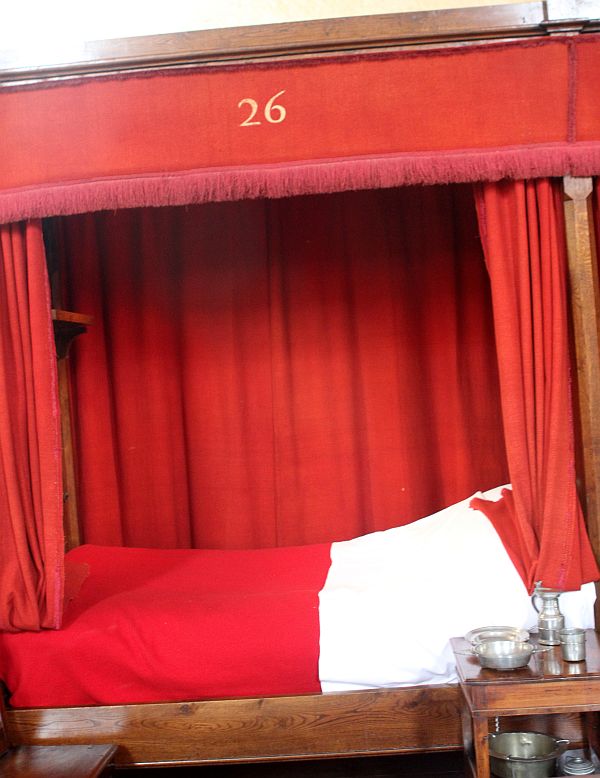 these were two people for each bed -- but married couples were not permitted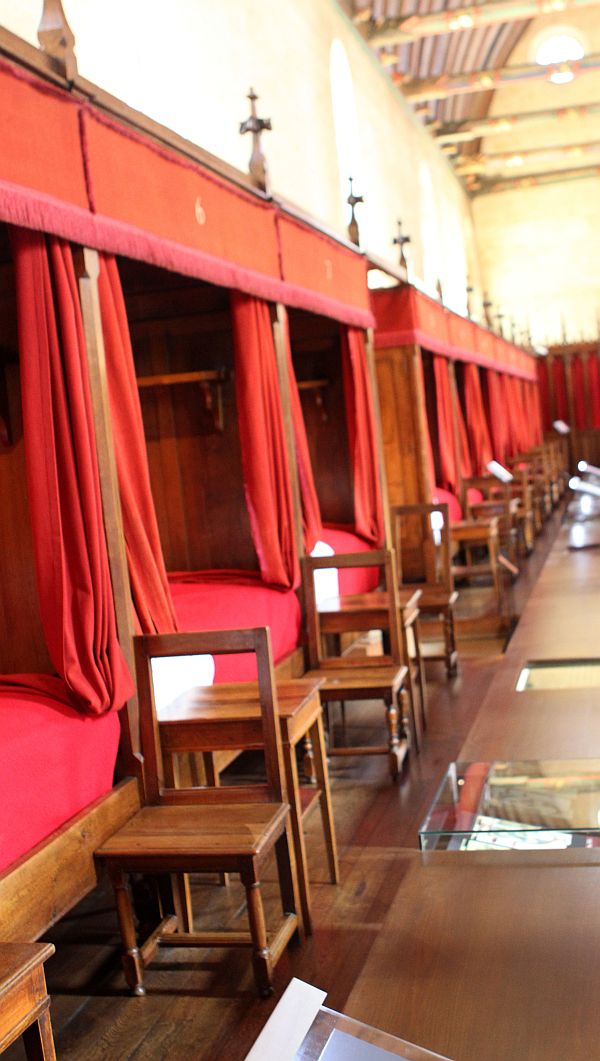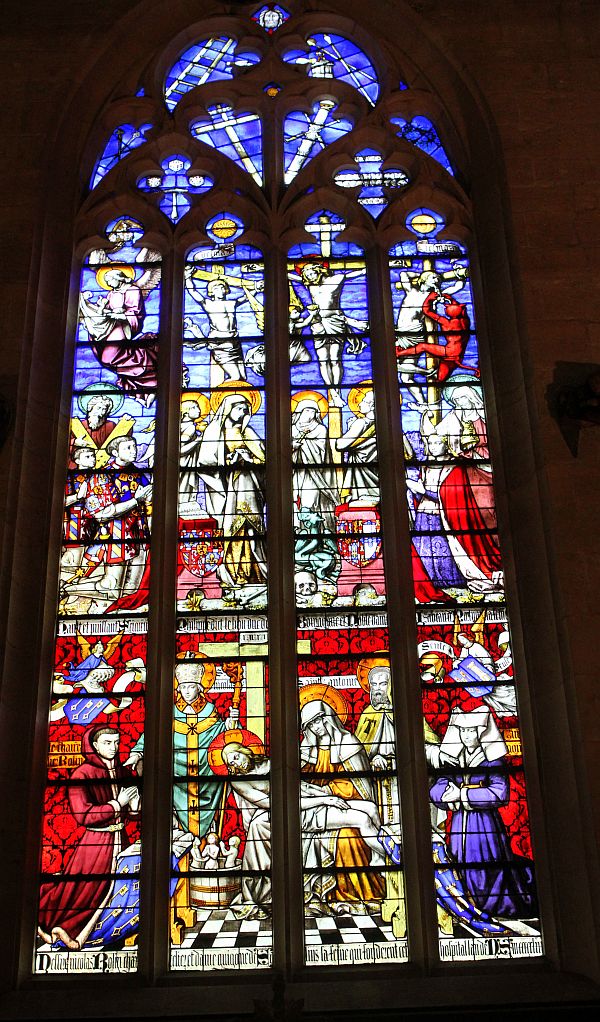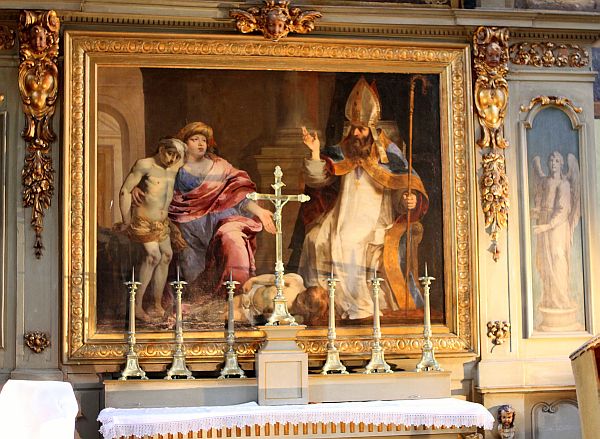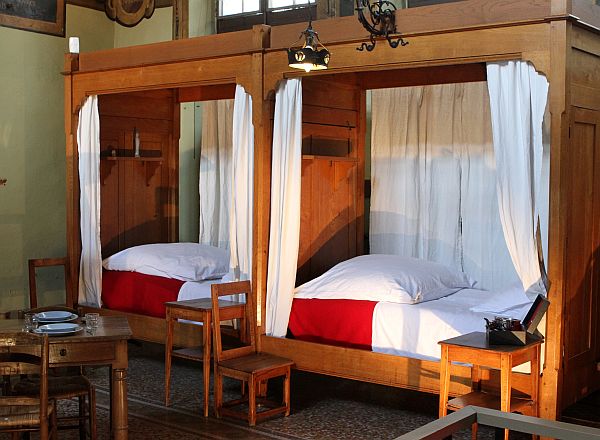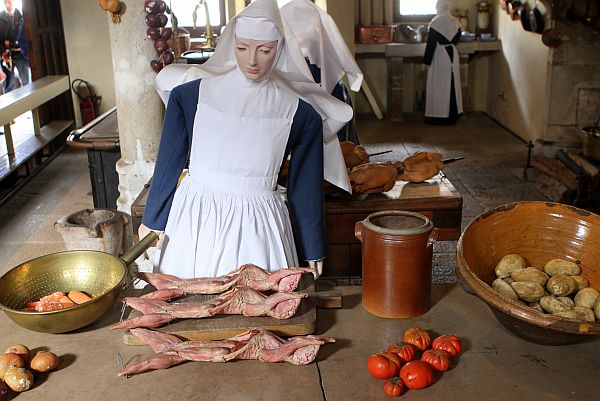 the kitchen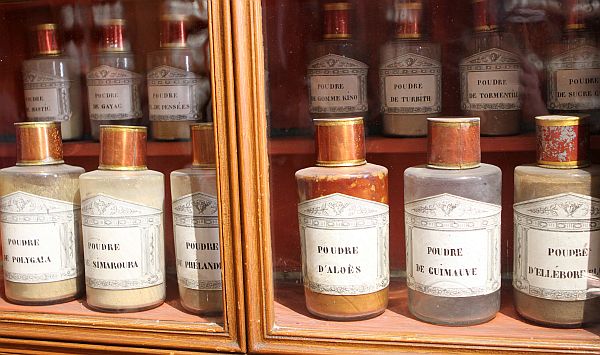 the pharmacy

We finished the day -- and the cruise, really, since this was our last day and our last venture -- with a wine tasting at Le Cellier de la Cabiote in Beaune. The winemakers are Emmanuel and Anne. The setting was dramatic. It was a real "cellar" and the slight glow of light created a mood: we were in a special place. Again, there was a white followed by two reds, with cheese served between tastings. Our guide led the tasting -- is this drinking on the job?

It was here that I splurged and bought a marble wine coaster. Written on the coaster are the words "Corton Grand Cru" and this may be as near I get to a Grand Cru.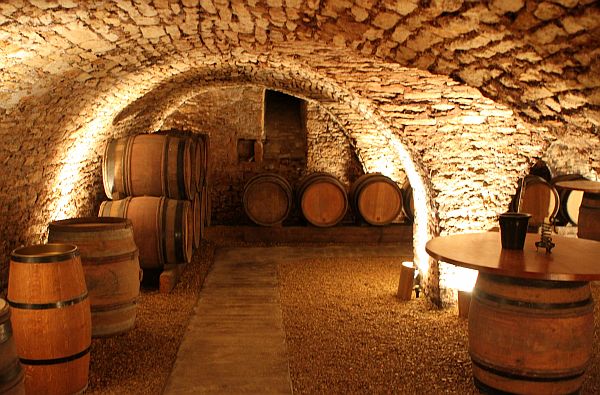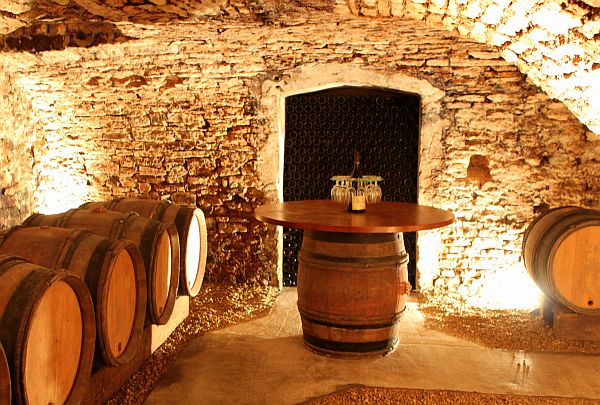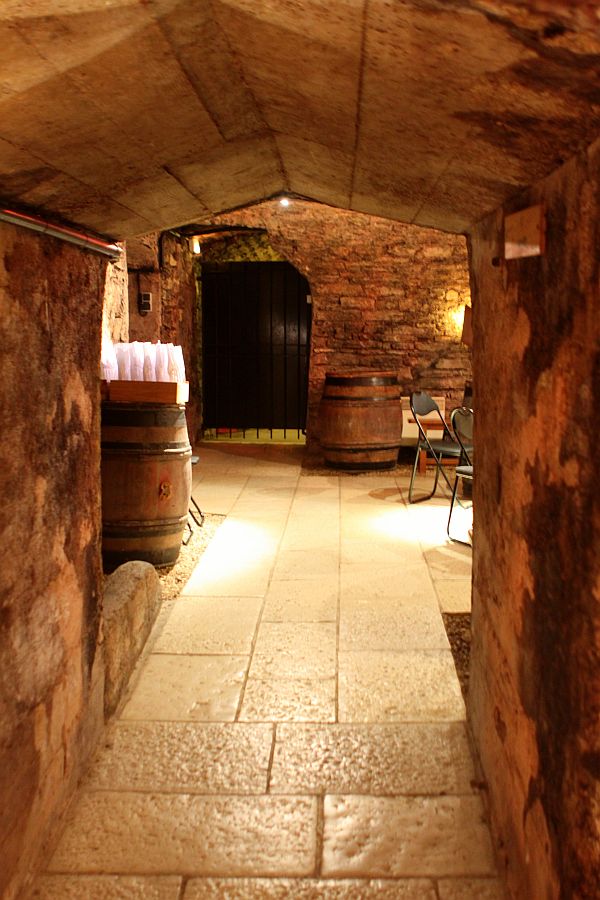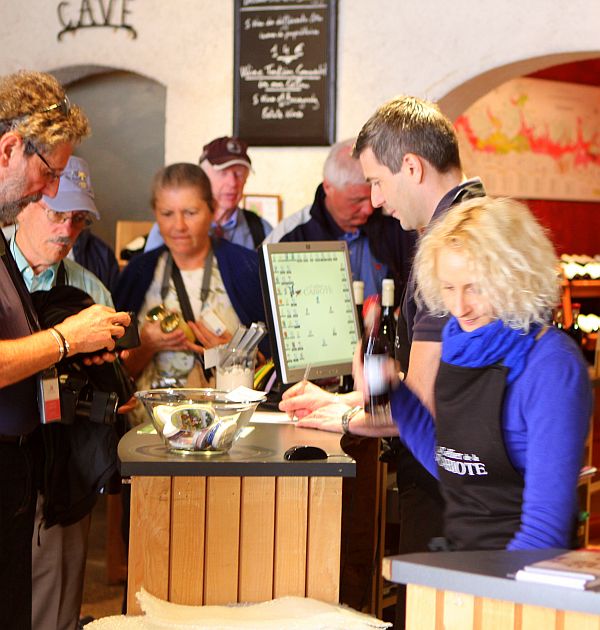 Emannuel and Anne with a crowd of happy wine tasters who now are happy shoppers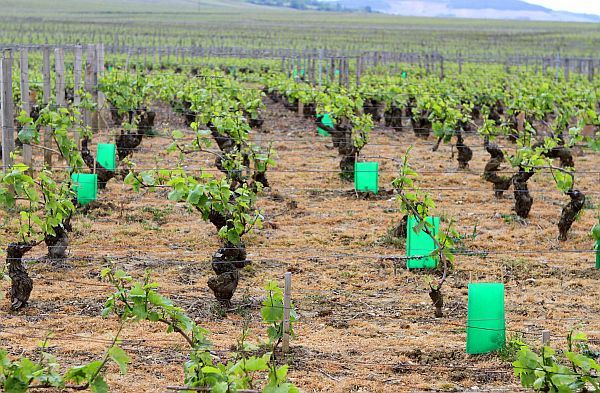 happy vines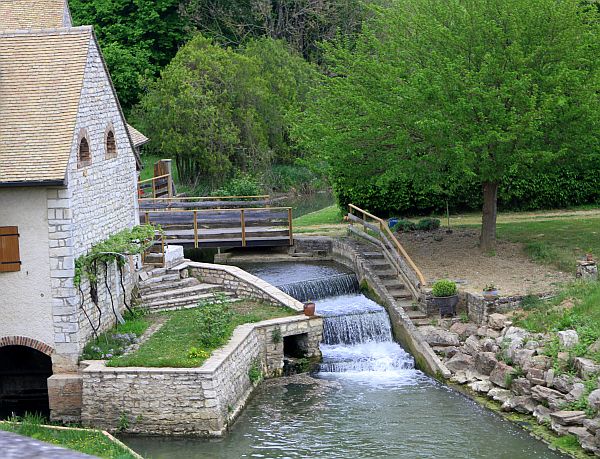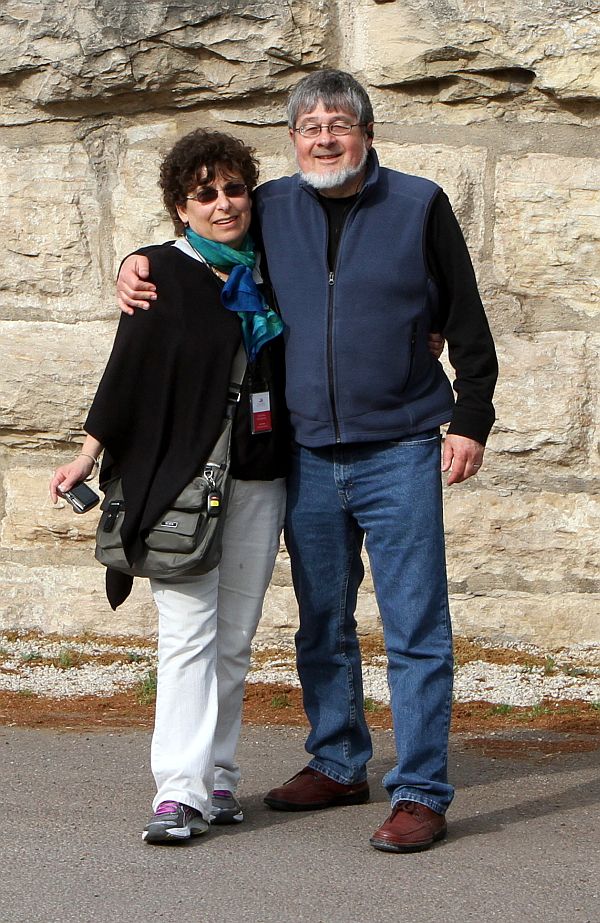 [May 12, 2014] [top]
---
On Friday morning, April 25, our boat arrived in Chalon-sur-Saone. After breakfast, we headed by bus through the Burgundy region with Cluny Abbey as our destination.

The Benedictine Cluny Abbey was the world's largest church until St. Peter's in Rome was built.

As we cruised up the Rhone and Saone rivers, and took very scenic bus excursions through the Beaujolais and Burgundy country, and examined ruins of immense churches nestled in gorgeous villages, we learned that most of the destruction of these imposing structures was at the hands of "the people" during the French Revolution, beginning in 1789. While France endured two world wars (1 and 2), it was their own civil war that caused much of the destruction of property, especially church property. Why was this?

Over many centuries, the Church and the nobility ruled the country. The took everything from the people and gave back very little. The stupendous churches were built on the money and labor of the peasants, the people, and the churchmen and their accomplices in the nobility enjoyed life. The huge majority of the population lived in squalor. When the revolution came, the churches were torn apart and the nobles and churchmen executed. It was rage due to many generations of abuse. I had known this in my mind for a long time (because I was a history student specializing in Europe for my college and graduate school life), but it was in seeing the countryside and then the splendor of the churches (ruined or not) that I finally understood the cause of the "terror" by which the Revolution is known. To see the immense monuments of man's worship of God is also to understand how the lives of the people were crushed to produce the glory. And then the revolution came.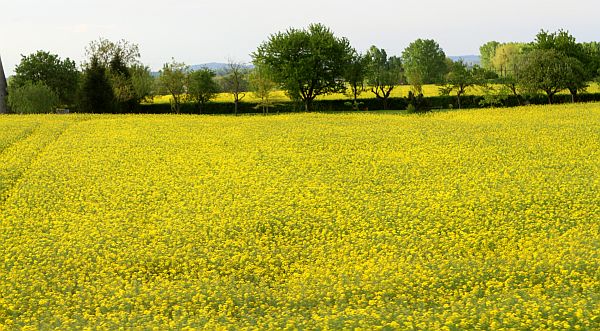 sumptious fields of rapeseed in Provence, blooming in March, April, May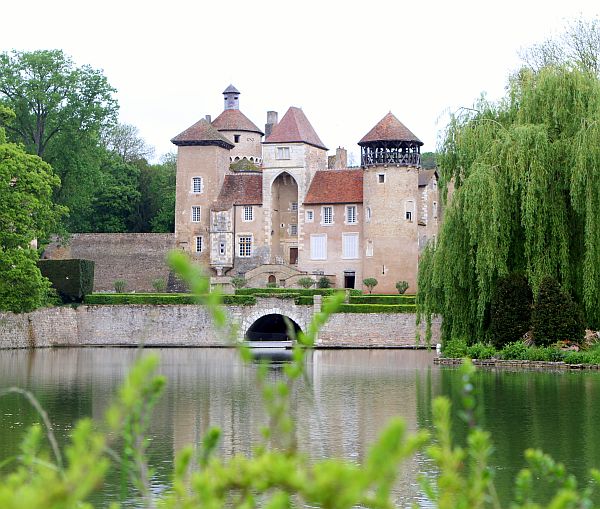 a castle, a pond, a willow tree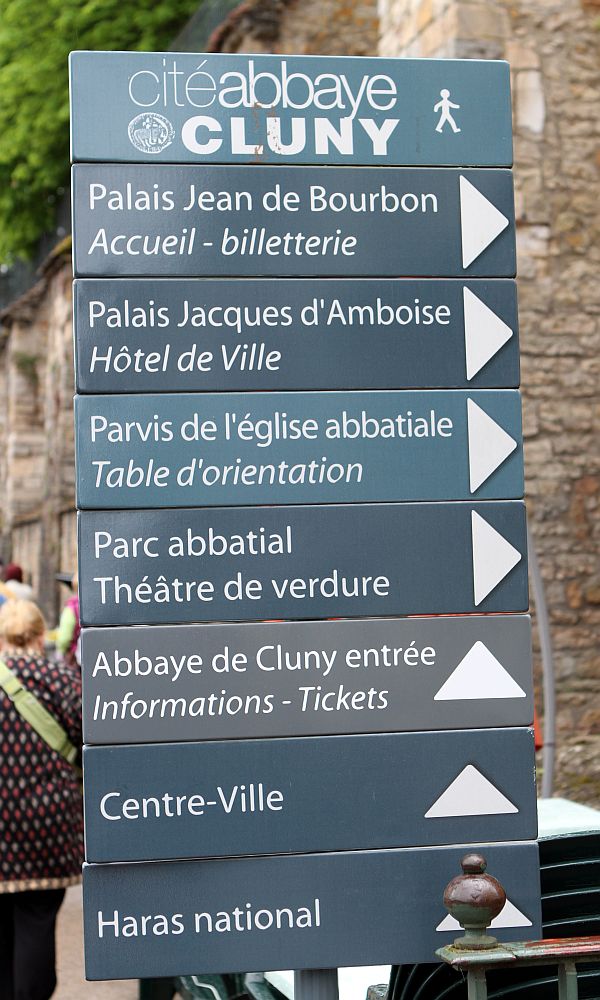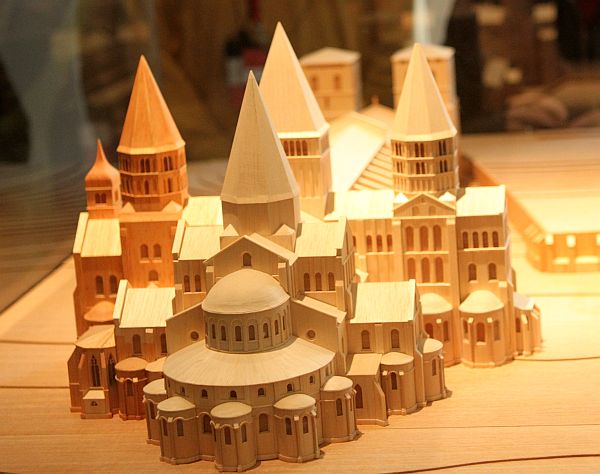 if the Abbey had not been torn apart, stone by stone, it would have looked like this (only bigger)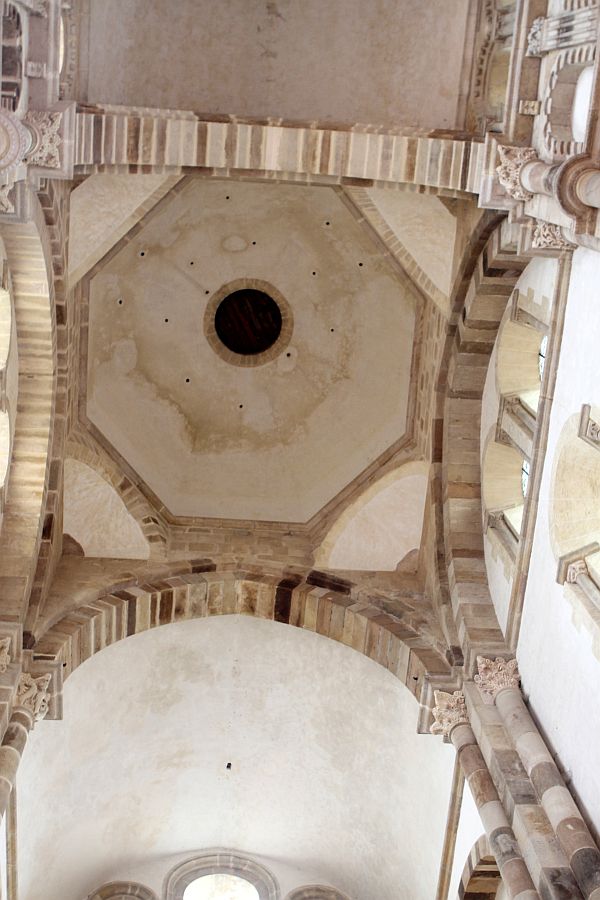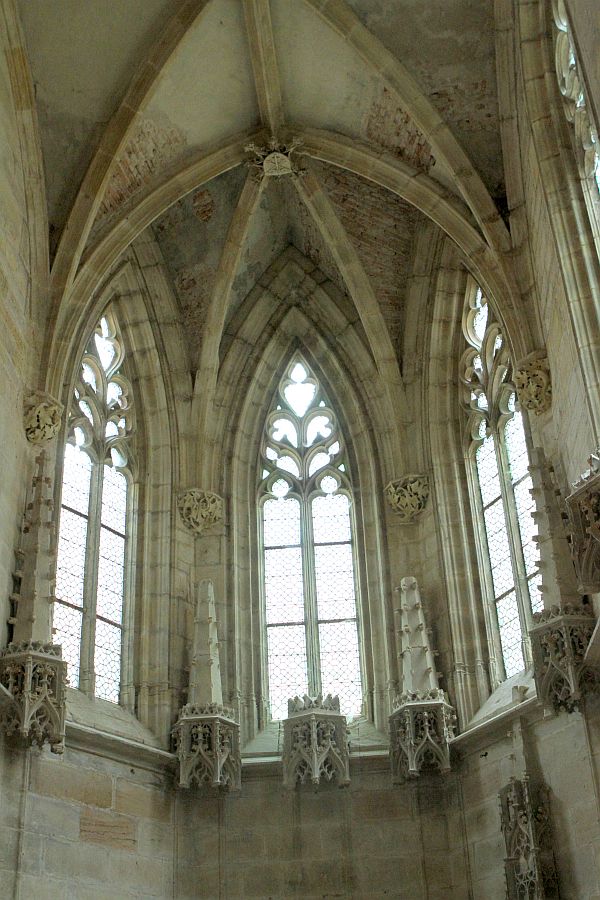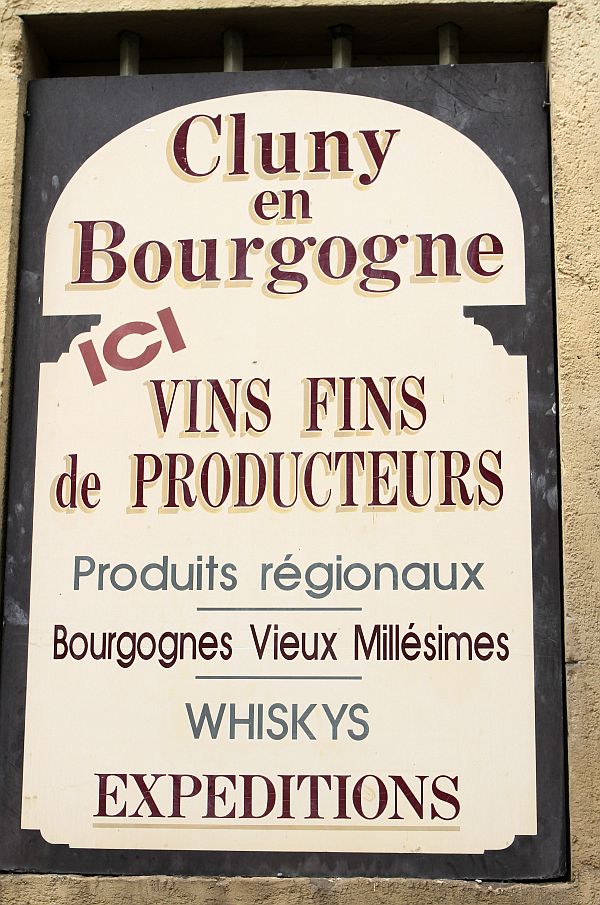 [May 12, 2014] [top]
---
If it's silk you want. Lyon is the place. The story of Lyon silk also is the story of the French quickness to protest, complain, riot, and generally not sit back. Here's the silk story.

"The Croix-Rousse district of Lyon was the heart of the 19th-century silk trade; its traboules or covered passageways provided safe passage for the local canuts -- Lyonnais silk weavers. In the 1830s there were as many as 25,000 silk loomsin Lyon, and as more silk workshops opened, merchants began to take advantage of the artisan-class weavers with reduced wages and benefits.

"Struggling with the combination of increased competition, new technology, uncertain economic forces and the extortionate merchants, the workers rose up twice in dramatic rebellions. They banded together, closed workshops and marched on the town, picking up weapons at the armory as they went, seeking to hold the industry hostage until a set wage was agreed to. However, the revolts were bloodily suppressed. 10,000 canuts were reportedly tried in Paris and faced criminal deportation, but their motto of 'Live free working or die fighting' inspired other worker uprisings in future years."

On Thursday morning, April 24, we spent about 4 hours on a guided tour of Lyon. This included the old town. Highlights were the Basilica Notre-Dame de Fourviere, which is huge and is lined with mosaics. From the top of Lyon's Hill of Prayers, you have stunning views of the city and the two rivers (Rhone and Saone).

Let's begin with a glimpse of Susie, the Viking Program Director, who was responsible for everything we did. She was everywhere, all the time -- she was mom and dad come to life.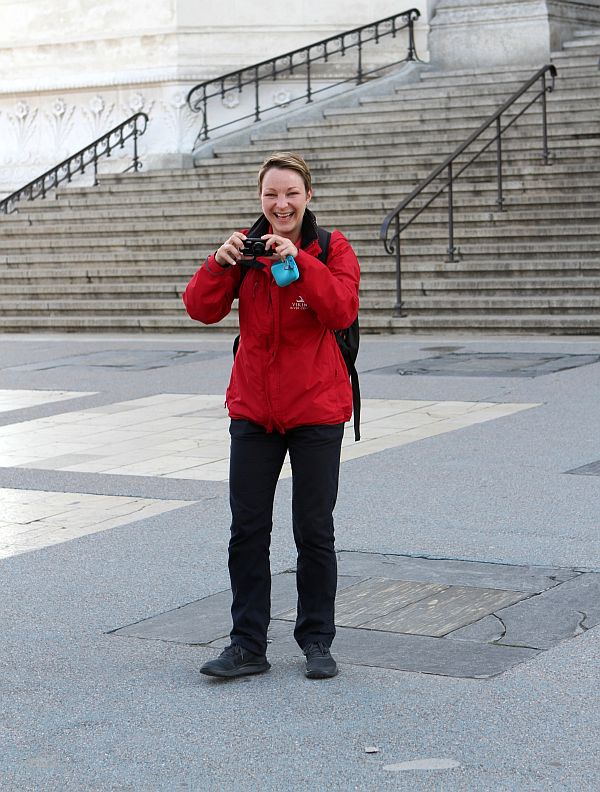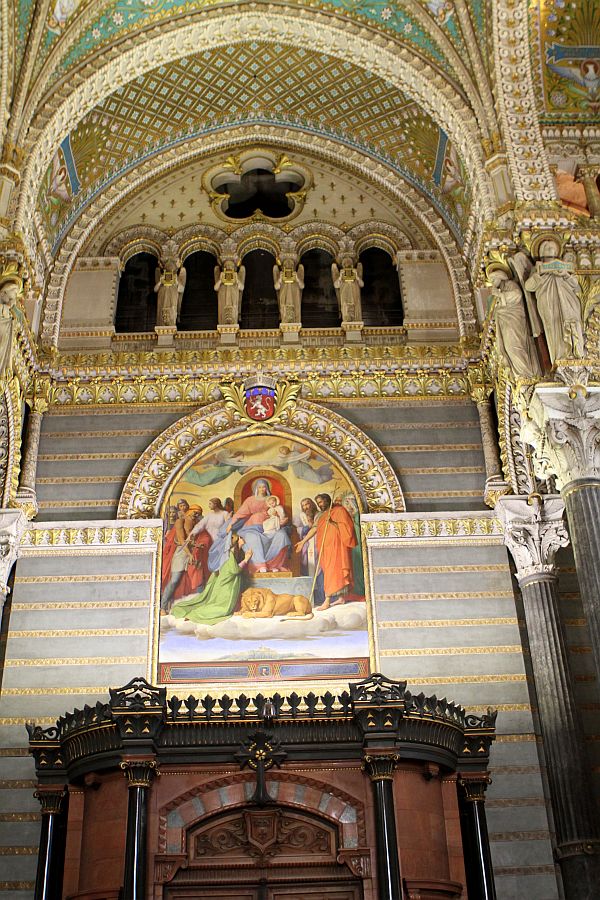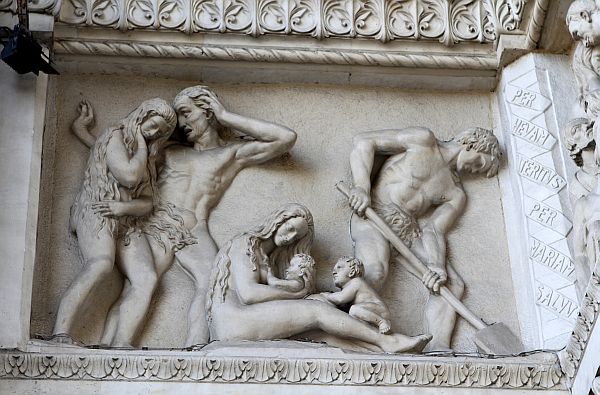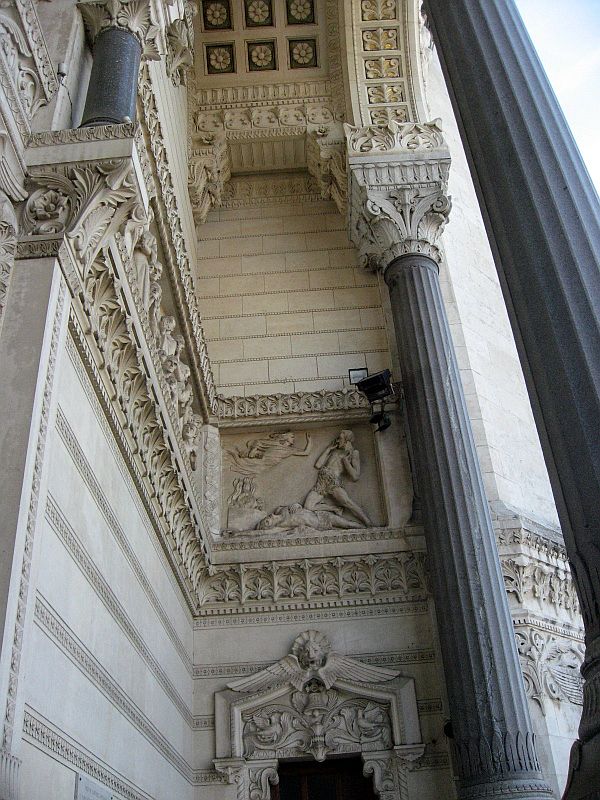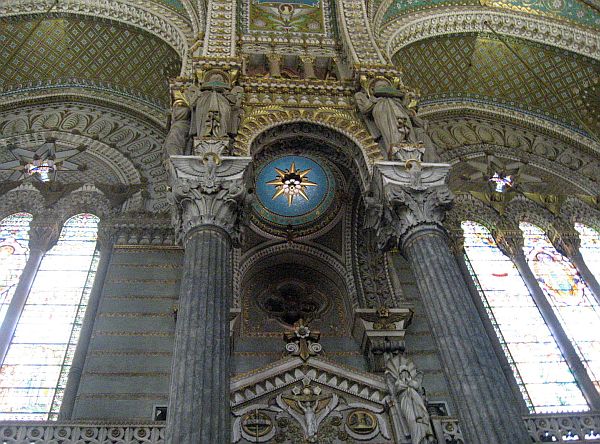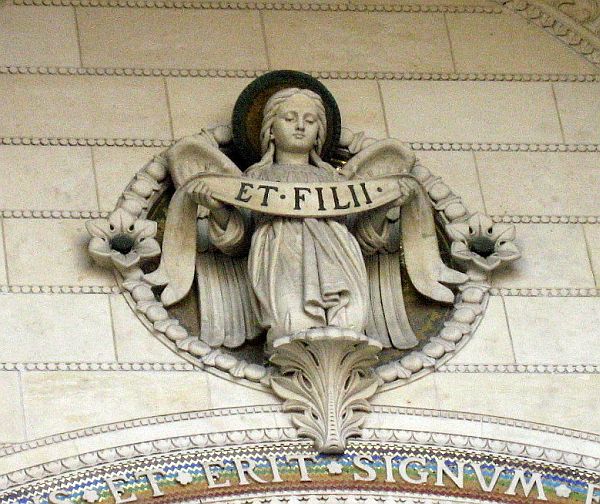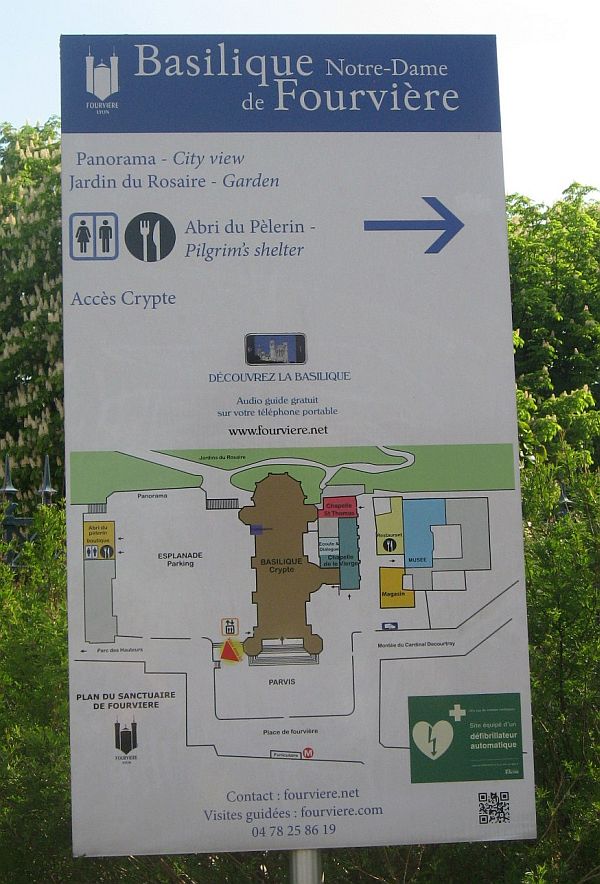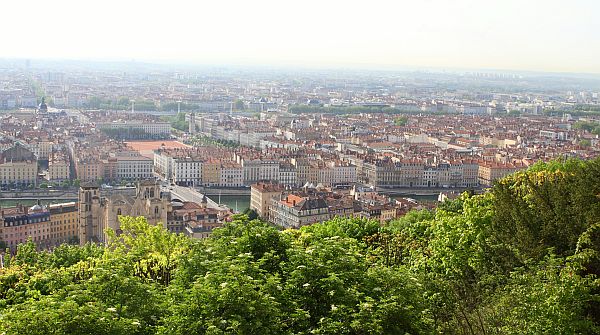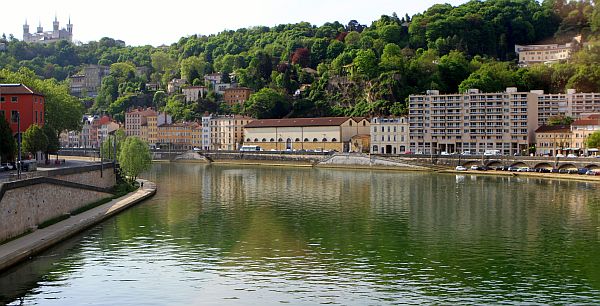 At La Fresque des Lyonnaise, we see trompe l'oeil. Who is real?
Every few years they re-apply the paint on these amazing 3-dimensional-looking images.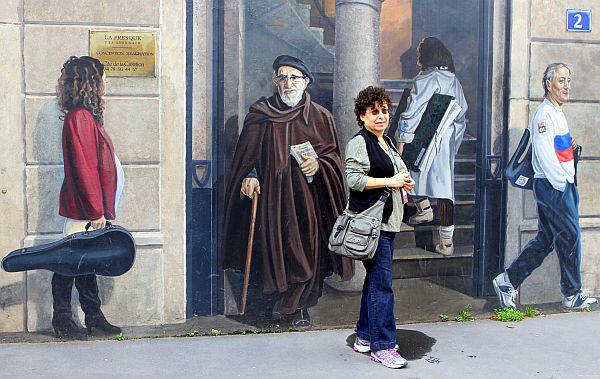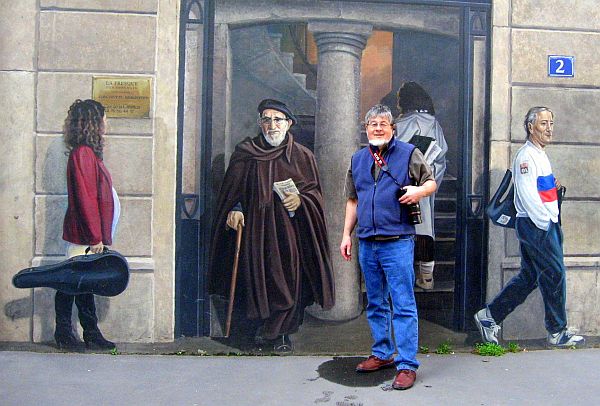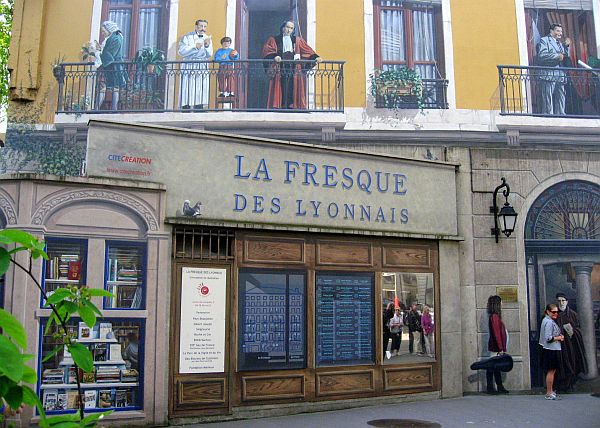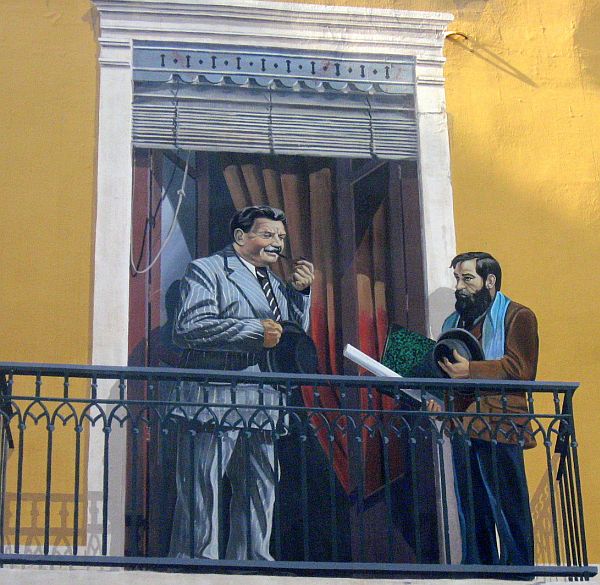 Yes, birthplace of the author of The Little Prince.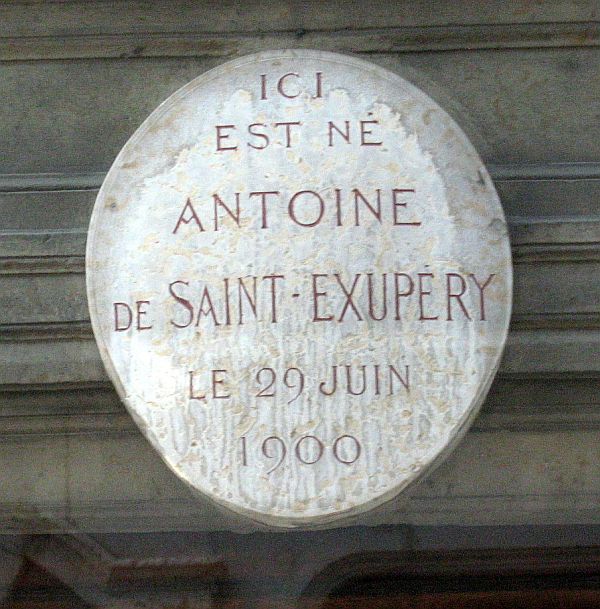 Lyon is silk.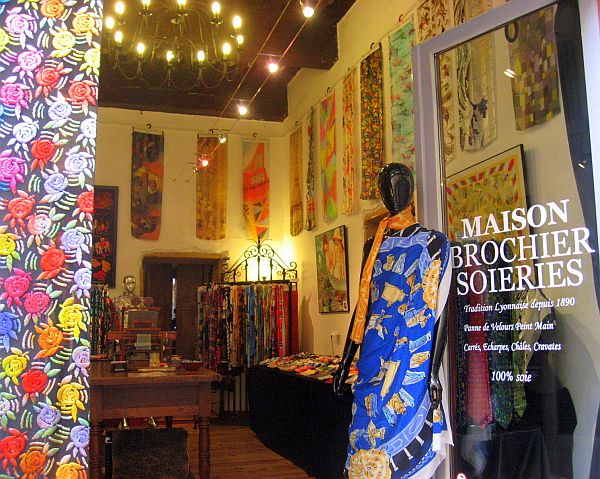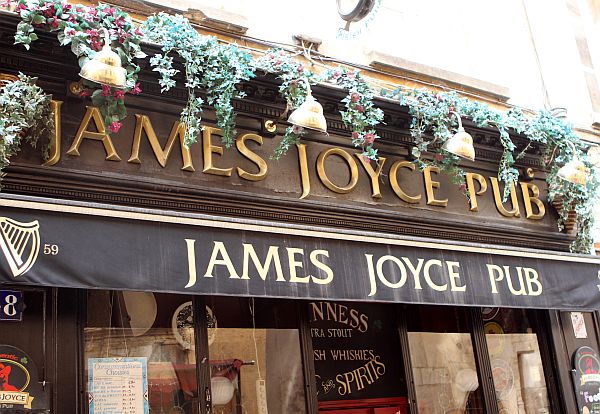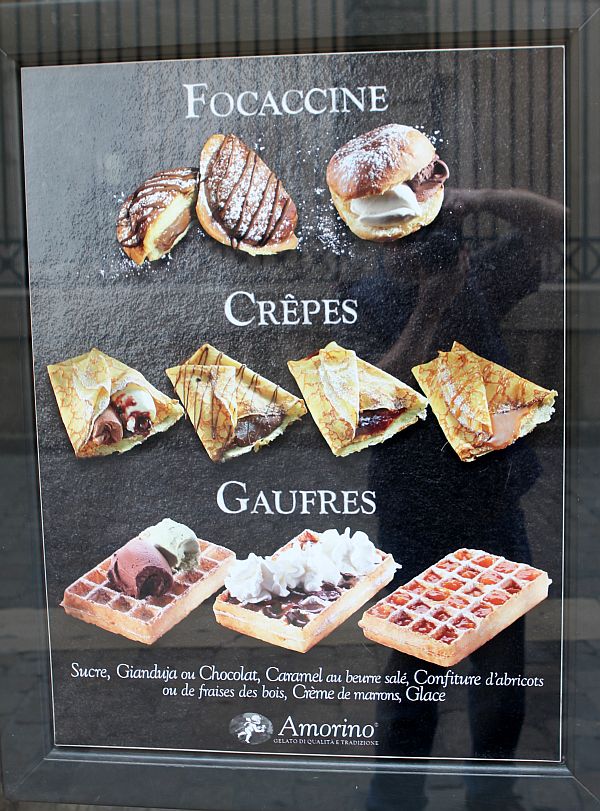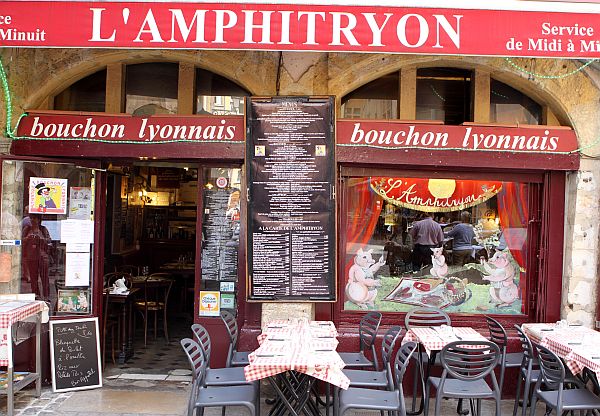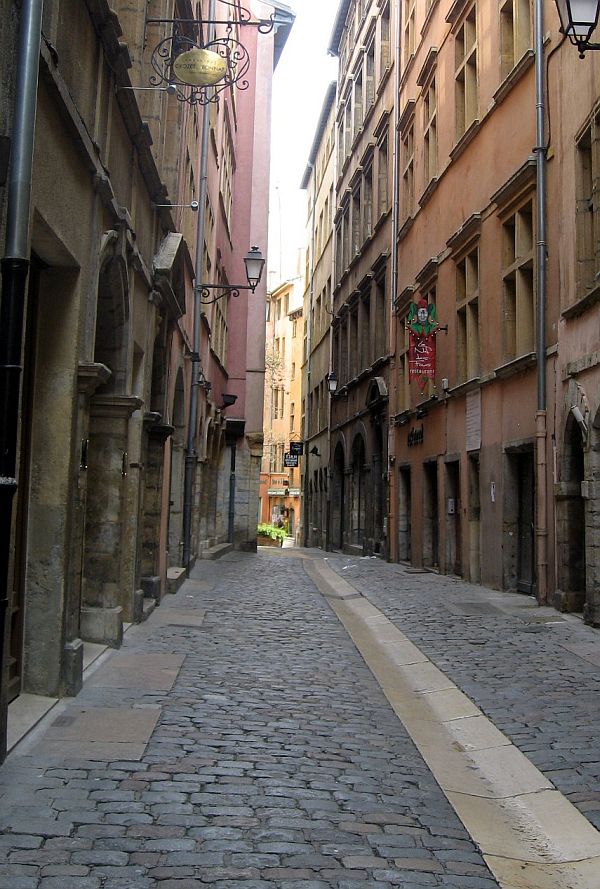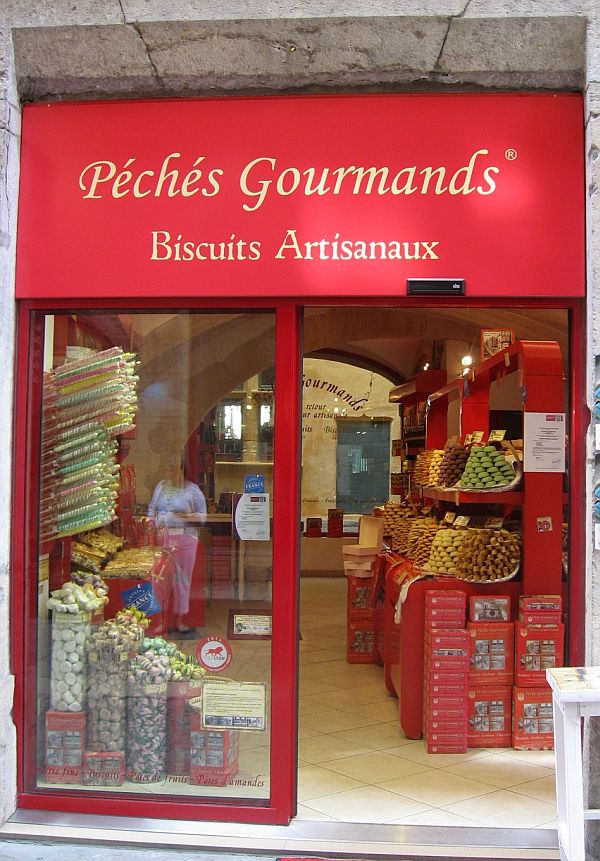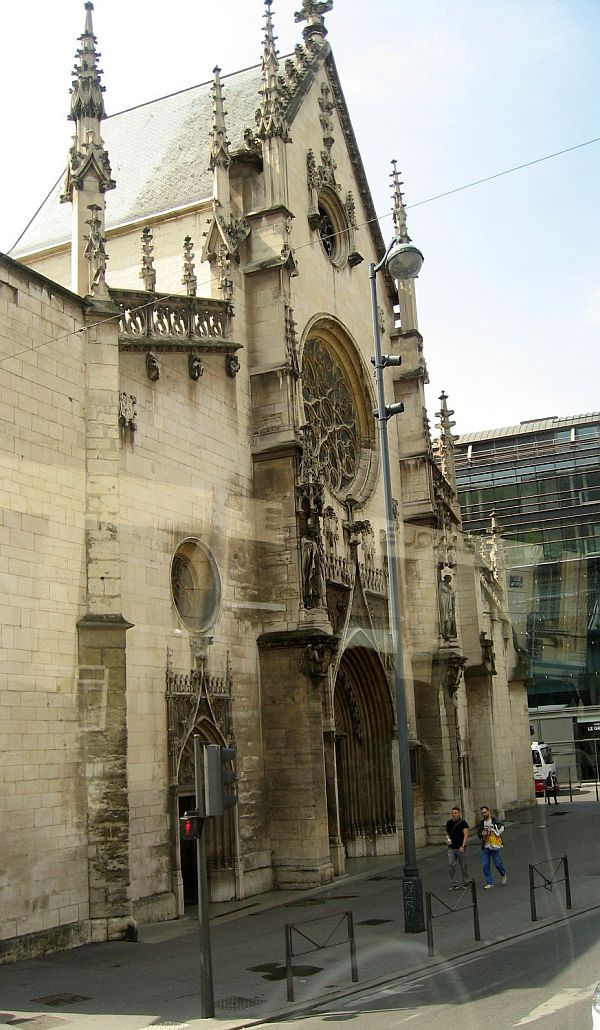 When we returned to our room on the boat at noon, we found this towel elephant on our bed --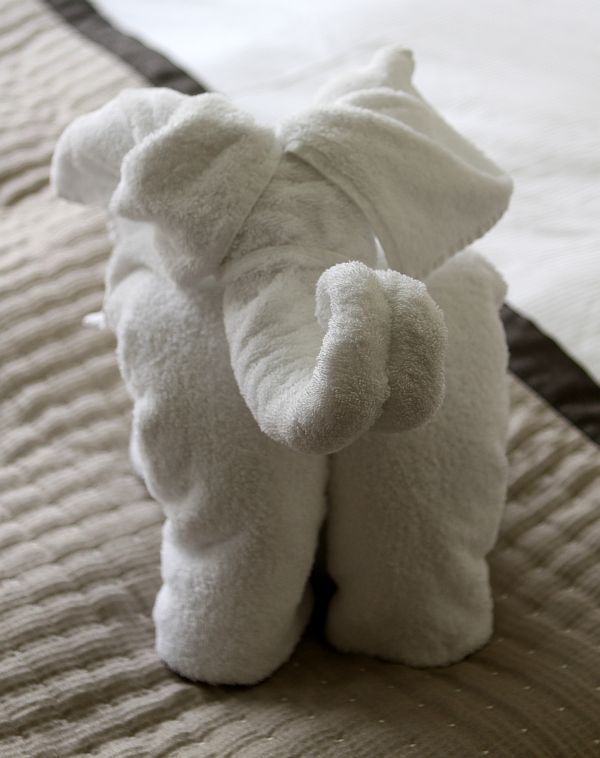 courtesy of most excellent housekeeper, Kremena.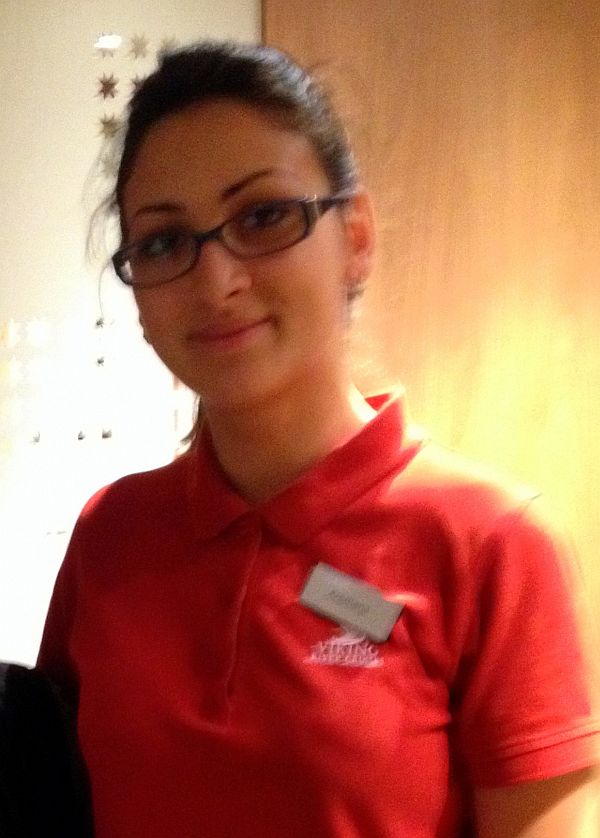 [May 8, 2014] [top]
---
At noon our boat, the Viking Heimdal, left Vienne and went up the Rhone to Lyon. In mid-afternoon in Lyon on Wednesday, April 23, we had a choice -- join Chef Johan for a visit to the gourmet food market "Les Halles de Bocuse" and see the rich harvest of land and sea through the eyes of a world-class chef (frogs legs, anyone?), or bush-whack on our own into Lyon, France's 2nd largest city, sometimes touted as surpassing Paris in terms of lifestyle. Hmmmm.

Lyon is "situated at the confluence of the Saone and Rhone rivers and is more than 2,000 years old." It features "green parks, outstanding galleries and museums, riverside walks, sophisticated shops, and world-famous restaurants. This is the city where even the French flock to eat."

We decided to bush-whack.

Here are a few of the sophisticated shops.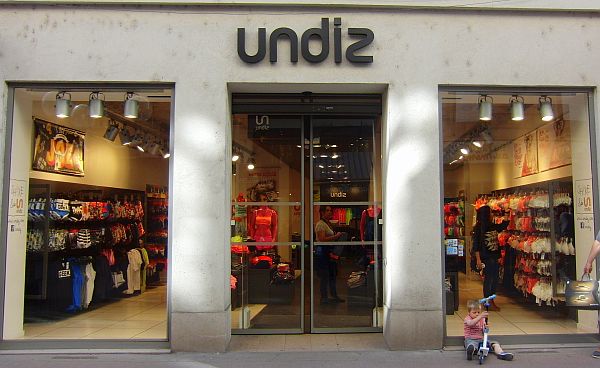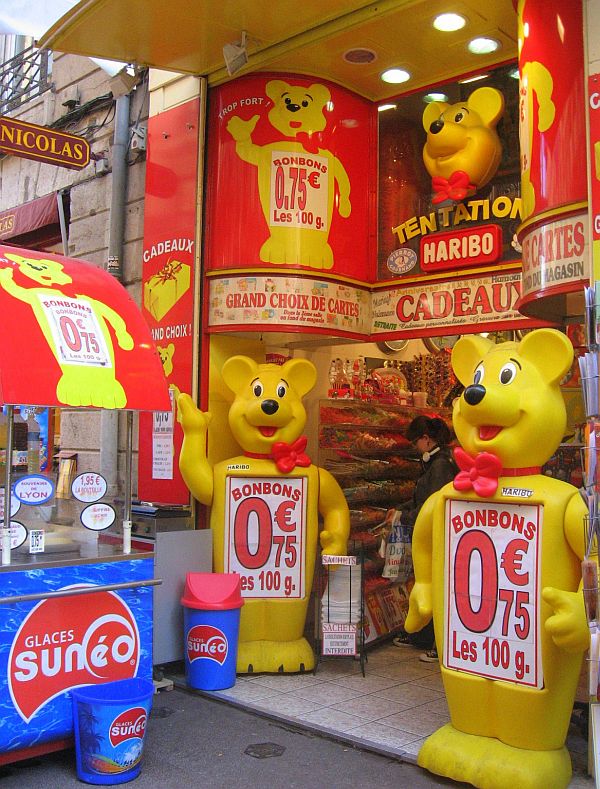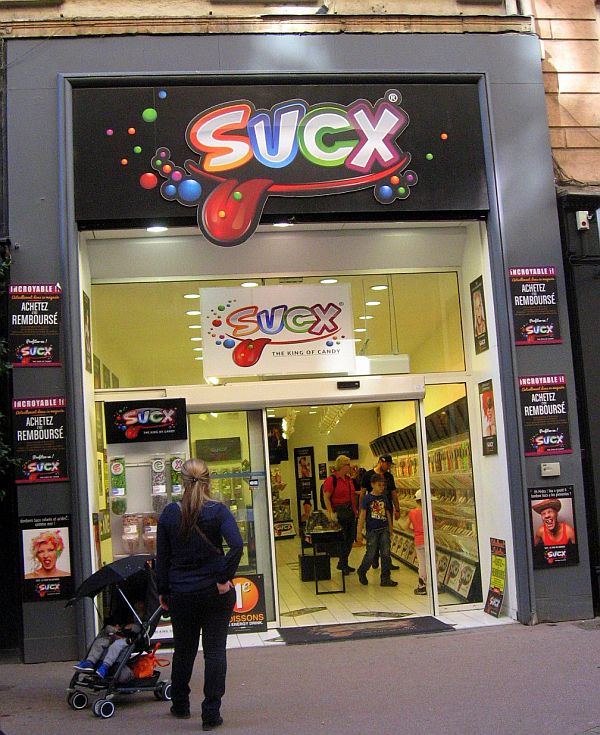 We were moving along briskly and enjoying the city, which increasingly reminded us of . . . walking in a big city. Busy streets, busy people, a gentleman who had spent more than one night in one of the parks yelled something to us. Yes, welcome to the big city. We are extremely comfortable with New York City, which once was home and remains our "comfort city." Lyon reminded us of the City. Except we didn't know where we were going.

At one point we could see we were approaching a huge facade that spanned the avenues to our left and right, with some tunnels perhaps going beneath the streets and a 2-story edifice blocking our passage.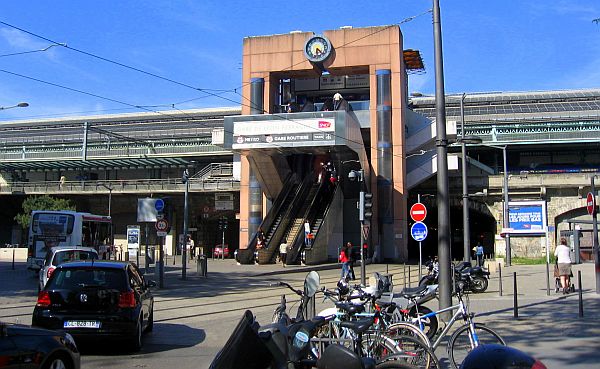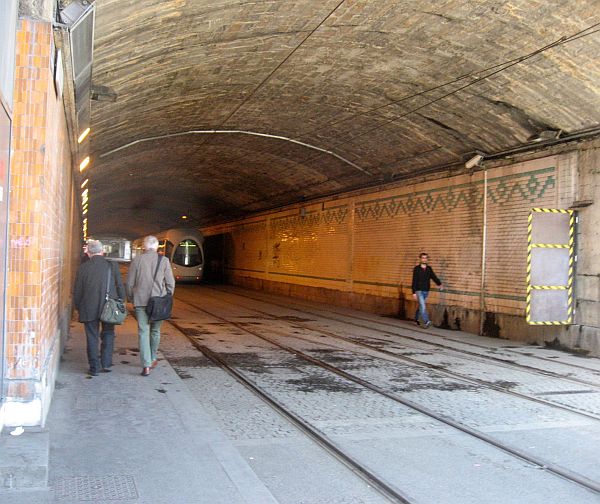 We managed to climb stairs into this edifice and discovered it was a train station. We stood there, looking like lost tourists. Soon, a woman in uniform (not police) approached us and said in African-accented French, "blah blah blah." We said "we're stupid Americans and we're lost and please help us, blah blah blah." She took us -- almost literally by hand -- to an exit on the other side of where we were. We thanked her in our best high school French. We were saved. And we continued our journey. After all, we were bush-whacking.

We came upon a huge plaza covered with hard-pack dirt. it had some statues.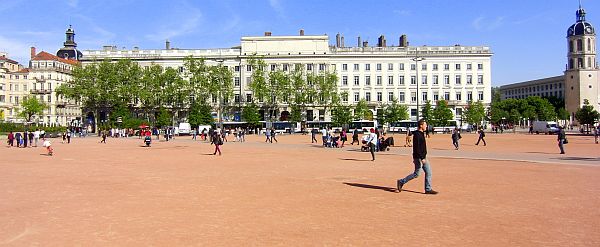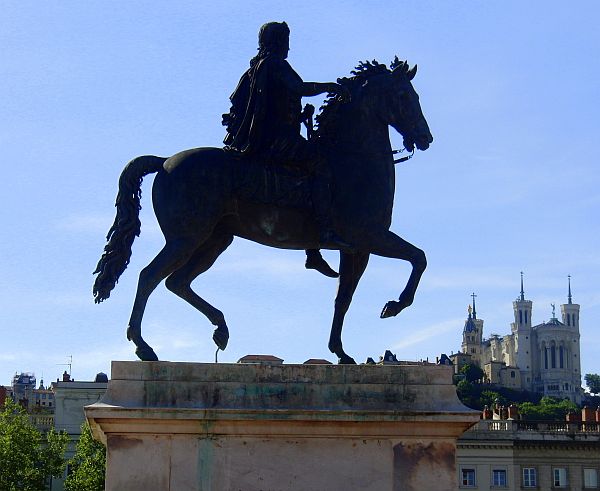 Our original goal of continuing our walk north to a (yet another) old church lost favor to our curiousity in heading back along the Saone river and in the process avoiding that train station.

We soon were walking down deserted streets and thinking we wouldn't choose this route at night, and as that thought struck we turned a corner, and Miriam spotted in a bakery window a meringue the size of a cauliflower. We went in, of course. On a small card under the Meringue Beast we read €18. Could that be 18 euros (about $25)? Looked very tasty! Behind the counter the baker and his wife talked to us in French and we answered in high school French. There was a lot of smiling. Finally, a young man in the shop, who was holding a baby, tried out his high school English. Voila! Between the five of us who now were participating the Meringue Purchase Caper, we learned that the Beast cost 1.8 euros. And our new young friend -- our guide-du-jour -- said that if the meringue cost 18 euros the baker and his wife could retire by the end of the week. The baker and his wife were delighted with that thought. And we loved the meringue.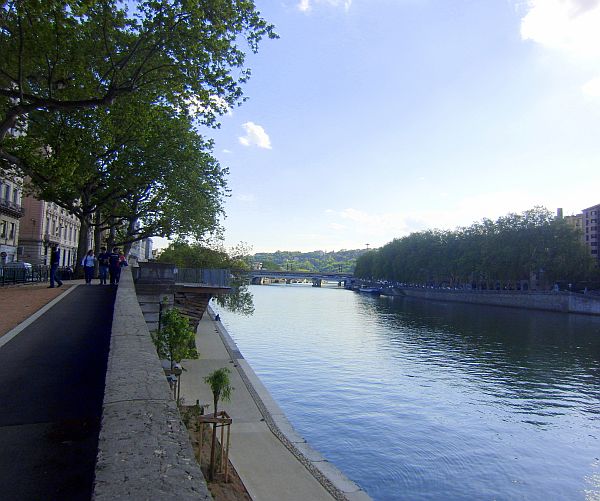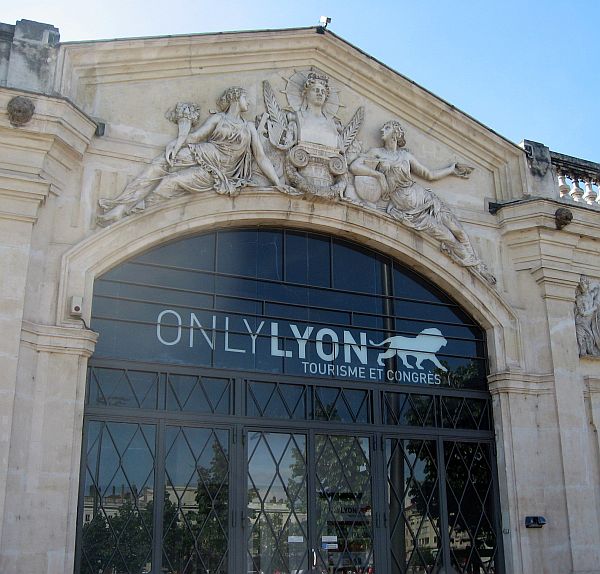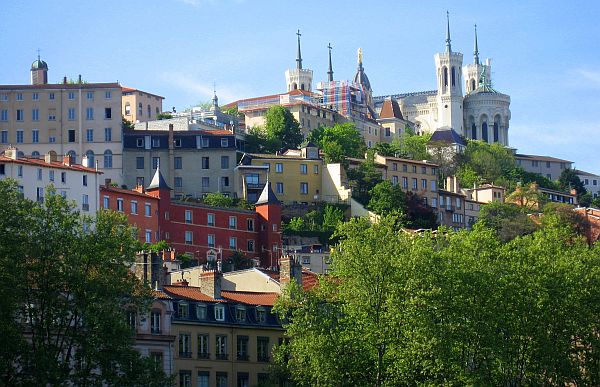 We did find the Saone and enjoyed the walk back to the boat along the river. Yes, it was a bit like walking along the East River, on the Esplanade. One of our landmarks was a gigantic crane we saw near the beginning of our afteroon walk. We saw it again when we thought we might be lost. We felt good about that. Until we spotted a 2nd gigantic crane.

We never did finish the meringue. Who can finish a huge ball of puffed sugar the size of a cauliflower? Not us. We have standards. Sort of.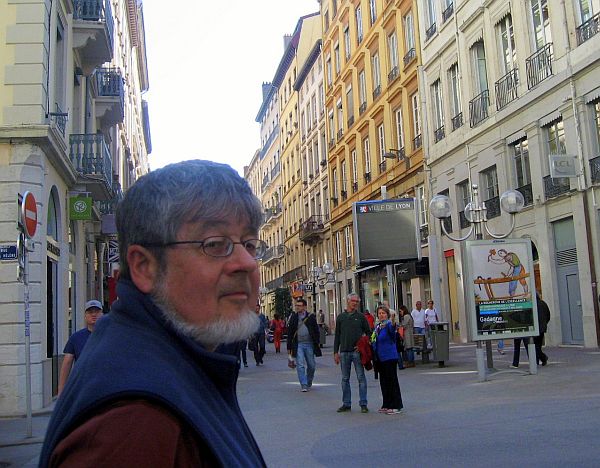 a man with standards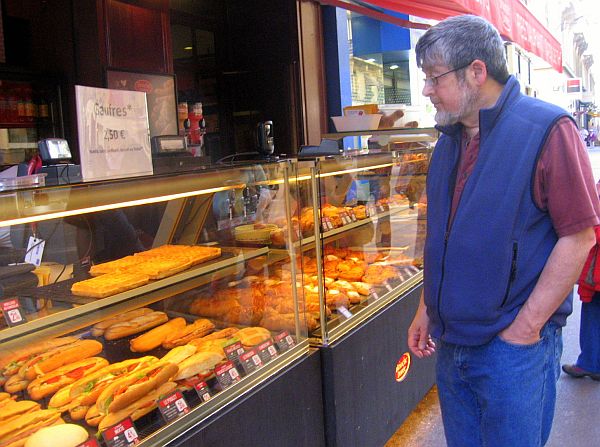 sort of
[May 7, 2014] [top]
---
We were in Vienne on Wednesday morning, April 23. The city is one of the oldest in France, and is associated with Hercules as well as Pontius Pilate. "Julius Caeser transformed this once-Celtic region into a Roman colony in 47 B.C. And because French territory began right across the Rhone, Vienne became an important strategic outpost to the empire, so it was built in the image of Rome. The city grew prosperous over several centuries, growing into an intellectual and cultural hub. Most of the Roman monuments are still intact today. . . . The centerpiece of Vienne is the 13,000 seat Roman Theater on the slopes of Mt. Pipet."

One could spend a long time in Vienne -- the cafes in the old town square were inviting, and the open-air food markets made you want to pick up some fresh veggies and fruits, go home, and begin chopping.

In addition to the Roman Theater, there are five monasteries and many churches, chapels, and convents. The buildings date back one and two thousand years. Old World indeed!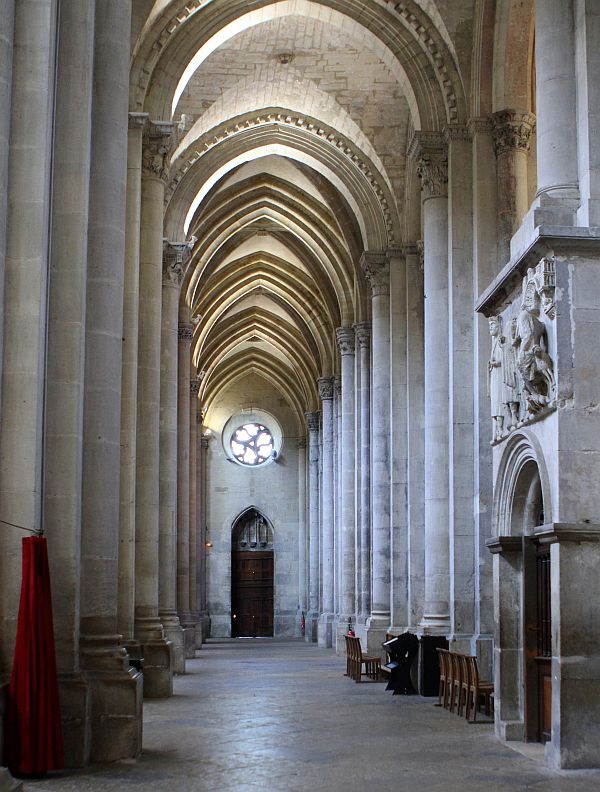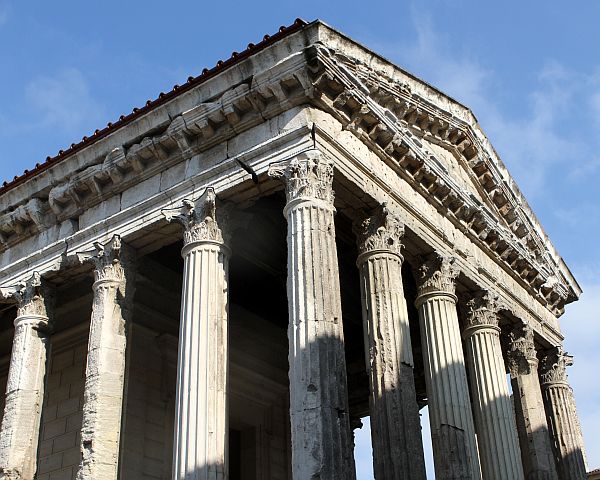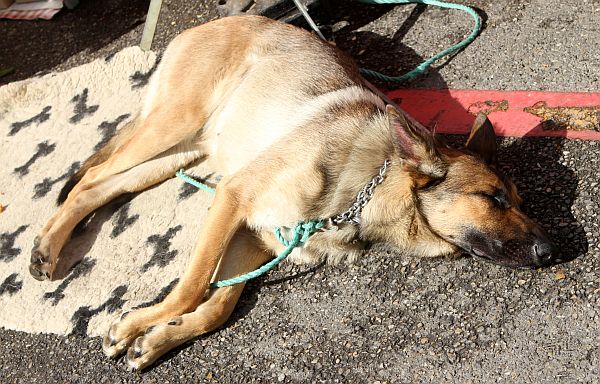 one of us taking a quick nap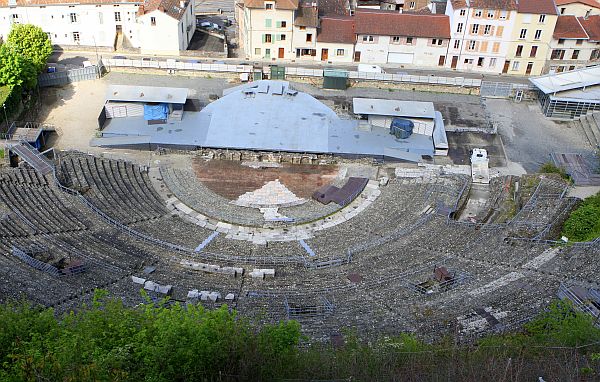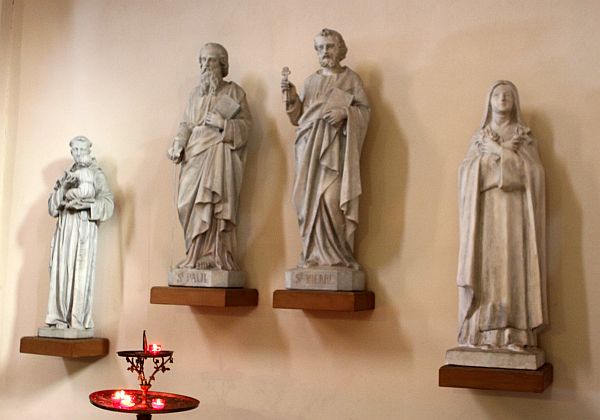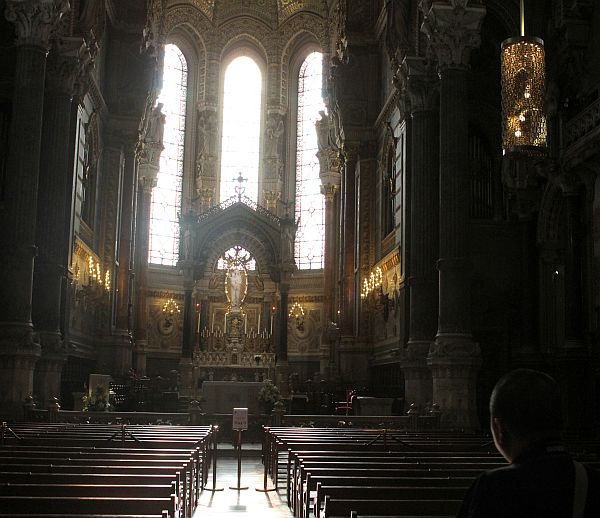 [May 6, 2014] [top]
---
And isn't that what it's all about?

On Tuesday morning, April 22, we cruised up the Rhone, docking at Tournan, the sister city of Tain l'Hermitage. The cities are linked by the Sequin bridge, named after the French inventor Marc Sequin, who is recognized as the inventor of the suspension bridge.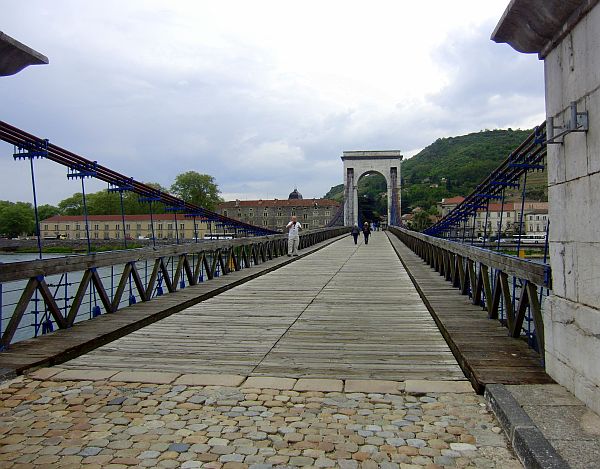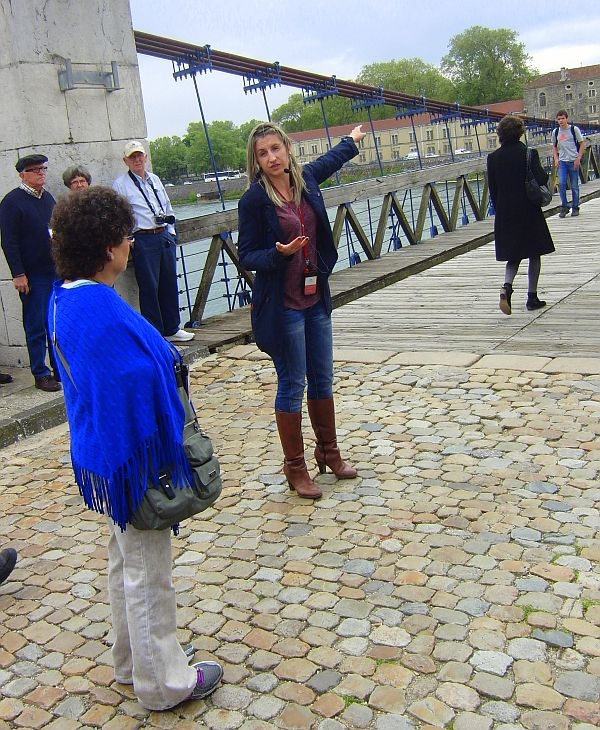 Miriam listens raptly to our guide, who will soon lead us to chocolate nirvana, guide us to a house of art, and help us enjoy some great wine; guides are great!

We headed to Vairhona in Tain l'Hermitage, which is more of an institution than a chocolate shop. "Founded in 1922, Valrhona's mission is to create the world's most distinctive and exceptional chocolate. It achieves this by sourcing cocoa beans from the finest plantations around the world (including its own plantation in Venezuela) that equate to less than 6% of the world's cocoa production. The result is a selection of vintage chocolate, made from the beans of a single year's harvest from a specific plantation -- a luxury high-grade treat for connoisseurs and chocolate lovers.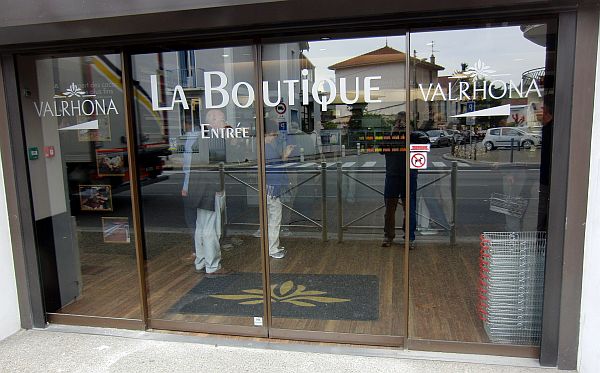 "The art of chocolate doesn't get more serious than at Valrhona's with its Ecole du Grand Chocolot, a school for professional chefs. Their advice for tasting chocolate is as follows:

"First, just look at the chocolate, concentrating on it polish, shine, and color. Then smell the chocolate, letting its aromas fill your mind and body. Then listen -- break a square into fragments between your fingers and listen to the crackling sound it makes. Start by biting into a quarter of a chocolate square to experience the initial flavors, aromas, and consistencies. Then bite again -- and two or three times more."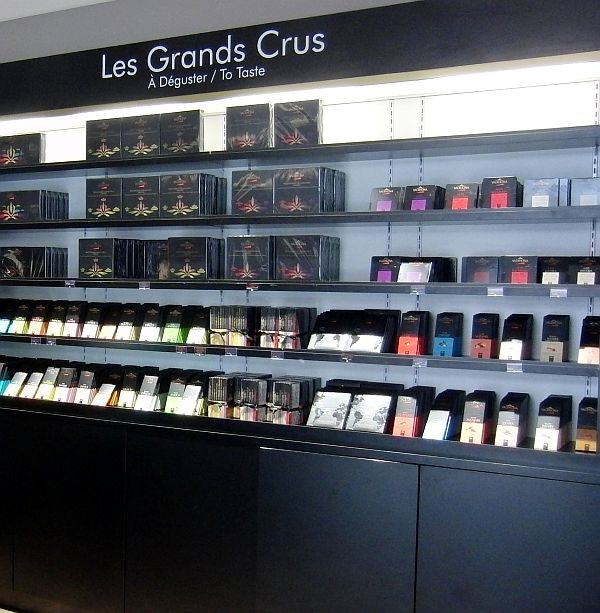 The store itself had free samples everywhere. One could move about the vast space and nibble/gobble chocolate with impunity. And yes, it was all for sale too, and they did a rousing business. I returned often to the creamy white chocolates, sampling one at a time, and then by 2s, and 3s, and so on. I am glad Vairhona is in Tain l'Hermitage and not in my hometown.

After the chocolate orgy, we went to the Palue Museum (le musee Palue) also in Tain l'Hermitage. The building dates to the 16th century and features thick walls, a winding stone staircase, gorgeous inner courtyard, and rooms filled with the work of Pierre Palue and other artists of the 20th century Paris New School. The building was taken over in 1992 by the artist and his daughter, Marie, who continues to maintain the structure as a gallery and serve as a hostess to visitors.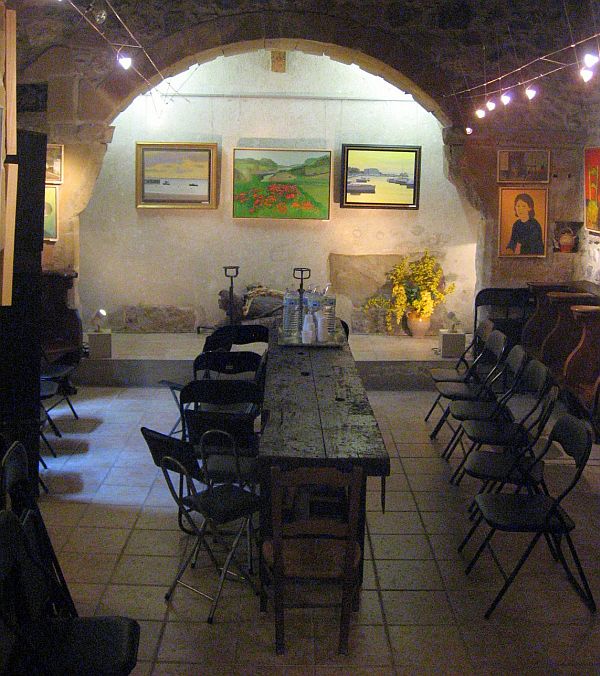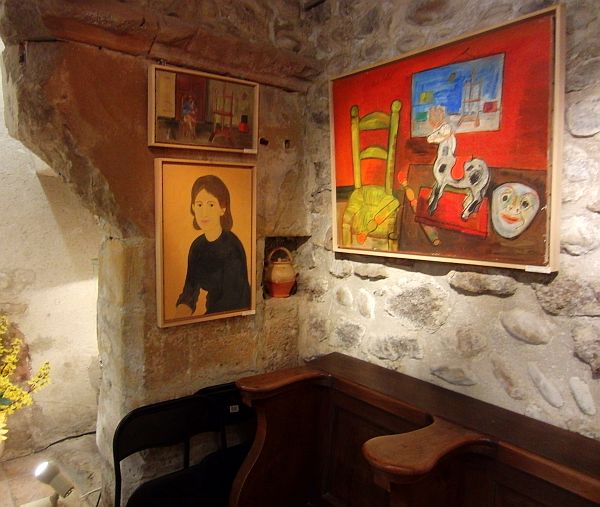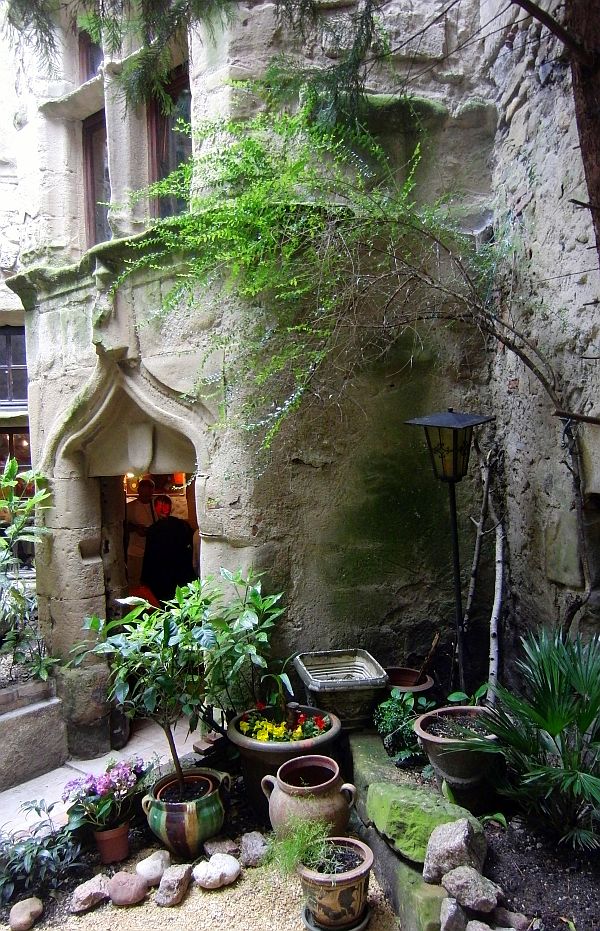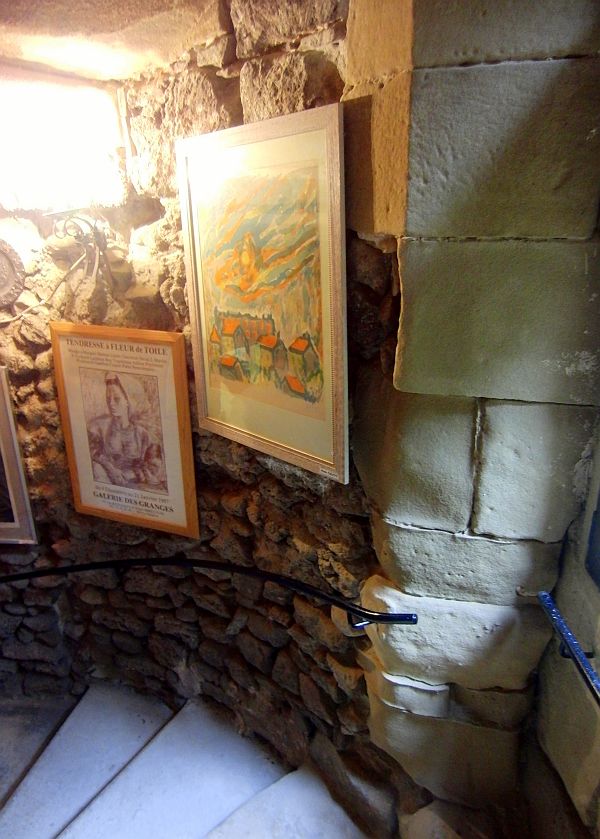 This visit was an extraordinary hour of connection with how well the French integrate their past and present, with grace and beauty.

After wallowing in chocolate and being edified by culture, we were thirsty, so we to headed to Domaine du Murinais, operated by Luc Tardy, a 7th-generation grower, with his wife Catherine.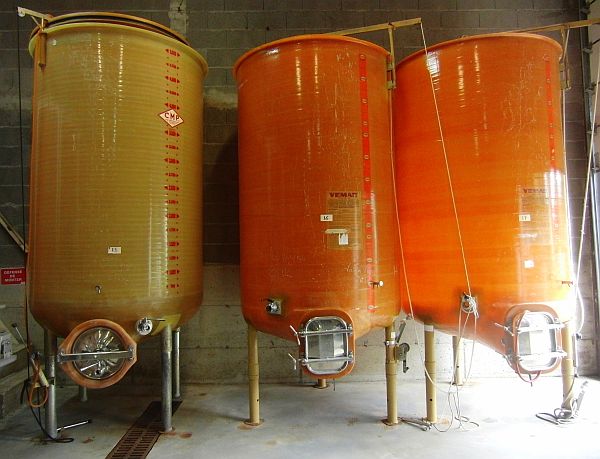 The family has occupied the house since 1774. We sampled a white and two reds.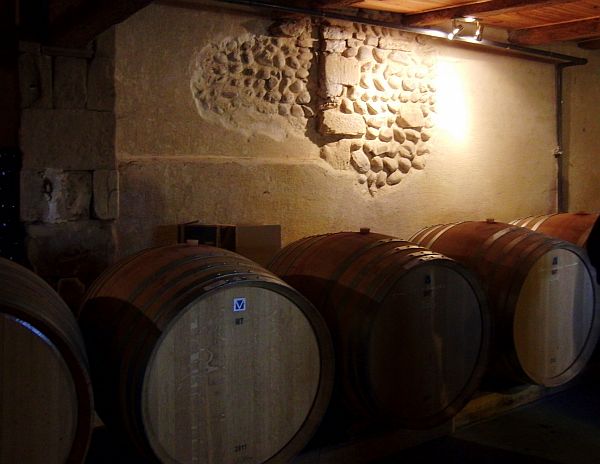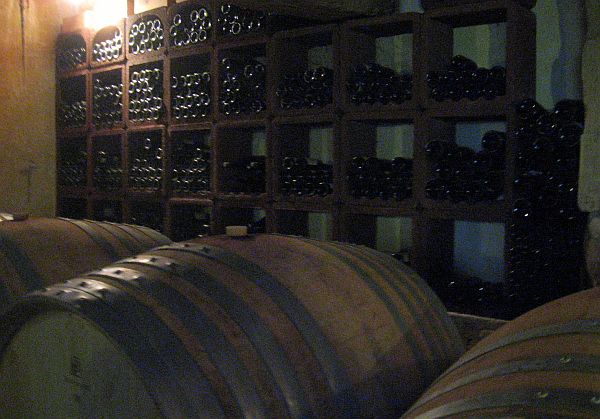 The tasting -- led by our tour guide -- was excellent. Since these are small batch wines, it's unlikey we would see them (or afford them) in the U.S., and unless one bought some bottles onsite this was a lifetime moment to savor some very fine wine.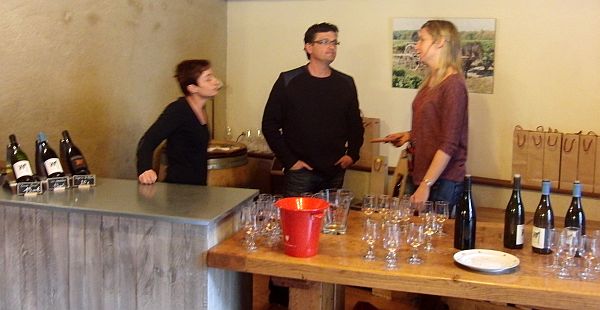 Catherine, Luc, and our guide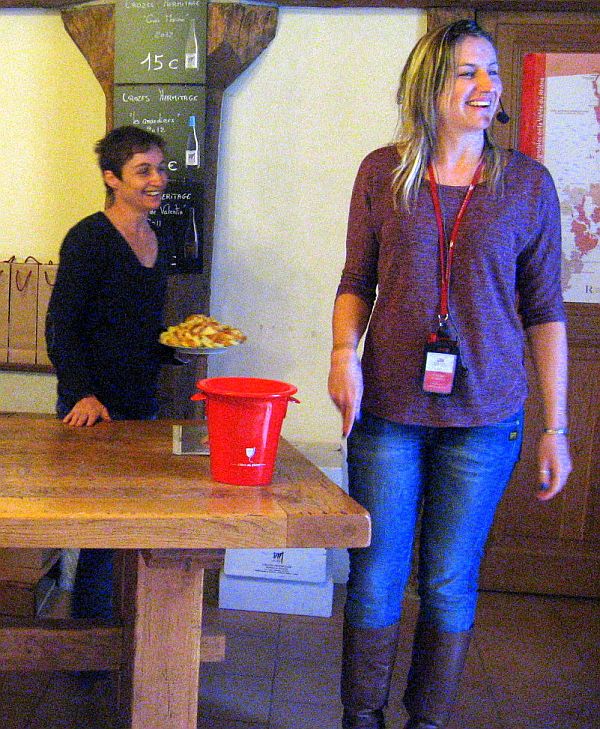 Catherine is bringing us a tray of small cheese biscuits that were even better tasting than my Smith-Family-Famous Cheese Savories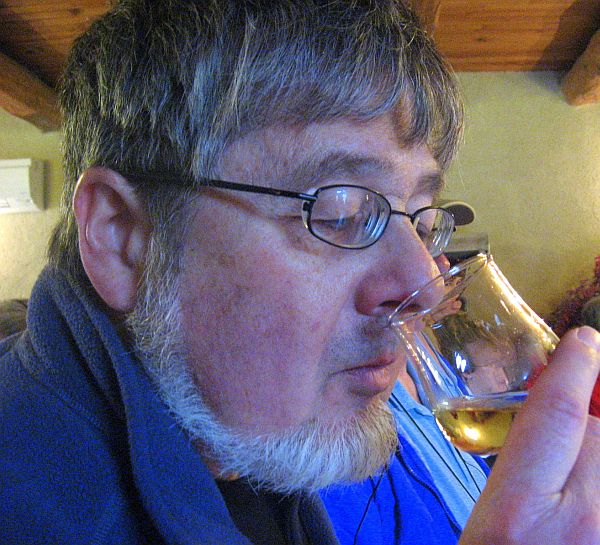 ok, I'm faking wine snobbery as I look for a moment to gulp it down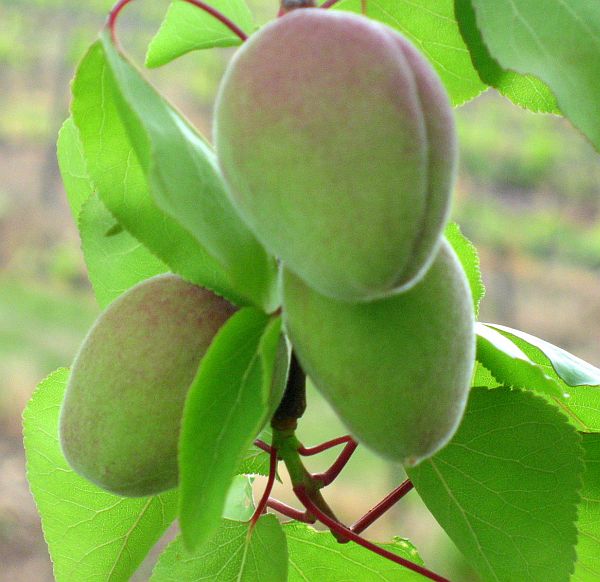 You may read more about Domaine du Murinais here.
[May 5, 2014] [top]
---
On Monday afternoon, April 21, we headed to the Chateauneuf-du-Pape vineyards.





The stones that cover the ground are from the Rhone, brought many years ago by flooding. Irrigation is not allowed in this region. The vines will grow and produce as they will. Some years will be better than others. The rainfall, the sun, the composition of the dirt, the wind -- all go to create the terroir that defines the taste, texture, and smell of wine. Terroir cannot be exported or modified. It may be thought of as a wine's "sense of place" and it is unique to the wine produced from a each, specific terroir.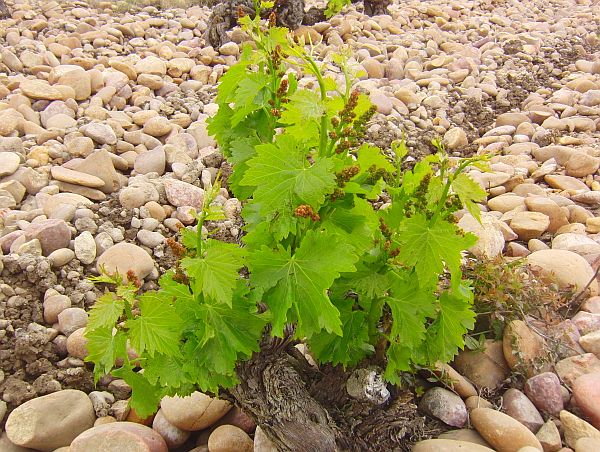 As we learned from our Winemaster, though he did not call it "individual terroir," each person has a unique and very personal sense of taste and smell as it relates to wine. If an "expert" says a wine has, for example, grassy hints with a touch of melon, but you smell berries with a mineral taste, you are not wrong. Taste is personal and there is no right or wrong.

Chateauneuf-du-Pape is a village and the wines of the region take that name, but there are many vineyards that produce Chateauneuf-du-Pape wine. Our wine tasting was at Maison Bouachon, where we sampled a white and then two reds. There were about 25 people in our group, and we sat around a horseshoe table to listen to the Winemaster (I'm giving him that name -- he knew his stuff!) explain the wines and to guide our tasting. We each used a single glass, and when you taste this way, you always start with the white. We had trays of cheese and bread to cleanse our tastebuds between tastings.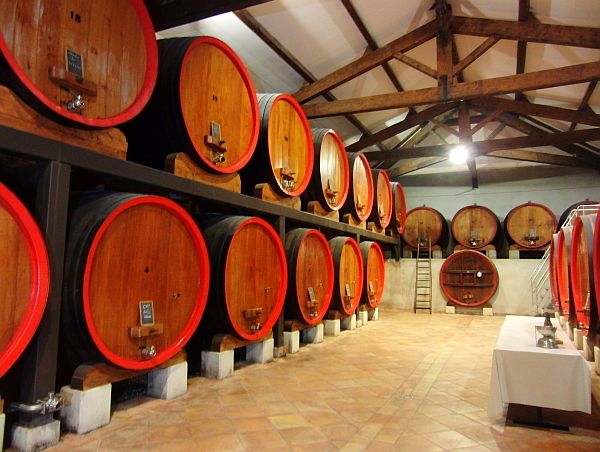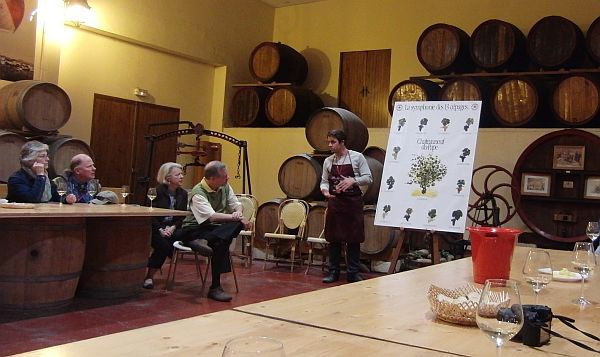 How to taste? You can do this next time in a restaurant and either impress or annoy everyone.
Begin by swirling the wine in the glass, even bouncing the glass on the table. The age of the wine may be seen by how quickly the swirls descend down the sides after a swirl. These are called "tears" and newer wines descend more quickly than older wines.
Next, slide the glass under your nose to smell the wine. Finally, stick your nose right down the glass -- don't be shy, go right into the glass with that nose.
Finally, take a small mouthfull and swirl it around, letting it linger on your tongue and the back of your throat. Gargling sounds are common and accepted at this moment.
Our Winemaster spit our the first two samples -- wine sampling always has spit buckets. The third, however, he swallowed, saying it would be a sin to spit that one out. It was the most expensive. I preferred the 2nd one, less expensive but smoother to my tase. I've probably attuned my palate, over many years, to cheaper wine. Oh heck.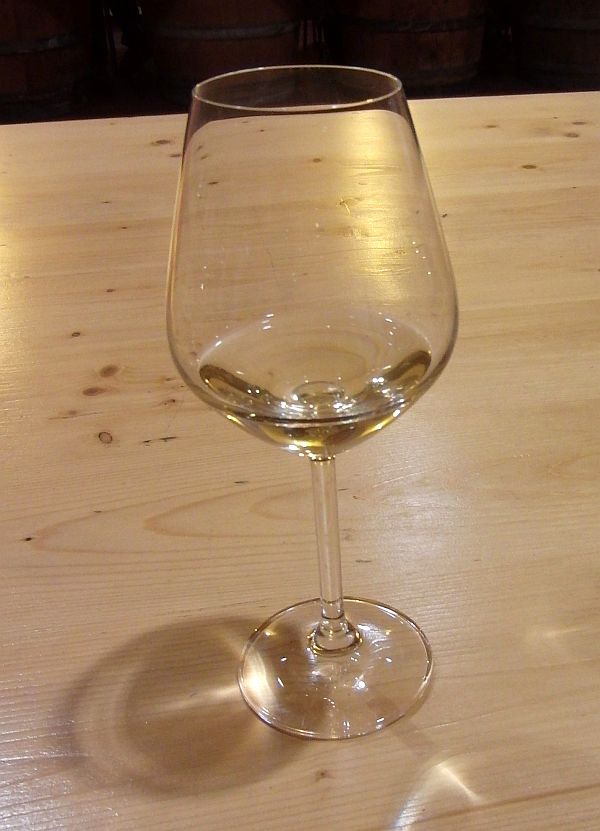 Wine glasses. A good wine tasting will use stemmed glasses only. And the way to hold the glass is by the stem, just the stem, not the "bowl" of the glass. Why? Because the heat of your hand will change the temperature of the wine, destroy the delicate balance of wine and tasting epiphany, and send you straight to heck. So throw out those wonderful "goblet" wine glasses and the juice (Italian) glasses that have become so popular. (Further thought -- if we're drinking box wine or your normal plonk, a paper cup will do just fine. Just don't talk about it at a Chateauneuf-du-Pape vineyard.)

Finally, wines that have Cotes-du-Rhone on the label are the less expense wines in the Rhone Valley. Chateauneuf-du-Pape wines are Rhone Valley wines, but they are not Cotes-du-Rhone wines. I will have to do extense testing and tasting to verify this.
[May 4, 2014] [top]
---
Monday the 21st began with a vigorous walking tour of Avignon, highlighted by the Pope's Palace.
Here's some detail from the tour's description.

"Strategically situated high above the river Rhone and encircled by medieval ramparts, Avignon's walled old town is a warren of cobbled streets, lantern-lit passageways and architectural treasures. Bathed in the brilliant Provencal light, the former Papal enclose has long attracted artists and painters. . . . The city's center is dominated by one of the most important buildings in Europe, the Gothic Palace of the Popes.

"The 14th-century Palais des Papes, one of the largest Gothic buildings in Europe, is protected by walls up to 18 feet thick, which made it impossible for enemies to penetrate. After the chaos of he French Revolution, the fortress was transformed into a barracks and prison. Today it houses a national museum.

"After completion of the famed Pont d'Avignon, also called Pont Saint-Benezet, in 1185, torrents of frequent floods washed the bridge out. Finally, a 1688 flood swept most of it away. A small Romanesque chapel at the bridge's shore side holds the tomb of Saint Benezet, who inspired the bridge's construction when he was a shepard boy. There's more inspiration in the beloved 15th-century French folk song, Sur le Pont d'Avignon, or On the Bridge of Avignon, a whimsical tune that describes boys and girls dancing on the bridge. People did indeed dance here, but the bridge was too narrow to accommodate dancers, so they likely danced underneath the arches that span the river's banks."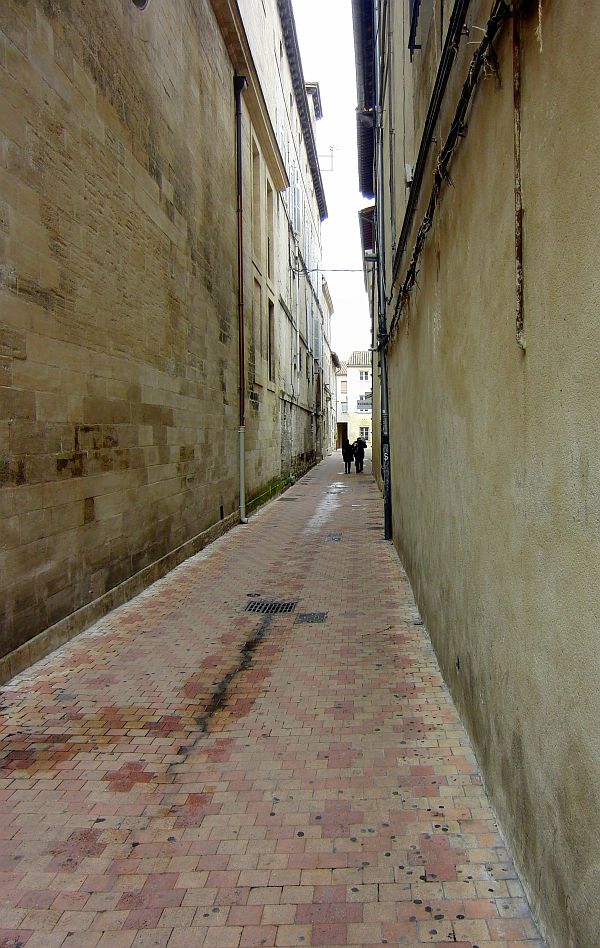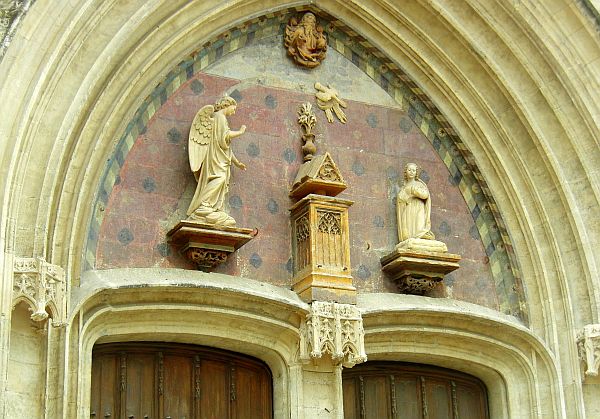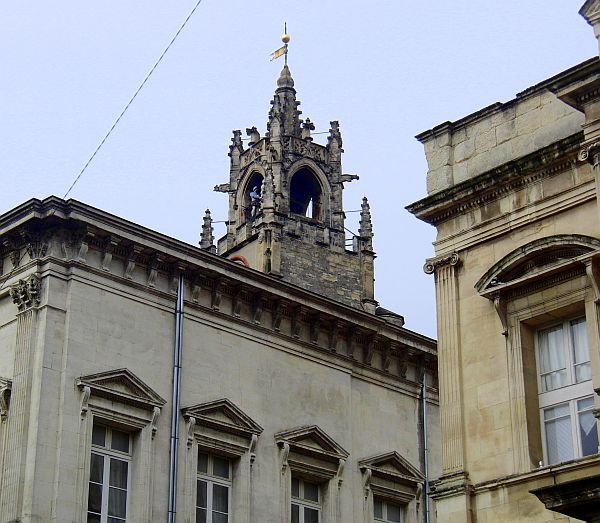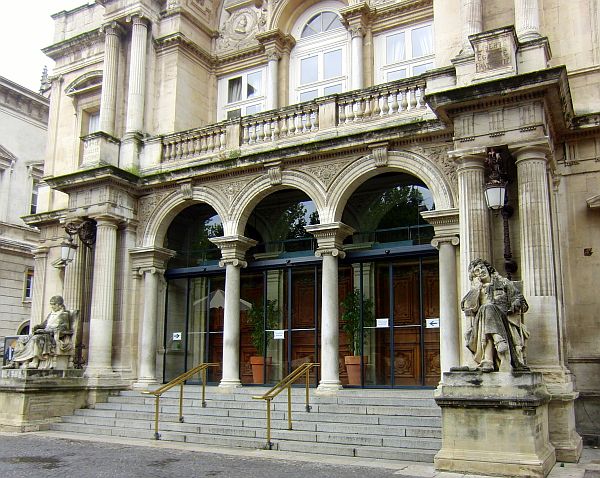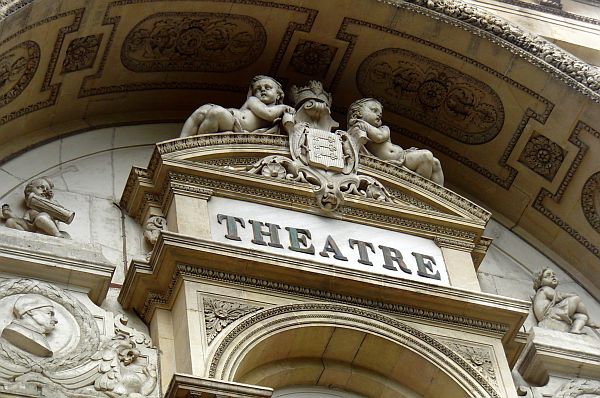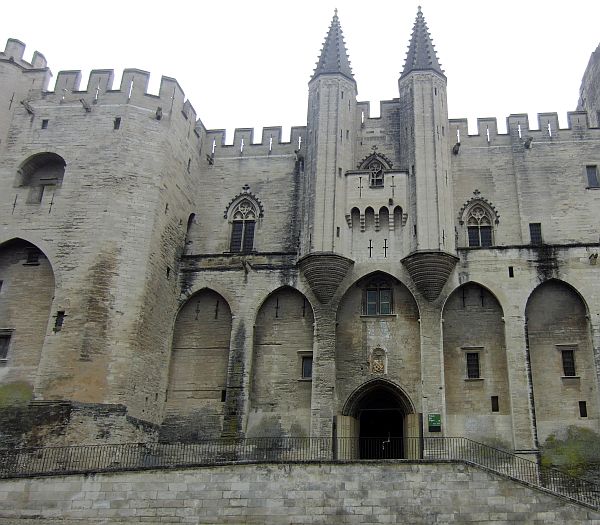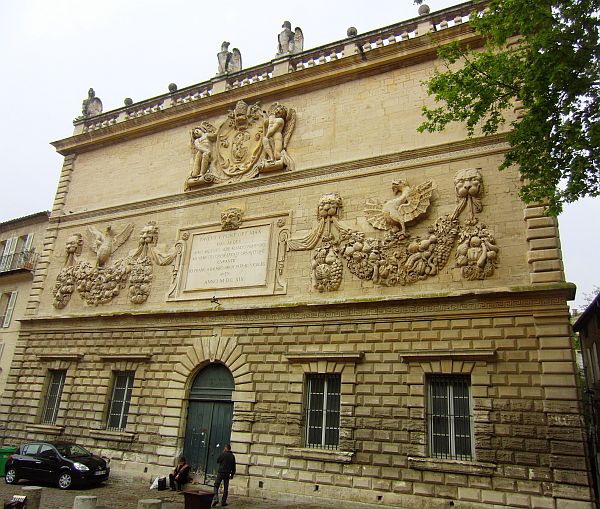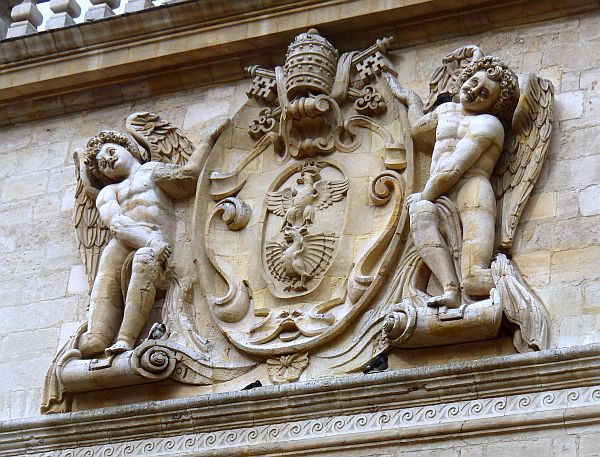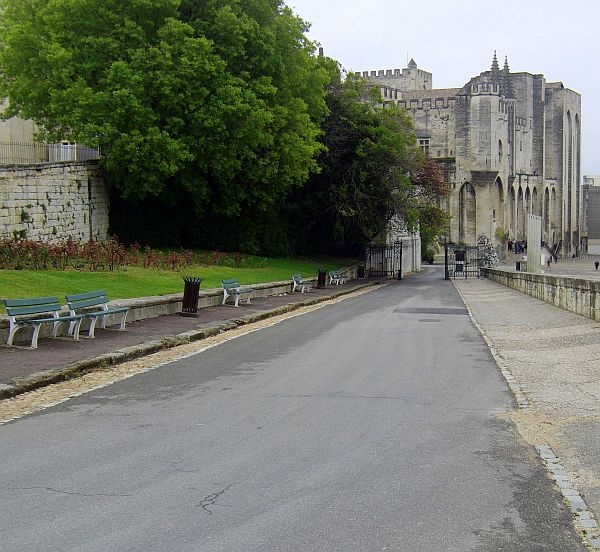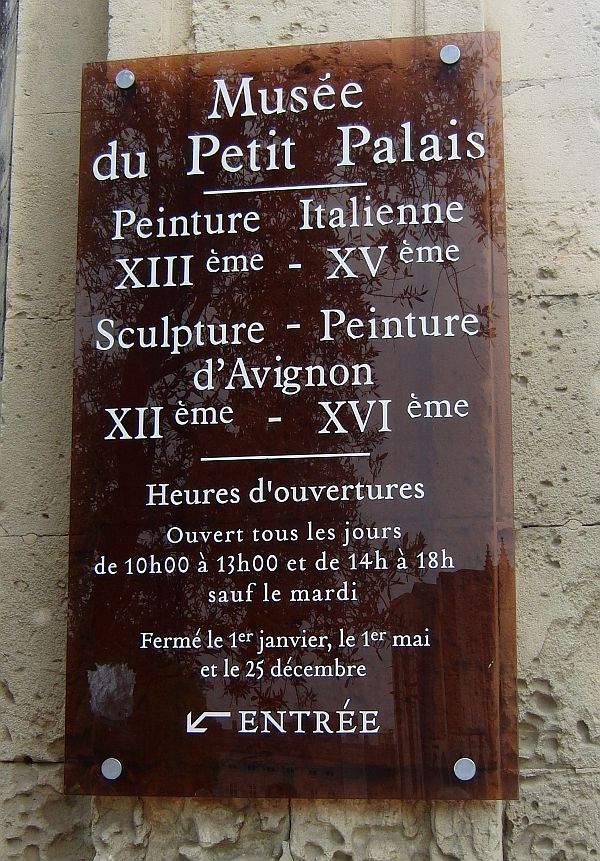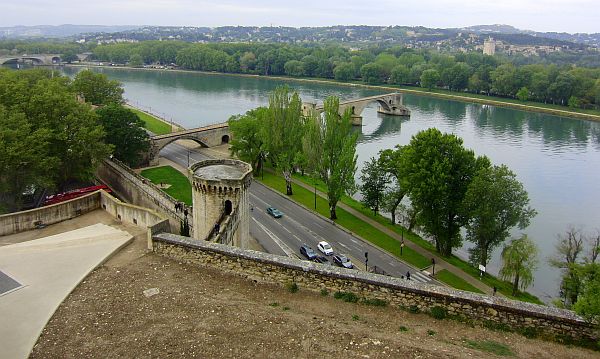 the Rhone below the Pope's Palace, and the Pont d'Avignon, missing the last span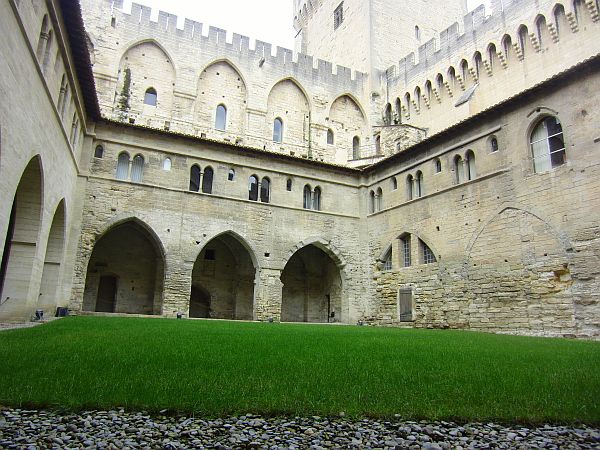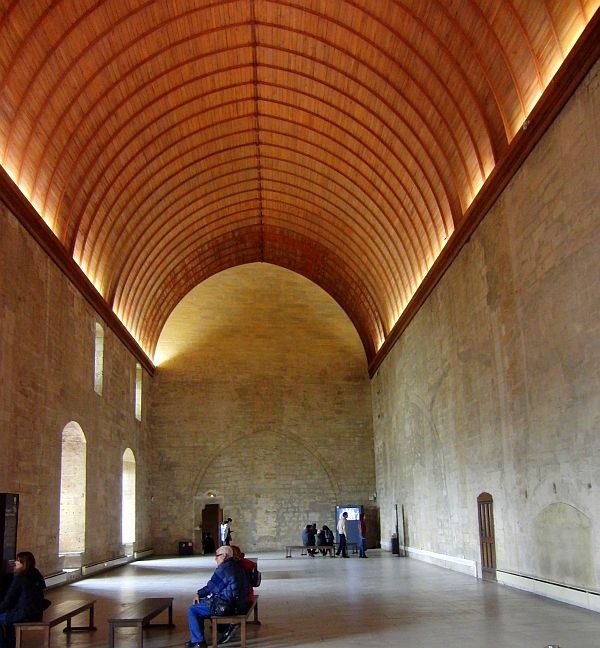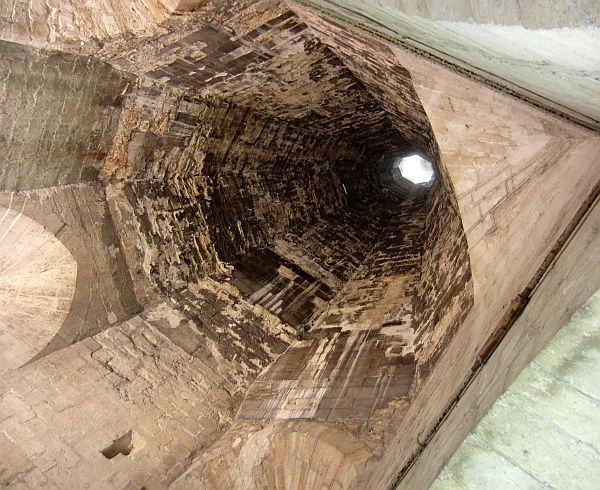 you're looking at the ceiling vent in the kitchen of the Palace, where 5 oxen could be roasted at one time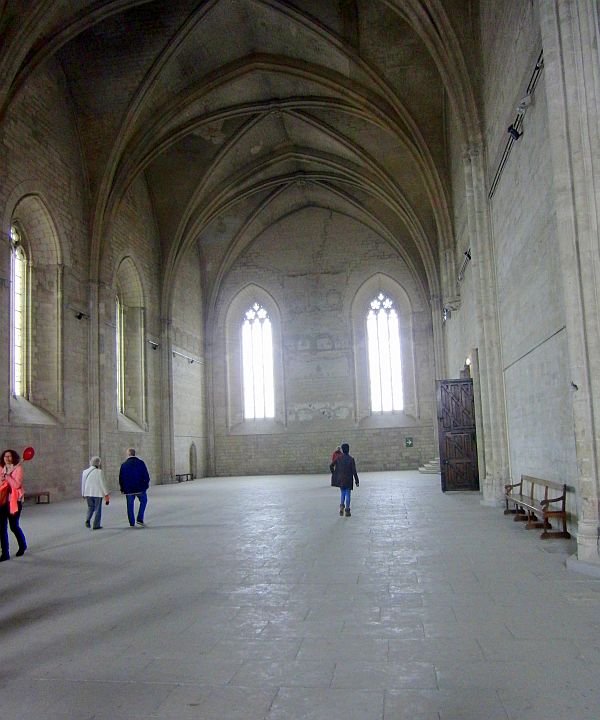 one can barely grasp the enormity of the Pope's Palace
[May 3, 2014] [top]
---
On Sunday morning, April 20, we were docked in Tarascon, south of Avignon on the Rhone. After breakfast we took a bus south to Arles for a tour of this "Pearl of Provence" city.

We had our first insight into the difference between the Old (Europe) and New (U.S.) worlds. In the New, an old building is 100 years old. In the Old, an old building is 1000 years old. There are cobblestone streets, Roman sites and ruins from the nearby Italian presence over the past 2500 years. Monuments and old churches (500 to 1000 years old) abound. Some monuments in Arles date from 46 BC. The amphitheater -- Les Arenes -- seated 20,000 spectators.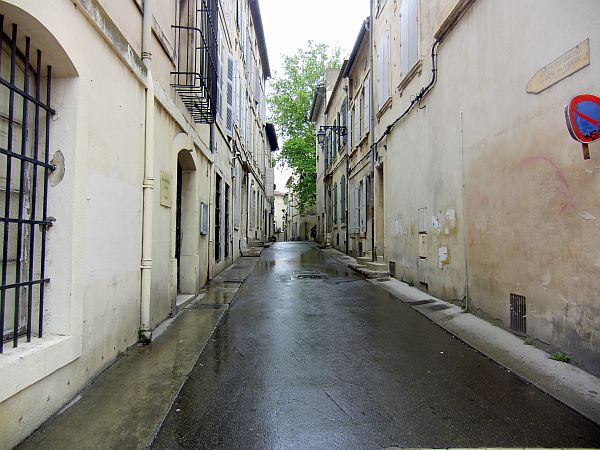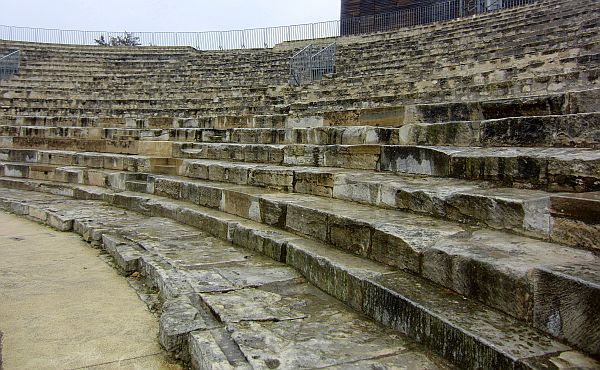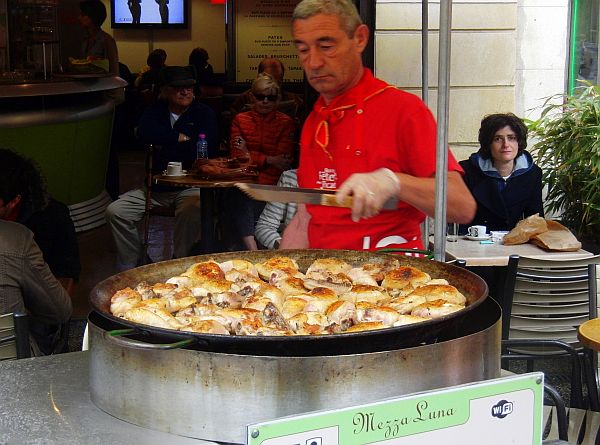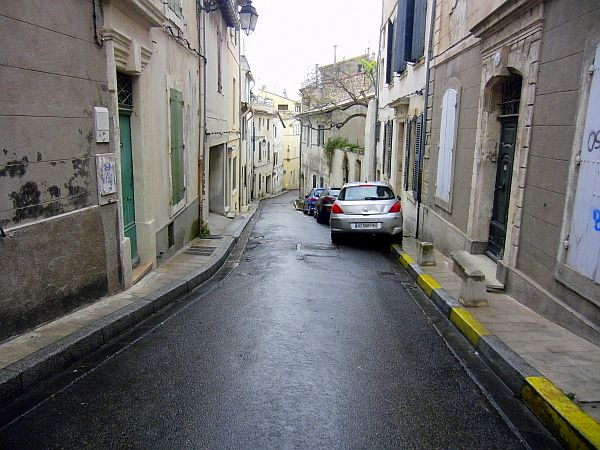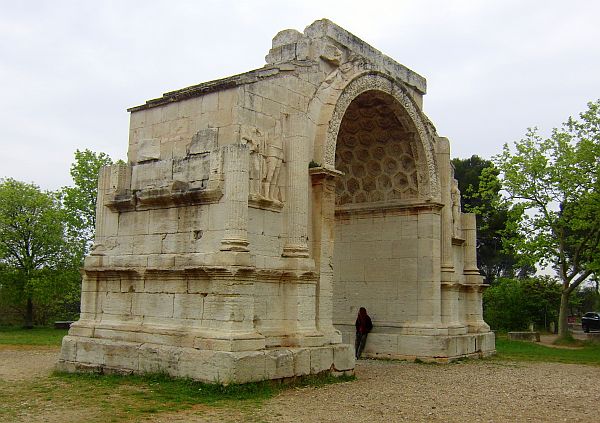 After we returned to the boat for lunch (and wine, always wine), we travelled East by bus to Les Baux de Provence, a small village that was important during the Middle Ages, as shown by its castle and numerous ruins, but was mostly destroyed during the 17th century religious wars. The real reason for this excursion was the stop at the St. Paul de Mausole hospital near St. Remy de Provence. This is where Van Gogh stayed for a year and produced 150 paintings and over 100 drawings.

Here's more from our tour sheet.
"The striking colors and quality of light in southern France have, for centuries, inspired artists. In 1888, worn down by life in Paris, van Gogh arrived in Arles. Hoping to establish an artists' cooperative, he rented a studio in Arles, the Yellow House, and invited Gauguin to join him. In anticipation of his friend's arrival, van Gogh painted sunflowers to decorate Gauguin's room. The flowers represented the sun, the dominant feature of the Provencal summer. Gauguin described the paintings as 'completely van Gogh.'
"Van Gogh painted a staggering 300 works during his stay in Arles; pictures that have become some of the most reproduced images in Western art. Yet, despite the sunshine, his health continued to decline. After cutting off part of his ear, he was admitted to the hospital (a 16th-century building now named Espace de Van Gogh), and then to the asylum in nearby St. Remy until shortly before his death."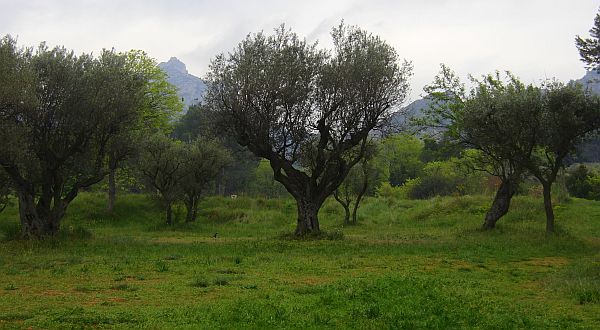 along the path to the hospital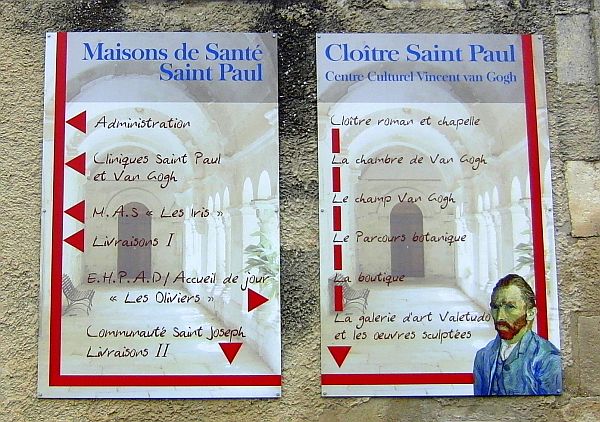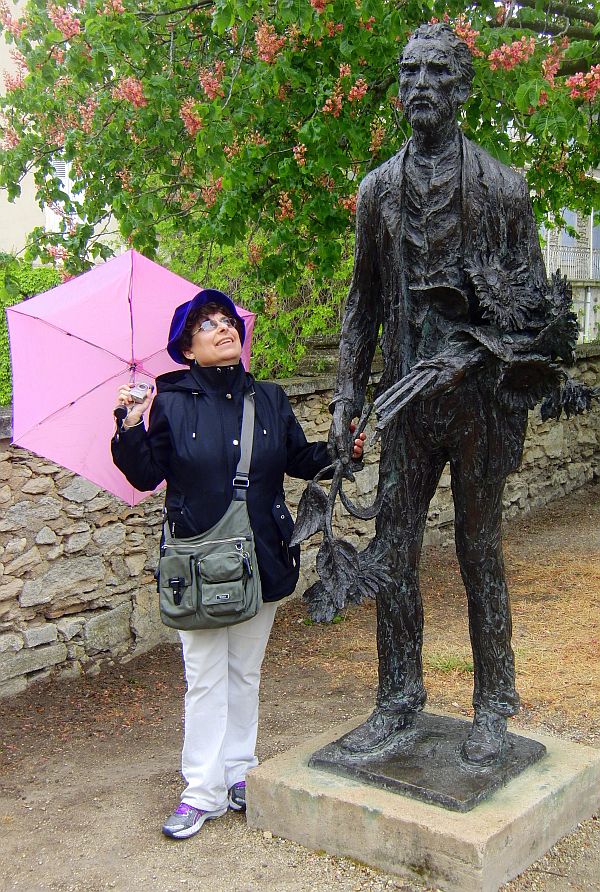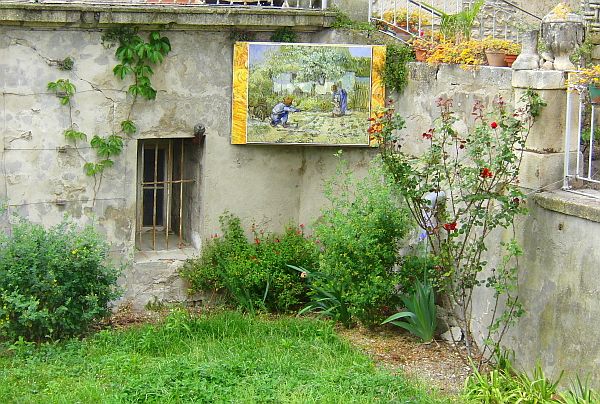 posters of dozens of van Gogh's paintings are displayed on the grounds of the hospital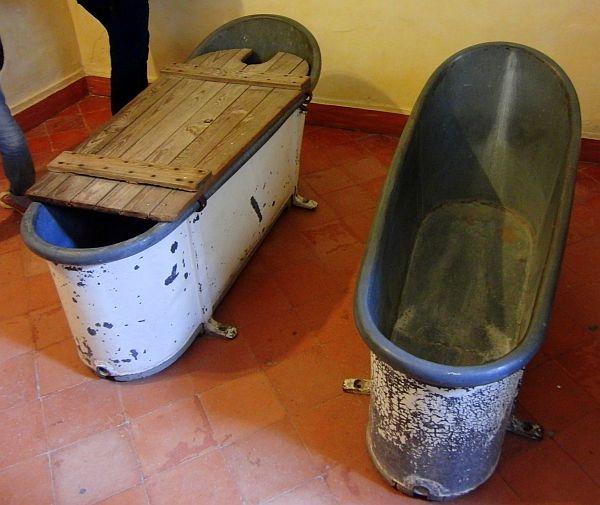 medical treatment for van Gogh included quick alternative dips in freezing cold and boiling hot water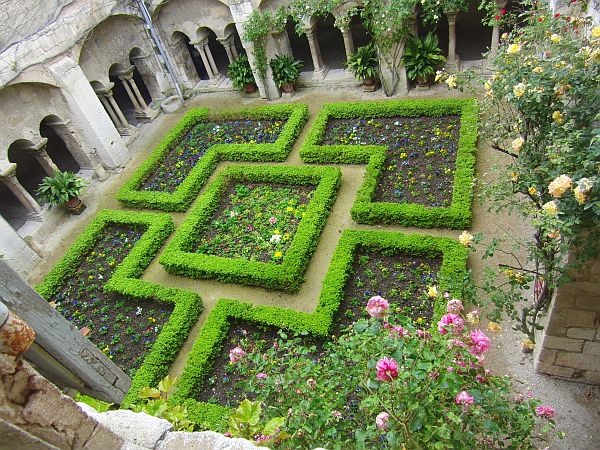 looking out the window of the cold/hot tubs down into the courtyard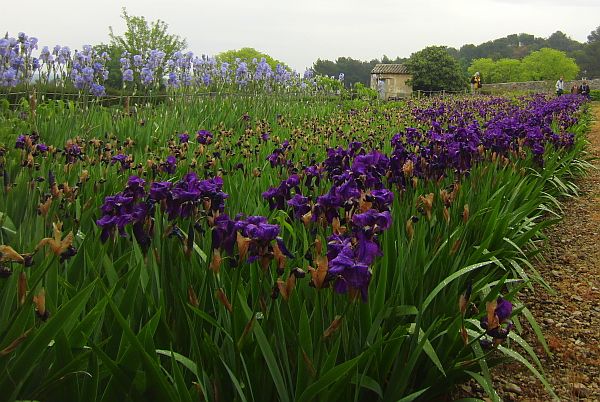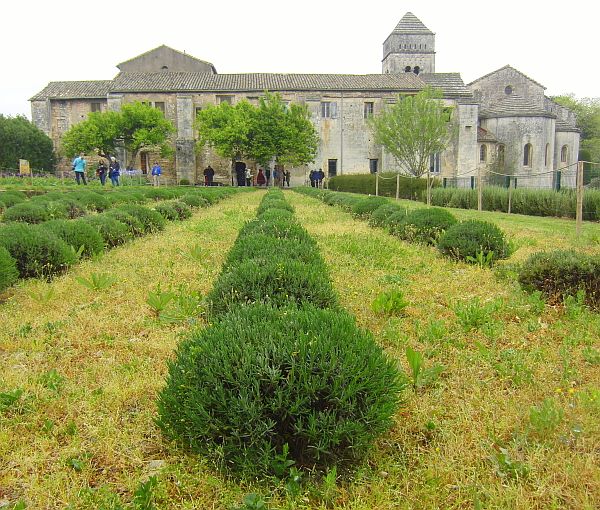 [May 2, 2014] [top]
---
Miriam, my sister Carol and her husband Bernie, and my brother Will and his wife Deb, and I were in France for 11 days in April. We all flew via Lufthansa to Frankfurt on Friday evening, April 18, and continued on a smaller plane to Marseille on the Mediterranean coast, and then went by bus to Avignon on the Rhone River. By now it was Saturday the 19th, and we arrived on the Viking Heimdal riverboat in time for lunch, the first of 21 five-star meals on our 7-day cruise.

The Catholic Papacy was in Avignon for most of the 14th century, and the remains of the "Pope's Palace" are imposing, including the extensive wall that surrounds the palace itself. Here's a sample of the wall.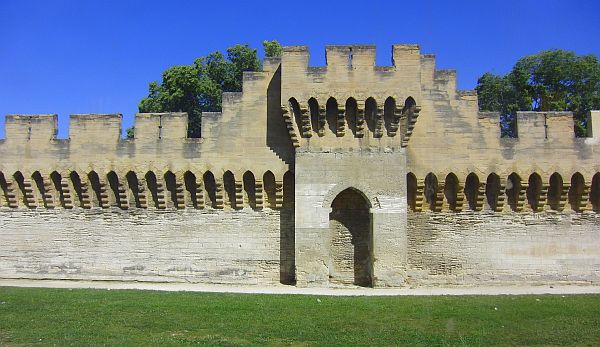 Our boat had about 175 passengers and 55 crew members. It was very long but not high -- there are many low bridges on the Rhone and Saone rivers, plus almost 20 locks to go through, so a cruise boat is modeled after a barge more than a luxury oceanliner. Despite that, everything on board was luxurious.

Some words about the crew. The "captain" was French -- he steered the boat, spoke only French, and we may have seen him once. The rest of the crew was not French, despite this being a "French" cruise. The "hotel manager" -- Tobias (or 2 beers as all fondly called him) was Bavarian. The "program director" was the energetic Susann (or Susie), and she was German. The "executive chef" -- Johan -- was Dutch. The rest of the crew was Eastern European. For example, there were three young "housekeepers" on our floor, one from Slovakia, one from Romania, and one from Bulgaria. The language they spoke among themselves was English -- in private because it was the only language common to all three, and in public because English was the only language the staff was permitted to use.

And a word about the wine. During the cruise up the river and over 7 days we spent serious time in vineyards. We gazed at endless fields of grape vines, and we "tasted" at three vineyards. We also quickly (starting with lunch an hour after boarding the boat) "learned" to drink wine at lunch as well as dinner. And why not? It was included in the not-inexpensive cruise fee, and it was great wine -- local to the Burgundy region. At mealtime, you had a bottomless wine glass. Yes.

Miriam, Carol, and Deb at Logan airport in Boston. We're all happy to have arrived together for the 1st leg of the journey, which brought us to Avignon.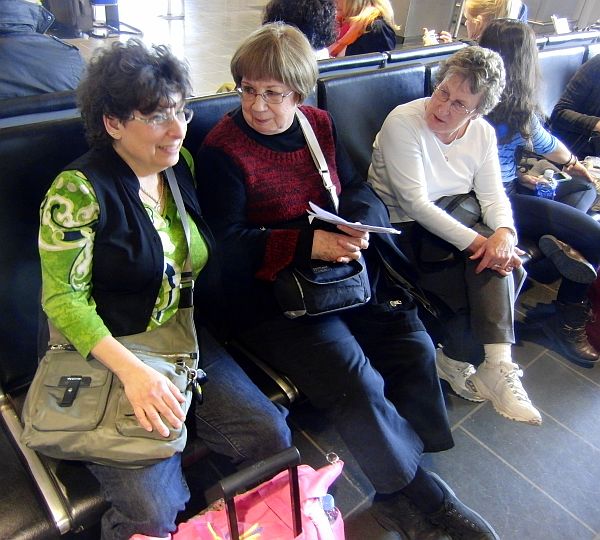 At 4am Sunday morning, April 20, the boat casts off to head south to Tarascon, and we'll go by bus on a 30-minute ride to Arles for a tour, and then in the afternoon another tour -- to the mental hospital where Van Gogh created some of his greatest paintings.


[May 1, 2014] [top]
---
I finished reading 25 books in 2013. I read more than that but finished 25. Others (nameless) were started and abandoned.

Marina Lewycka's A Short History of Tractors in Ukrainian [January] began with this paragraph.
"Two years after my mother died, my father fell in love with a glamorous blond Ukrainian divorcee. He was eighty-four and she was thirty-six. She exploded into our lives like a fluffy pink grenade, churning up the murky water, bringing to the surface a sludge of sloughed-off memories, giving the family ghosts a kick up the backside."
Next in January was Anita Moorjani's Dying To Be Me, a book suggested by Miriam. The book's subtitle is "My Journey from Cancer, to Near Death, to True Healing"

In February it was George V. Higgins's Outlaws and a final Spenser from the late Robert B. Parker -- Sixkill.
While we were in Tucson in February for the Gem Show, Noah suggested Jeff Long's The Descent, a long and disturbing epic to the earth's center and back. Always need to remember -- we are not alone. This took me to the end of March.

My sister Carol loaned me Nelson DeMille's The Charm School, a dated but still impressive novel of the Cold War between the U.S. and Soviet Union. April must have been a long month -- I read another Higgins (Trust), Michael Brandman's Killing the Blues, and Stephen King's Full Dark, No Stars. Brandman has been "licensed" by the Parker estate to continue the Jesse Stone series, and this was his first effort.

In May I caught up with Elizabeth Gilbert's Eat Pray Love. Fun to read and annoying in stretches, as she manages to be insightful and narcistic. Elmore Leonard's Be Cool was just right as follow-up to Gilbert.

The month of June started with Imposters by George V. Higgins. Anne Tyler's odd story of A Slipping-Down Life was next. Kurt Vonnegut's Bagombo Snuff Box was a collection of magazine stories from 60 years ago. Still very readable.

Two Elmore Leonards took the first half of July -- Pronto and Riding the Rap. Steve Martin's Shopgirl was a great surprise -- that man can write. July ended with Stephen King's Joyland.

I found two new writers (for me) in August. Karen Russell's Swamplandia! was first. A wonderful story, and maybe not as odd as one might think, if you replace the swamp with a more conventional but still weird suburban setting that we imagine is a "normal and good" life.

I first noticed Claire Messud when she responded to an interviewer's question about how the lead character in Messud's latest novel was not a "nice" person. Here's Messud's response: "For heaven's sake, what kind of question is that? Would you want to be friends with Humbert Humbert? Would you want to be friends with Mickey Sabbath? Saleem Sinai? Hamlet? Krapp? Oedipus? Oscar Wao? Antigone? Raskolnikov? Any of the characters in 'The Corrections'? Any of the characters in 'Infinite Jest'? Any of the characters in anything Pynchon has ever written? Or Martin Amis? Or Orhan Pamuk? Or Alice Munro, for that matter? If you're reading to find friends, you're in deep trouble. We read to find life, in all its possibilities. The relevant question isn't 'is this a potential friend for me?' but 'is this character alive?'"
I immediately read Messud's The Last Life in August, and The Emperor's Children in September. Will read everything she writes.
Also in September was Elmore Leonard's Stick, and for sheer fun Jack Finney's Invasion of the Body Snatchers. I may or may not have read this original "body snatcher" novel many years ago.

When Stephen King published Doctor Sleep this fall I realized I never read the pre-quel, The Shining.
Now I've read both.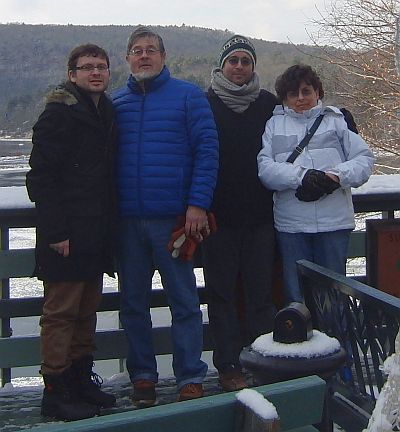 There have been few reading moments in December, but I'm working on Messud's The Hunters, which consists of two short novels, one the title novel and the other A Simple Tale, in which the lead character is, well, not very likeable. One must be a confident writer with something to say to focus on people we don't like to focus on. Messud is brilliant.
[January 1, 2014] [top]
---
For a few years, I blogged at blogspot. Those entries are here now, but they're still there too.
You can find them there here.
[January 1, 2014 / updated April 14, 2014] [top]